Matron's flu warning to hospital staff
HOSPITAL matron Jayne Norbury is urging colleagues to protect themselves and their patients against swine flu by getting vaccinated after being sick with the virus for a week.

"I can honestly say this was the most ill I have ever felt. I've always been one of those nurses who said 'I don't want the flu jab, I don't get ill and, in any case, flu's not that bad'. But how wrong I was. I wouldn't wish to see anyone feeling like I did for those seven awful days." said Jayne, 49, who runs the accident and emergency department at Southport and Formby District Hospital.

Her message came as Southport and Ormskirk Hospital NHS Trust began to offer the vaccination against swine flu to her colleagues.

Staff working with the most vulnerable patients were among the first to receive it. They included those in the accident and emergency department, children's and midwifery staff, and intensive care and critical care teams. Other staff will be offered the vaccine as part of a planned programme over the next few weeks.

Angela Kelly, the Trust's deputy director of nursing and lead on swine flu, said:- "We're encouraging as many staff as possible to get vaccinated. Getting vaccinated is the single most important thing staff can do to protect themselves and their patients from swine flu."

Frontline health and social care workers are one of the priority groups to receive the vaccine because they have an increased risk of catching swine flu and of spreading it to other at-risk patients.
FACT FILE:-
1. A fuller version of this interview is included in the attached case study

2. The national swine flu vaccination programme is offering the vaccine to those at the greatest risk first. They are:-

• People aged between six months and 65 years who usually get the seasonal flu jab
• All pregnant women
• People who live with those whose immune systems are compromised, such as cancer patients or people with HIV/AIDS
• People aged 65 and over in the seasonal flu vaccine at-risk groups

For up to date information about swine flu, visit:- direct.gov.uk/swineflu.
Cenotaph Sentry - Merseyside Army Cadet Force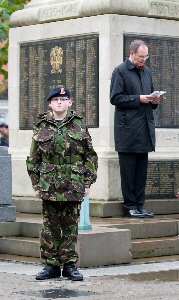 Written by Nick Wilkinson, PRO, 2 Company, Merseyside Army Cadet Force, photograph by Sergeant Nick Wilkinson
23 young people from Knowsley and St Helens Army Cadets attended the Remembrance Sunday Ceremony at the Cenotaph in St Helens. Members of the Merseyside Army Cadet Force attended other ceremonies across the county.

Pictured, standing sentry at the St Helens memorial is Anthony Hamlet, 13 years, from D Troop, Royal Artillery, St Helens. Younger cadets were assigned this duty.
Legal Aid Lawyers Paid Less Than Sewage Workers
SOLICITORS who provide legal aid services are among the worst paid in the public sector according to a recent survey.

The average salary of a legal aid solicitor is £25,000, less than a prison officer or sewage plant worker. It is also well below police officer, nurse and secondary school teacher according to figures compiled by the Guardian newspaper.

In light of the recent Ministry of Justice Consultation that plans to slash fees for legal aid, the Law Society says 'enough is enough'.

The Law Society has expressed grave concern over the 'Legal Aid Funding Reforms' consultation paper, slamming its absence of economic rationale or analysis behind the proposals. The Law Society believes this is yet another onslaught on a fragile legal aid system, already subject to countless cuts, and another nail in the coffin of access to justice.

Law Society Chief Executive Desmond Hudson says:- "There is no scope left for cutting fees. These figures show that solicitors undertaking legal aid earn well below the average for professional salaries, and considering solicitors can amass significant student debts and work very long hours, the pay is very far from fat cat territory. Solicitors undertaking legal aid work show commitment to providing access to justice for those that need it most, and many more offer up a great deal of their time working for free with pro bono work for those who are ineligible for legal aid."

The Law Society believes any cuts to this thread-bare system will see firms no longer able to undertake this work, civil provision in mixed practices being hit, and the most vulnerable clients unable to obtain the assistance they need.

Notably, the salary of senior civil servants is nearing £70,000- almost three times higher than a legal aid solicitor while the median public sector pay is almost £3,000 higher at £27,686.