EVERTON PLAYER SIGNINGS ARE AN EARLY CHRISTMAS TREAT
EVERTONIANS are in for a Christmas to remember, as Everton Football Club launches a series of 'money can't buy' experiences for shoppers in the run up to Christmas.

For the next three weeks, two first team players will be in both Everton stores to sign any merchandise purchased from the store, adding a touch of magic to any Christmas gift.

Leon Osman and Jack Rodwell at Everton One, whilst shoppers visiting Everton Two at Liverpool One can expect to see Jo and Marouane Fellaini. All four players will be in store between 5pm to 6pm and will be happy to sign any item purchased from the store, including Everton Home Shirts, which as a special offer in the run up to Derby Weekend are reduced by £10.

Commenting on the player signing evenings, Ray Evans, MD of Everton's retail partner Kitbag said:- "We hope to be able to put a smile on the faces of Evertonians on Christmas day when they receive a present with a special Christmas message just for them from one of their favourite players."

This Christmas, Everton has the perfect gift for every fan; toddlers will love the Everton Bears and Everton Rubber Duck, teenagers can enjoy listening to music from the Everton IPOD Docking Station, the exclusive range of jewellery and watches will please both him and her and for something extra special, there is the Limited Edition 25th Anniversary Box Set Shirt and Medals.
More player appearances will be announced shortly.
GREEN VICTORY FOR LOCAL BUSINESSES
A North West Euro-MP has won the support of local businesses for his efforts to make parliamentary officials live up to their green principles.

The European Parliament buys tens of thousands of printer toner cartridges each year, but until now it has ignored calls to make more use of recycled products.

Liberal Democrat Chris Davies stepped in after cartridge remanufacturers and refillers alerted him to a new contract worth millions being let that would have excluded them from competing.

He reminded the Secretary General of the European Parliament that MEPs had repeatedly called for products to be reused and recycled wherever possible.

"It was high time we put our principles into practice," said Davies.

Now the Parliament has changed its policy and is advertising a new contract that makes clear that remanufactured cartridges can compete with brand new ones.

Laura Heywood, secretary of the UK Association of Toner and Inkjet Cartridge Remanufacturers, and managing director of Kleenstrike in Rochdale, described the change as an important opportunity. She said she would like public bodies everywhere to make the purchase of recycled goods a priority.

"We are very grateful for Chris Davies's assistance and hope now to achieve the same changes in the UK government tender process that has been achieved at a European level. Taxpayers' money should not be wasted. Remanufactured cartridges have been proven time and again to be of the same quality as original cartridges, are up to 305 to 40% less expensive and are more environment-friendly." said Laura Heywood.
RMHC Asks Chester City Football Fans to Dig Deep to Help Families with Sick Children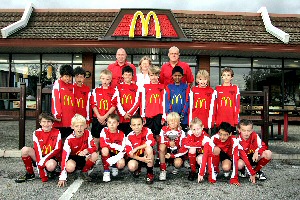 CHRISTLETON NewScene Junior Football Club will be collecting money for the new Arrowe Park Ronald McDonald House on Saturday, 28 November 2009 football match. The under-13 boys team will be supporting local club, Chester City, whose goal is to beat opposition Eastbourne FC at the 3pm kick-off.

Home and away football fans will have the opportunity to donate cash to a worthy cause at the turnstiles and at half-time. A tannoy announcement will be made during the game to encourage fans to dig deep for Ronald McDonald House Charities - RMHC. The Charity provides free 'home away from home' accommodation for parents with sick children, staying at the hospital on the Wirral, which is run by Wirral University Teaching Hospital NHS Foundation Trust.

The House opened to families for the first time in October and provides vital accommodation for 28 people, up to 365 days a year. Over the past year RMHC has approached the local community and businesses to help achieve their fundraising targets. The money from the public has helped to build this vital accommodation, which will help families for years to come.

The main sponsors of Christleton NewScene, McDonald's, will carry the charitable theme throughout its stores in the Chester area - Chester Retail Park Drive and Chester Forum - where staff will distribute leaflets to 'drive-thru' customers and raise general awareness in both stores to generate more funds.

Catherine Churchill, RMH Arrowe Park House Manager, says:- "Having a child admitted into hospital is every parent's worst nightmare. Ronald McDonald Houses provide support for families at this difficult time, enabling them not only to stay together, but also to share their experiences with other families going through the same ordeal. On behalf of RMHC I would like to personally thank Christleton NewScene for their efforts in trying to raise additional funds."

Jeanette Roe, McDonald's Franchisee, says:- "We were delighted to have the opportunity to organise the fundraising event, as the House is of huge importance to the Chester community. It was the boys' idea to raise money for RMHC after hearing of a fundraising appeal on the radio in Liverpool."

A spokesperson for Chester City FC, says:- "On behalf of Chester City FC, we are only too pleased to allow the under-13s to come to the grounds. I wish them and Ronald McDonald House Charities every success for the future."