Liverpool entrepreneurs are definitely in business with new support portal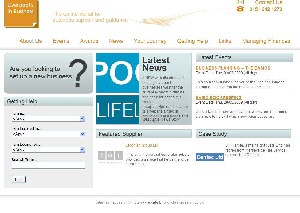 LIVERPOOL based creative social enterprise, Brava Design, were commissioned by Liverpool Vision to develop the website for Liverpool's in Business. Launched by Liverpool Vision, liverpoolsinbusiness.co.uk brings together a range of local enterprise support agencies and is an online portal for local businesses offering a comprehensive guide to business support and guidance, making it easier for local entrepreneurs across the city to get the support and guidance they need. Brava Design worked with Liverpool Vision to create a clear and concise website which would allow busy people and those just starting out to search for the appropriate support using a simple selection tool. Brava Design also included news and events elements in the website, supported by user generated content. The chief aim was not to design a website which was shiny and bright or difficult to use, but a simple, easy-to-navigate portal that ended up with the user getting exactly the advice and contacts they need.

Stephanie Hosny, Business Manager at Brava Design said:- "When we were first commissioned to develop liverpoolsinbusiness.co.uk we were pleased because – as a business ourselves – it was a project that would make life so much easier for local entrepreneurs. Being a social enterprise, we really understand the value of support networks and always try to get involved in projects that reflect our social remit."

Jerry Spencer from Liverpool Vision said:- "Brava Design have done a fantastic job with the Liverpool's in Business website, we have had great feedback from local entrepreneurs who often struggle to access tailored and appropriate support. It's a great job done well, to specification and cost."
Post Capital of Culture:- A New Dawn for Tourism in Liverpool
ARE you wanting to have a say in the local area's future? Want to hear what is planed? Have you register for this conference will cover the following:-

• The impact Capital of Culture year has had on increasing tourism in the city

• The contribution of tourism to the city and the wider region

• Continuing to promote the city post Capital of Culture – the new tourism strategy

• Maintaining tourism through the economic downturn

• Enhancing transport links to Liverpool

• Liverpool's new cruise liner facilities and the impact on tourism in the city

For further information and to register please visit:- www.eventsforce.net/liverpool2009
AdGates roll into Merseyside
TRAVELLERS on Merseyrail are set to become the first in the region to experience a totally unique new form of interactive advertising.

T4 Media is the UK's leading outdoor transport advertising specialist. Founded by serial entrepreneurs Marco Pieters and Paul Daniels, it has made a significant impact in recent years with its award-winning network of AdGates or walk through billboards.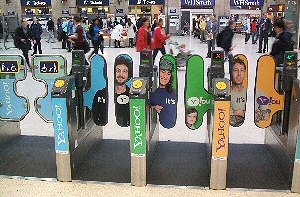 Already available in other parts of the country, AdGates are now available exclusively on the Merseyrail network, and will very shortly start appearing at a number of stations including Liverpool Lime Street, Liverpool Central, Liverpool Moorfields and Southport.

AdGates convert automatic ticket barriers in train stations into unavoidable interactive gateways, requiring travellers to literally walk through a brand as they leave the platform. Currently more than five million rail travellers pass through AdGates nationally every day.

Explains Marco Pieters, CEO of T4 Media:- "AdGates are a totally unique form of accountable advertising and I am sure will prove to be a huge hit with the hundreds of thousands of travellers using Merseyrail in that all-important 'third space' between work and home, when passengers are particularly receptive to receiving advertisers messages"
Do you like this idea? Let us know by emailing us to news24@southportreporter.com and let us know your views about AdGates...