Blue Bar Fashion Show
Report and photographs by Colin Trollope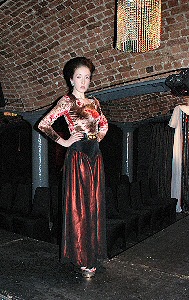 ON the wet Wednesday night, 25 November 2009, in the Albert Dock's Blue Bar basement, the Gypsephila Clothing Company held a Fashion Show for Zoe's Place, a Children's Hospice.
During the afternoon, when the models were preparing for the evening's event, several of the pretty young ladies very kindly showed off some of the evening's outfits.
Our pictures were taken of Rebecher Jones, Claudia Pitter, Stacey Dutton, Liana Davidson-Hammond, and Kayla Winters.
During the evening, the following stalls were expected to be upstairs manned by various related fashion companies, among whom were Gypsophila, a nail bar Preserved Vintage and a tarot reader.