Adopt a squirrel and help make a difference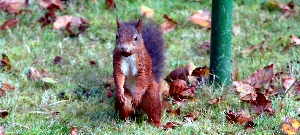 THE SoS (Save our Squirrels) Project has launched its 2010 Adopt a Squirrel Campaign just in time for Christmas. For £18.00 per adoption, members of the public will be able to adopt a red squirrel for a year. In return for their sponsorship, adopters will receive a special gift package which includes:- a fact sheet, postcard, car sticker, book mark, adoption certificate and, most of all, the satisfaction that their adoption will make a difference of the SoS Project. Adopters can also include a toy squirrel or cotton bag for an additional £2.00. Once common, the red squirrel is now in serious decline across the United Kingdom. It has virtually disappeared in Southern England and only remains in small areas in Northern England and Southern Scotland. The decline has been caused by the invasive grey squirrel which was introduced from the USA in the 1870s. The grey squirrel is heavier and is therefore able to out-compete the red squirrel in its search for food. It also carries the deadly Squirrelpox virus (SQPV). Although research is being undertaken into a vaccine for SQPV, it will still be a number of years before it is ready. In the meantime, attempts are being made to keep reds and greys apart which includes the creation of specially protected red squirrels woodlands, known as Reserves. Anybody interested in popping an Adoption Package in somebody's stocking this Christmas Eve can make an adoption online by logging on at:- saveoursquirrels.org or call the SoS hotline on:- 0845 3479375. An adoption of a squirrel will help to ensure that SoS is able to continue its work of managing red squirrel woodlands, public engagement projects and working closely with other organisations to ensure the red squirrel survives for future generations to enjoy.
Small firms could go bust under Government plans to change tax rules on holiday properties
FSB survey reveals eight in ten could go to the wall, and calls the Government to listen to its 'Give us a Break' campaign.

Government plans to change tax rules on holiday properties could leave eight in ten small businesses in the holiday sector at risk of closure, the Federation of Small Businesses (FSB) has warned.

Under current rules, businesses run in the holiday sector - known as furnished holiday lettings – must be available to rent for at least 20 weeks of the year and must be rented out for 10 weeks. As a result, they receive a number of tax breaks. Following Government proposals to change the tax rules, businesses in the holiday sector will be considered as residential landlords rather than as trading businesses. The FSB's survey results on the subject show that these tax changes could stifle trade, threatening the existence of the 60,000 self-catering firms across the country and costing jobs. The tourism industry alone could lose £200 million a year.

In the poll of 166 FSB members that run self-catering accommodation, more than half (52%) said that they would have to make staff redundant if the tax rules were changed, and 81 per cent said changing the rules on their tax status would affect their financial viability. Another 43% said the tax rules would put them off expanding their business and eight in ten said they would not be able take on any new staff.

The FSB is calling for the Treasury to 'Give us a Break' and review the proposed changes to remove tax breaks which could have such a damaging effect on small firms and the holiday sector at such a crucial time.

Norman Lay, Federation of Small Businesses Merseyside, West Cheshire & Wigan Regional Chairman, said:- "Taking away reasonable tax breaks from small firms that run self-catering holiday properties could have a devastating impact on the sector. With eight in ten small businesses in the holiday sector fearing they could go bust, there will also be a human cost, with further job cuts at a time when unemployment is already spiralling. Small firms know they are crucial to pulling the economy out of recession and on to the road to recovery, but they need the Government to create a tax-friendly environment to do so. The FSB is calling on the Government to 'Give us a Break' and review the proposed changes that could not only have a damaging impact on the 60,000 small businesses that own a business in the holiday sector, but on the wider community as well."
Pupils shape-up for fitness fiesta
HUNDREDS of fantastically fit youngsters are whizzing over to St George's Hall for the city's 'Active Oscars'.

Young people from across Liverpool will arrive at the Hall, Thursday, 26 November 2009, for two awards ceremonies celebrating fitness, healthy eating and sport in the city.

In the afternoon, the Hall will host the Liverpool Healthy Schools celebrations. Supported by Liverpool Lifestyles and Liverpool Active City, the event will reward schools which are placing health and fitness at the heart of pupils' lives.

Seven Liverpool schools which have this year earned the government's National Healthy Schools status – awarded for excellence in physical activity, healthy eating and emotional health - will receive special awards.

There will also be presentations for young people who have completed Lifestyles Swimming programmes and who took part in the Sportslinx "Cook it challenge" during the year, which saw schoolchildren competing against each other to create the most delicious, healthy recipes.

Following the Healthy Schools event, the fitness fiesta continues, as some of the city's most talented sporting youngsters arriving at the Hall for the Liverpool School Sports awards.

Co-ordinated by the Liverpool Schools Sports Federation, the awards celebrate the sporting achievements of young people across the city. Medals will be presented to nearly 300 able-bodied and disabled young people who have represented their school or city in county, regional or national sports events.

Liverpool City Council Leader, Councillor Warren Bradley, said:- "It's vitally important that our schools play a leading role in the health, fitness and well-being of young people. These awards are a fantastic way of recognising schools which are going the extra mile to tackle child obesity and build exercise into children's lives. The awards also give us the chance to congratulate the fantastic young sportsmen and women who have achieved success over the past year and helped the city build on its outstanding sporting reputation. They are a real credit to Liverpool, and a fantastic example to other young people in the city."

The Healthy Schools event will see the winners of the 2009 'Leader's Challenge' award, being announced. The initiative sees Council Leader, Councillor Warren Bradley, setting every school in Liverpool the task of coming up with an innovative new project to improve children's health and well-being. The schools who came up with the best ideas in 2009 will be announced, before the Leaders Challenge for 2010 is launched.

The Liverpool School Sports Awards will cover a variety of sports and highlight team and individual performances. It will also recognise the young people who are making maximum use of the new Future Lifestyles scheme which provides free access to Liverpool's Lifestyles Centres for all under-17s.

Stephen Tiffany who leads the Liverpool Healthy Schools Team said:- "We applaud the success of our schools in achieving National Healthy Schools status. It's down to the hard work and commitment of staff and pupils, supported by the Liverpool Healthy Schools Team. Together, we are exceeding our targets and I am certain that all this good work will result in the children of our city being happier and healthier and doing better in learning and in life. It's also very important that all children, irrespective of ability, are encouraged to take part in sport and physical activity, so that they can reach their full potential. We are looking forward to welcoming young people, teachers, sports coaches and parents to thank them for their efforts and celebrate their sporting success."

National Healthy School status requires schools to meet strict targets in Personal, Social and Health Education; Healthy Eating; Physical Activity; and Emotional Health and Well-being, including bullying.

The national target is for 75% of schools to have achieved National Healthy Schools Status by December 2009. Already, 81% of Liverpool schools have achieved the status.

The Liverpool Healthy Schools celebration takes place at St George's Hall on Thursday, 26 November 2009 from 1 to 3pm. The Liverpool School Sports awards follow at 6.30 to 8.30pm.