Stagecoach's Les Burton, with Cllr Mark Dowd and Cllr Peter Millea with a new 86H bus at Liverpool South Parkway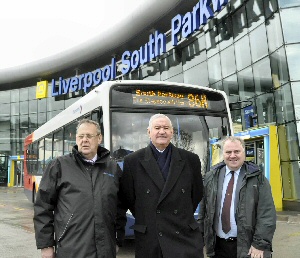 MERSEYTRAVEL and Stagecoach Merseyside have launched a new bus service, giving Liverpool Hope university students, among others, better access to the rail network and airport. Stagecoach's 86H service, supported by Merseytravel, links the university with Childwall and Liverpool South Parkway, the region's rail hub for access to Liverpool John Lennon Airport and major national and regional rail lines. The new service runs every 30 minutes on Monday to Friday daytime, and every 15 minutes during peak times. Merseytravel Integrated Transport Authority members, Councillor Mark Dowd and Councillor Peter Millea, joined Les Burton of Stagecoach to launch the new service from Liverpool South Parkway (pictured).

Cllr Dowd said:- "We're always looking at options to improve inter-regional links and we hope this is another service that will support hundreds of students and passengers along this route."

Les Burton from Stagecoach Merseyside said:- "We are delighted to be offering this new link to Liverpool South Parkway and we hope that it will encourage more people to think about more greener and smarter ways to travel. Liverpool South Parkway provides excellent bus links to both Liverpool John Lennon Airport and superb rail links on Stagecoach East Midlands Trains to Manchester."

Speaking on behalf of Liverpool Hope University, Bishop Ian Stuart, Pro Vice-Chancellor for Student Support and Well-being said:- "We value our association with Merseytravel and Stagecoach Merseyside. This new service will benefit large numbers of our students from beyond Merseyside by providing them with easier access to rail and plane transport."

A new timetable for the service, which runs between Liverpool South Parkway, Woolton Road, Menlove Avenue, Childwall Park Avenue and Taggart Avenue, is available by visiting Merseytravel's website. The new 86H service will enable passengers to make connections with a range of rail services to and from Warrington, Manchester Runcorn, Crewe, Birmingham and the wider region. The service will link to major cities and towns in the north of England, via rail networks including East Midlands Trains, London Midland, Merseyrail and Northern. With the right bus-rail connection, passengers can travel from Childwall to Manchester in less than an hour.
THE EVERTON FOUNDATION CELEBRATES TWO YEARS IN PARTNERSHIP WITH ALDER HEY HOSPITAL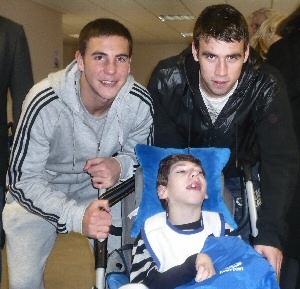 EVERTON players Dan Gosling and Seamus Coleman joined youngsters at Alder Hey on Wednesday, 9 December 2009, to celebrate two years of a partnership between the hospital and The Everton Foundation charity.

The joint birthday and Children's Christmas Party saw patients and their families at the renowned hospital enjoy party food, cake, a children's entertainer and a visit from Everton mascots 'Changy the Elephant and Toxteth the Tiger.

Changy and Toxteth Tiger were joined by Foundation coaches, who travel to the hospital each fortnight to get the children out of their beds and into the playroom for an afternoon of exercise, discussion, art, music and laughter.

Chris Clarke, Project Development Manager at The Everton Foundation, said:- "The kids are sometimes in hospital for long stints and they can get really down, bored and anxious about their treatments.
Our programme is an opportunity to distract them from what's going on and bring some excitement to their week. The workshops include family and hospital staff and they are always really well received.
We started off in just the Neuro-medical ward but because of the success, and the need in other wards, we have rolled it out across the whole hospital.
In the last 18 months we have reached more than 150 children, and this event is a great chance to get everyone together for a celebration of both Christmas and the second anniversary of our partnership with Alder Hey."

The partnership was conceived in January 2008, to bring the Foundation's world renowned disability programme to the patients of Europe's largest children's hospital.
Since it began the project has brought fun health and exercise activities to the young people based originally within the Neuro-medical and Oncology units, and now across the whole hospital.