Liverpool City Council is most improved in the UK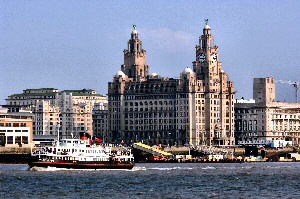 LIVERPOOL City Council is the most improved council in the UK and is now "performing well", according to a new independent assessment by the Audit Commission.

The grading - equivalent to getting three out of four stars - is part of the new Comprehensive Area Assessment (CAA).

It means the city has gone from being ranked as one star (poor) to doing well in less than two years, despite a tougher inspection regime in the areas of resources and children's services. No other local authority has gone from one to three stars and improved its use of resources score during the same period of time.

Council leader Warren Bradley said:- "Two years ago we embarked on a fundamental root and branch reform of the council, and today's judgment demonstrates that we have made significant improvements in the way the council is being run. "Many of the front line services that we deliver have been steadily improving for many years, but more recently we have worked really hard on improving value for money and concentrating our spending in priority areas."

Inspectors have found that the council:-

• Has improved the way it runs itself and is addressing previous weaknesses

• Manages its finances better and has improved the way it commissions services

• Has a clear vision for the future based around its core aims

• Works well on issues like health and employment

Councillor Bradley added:- "If you look right across the whole range of council services, whether it's education, social services, parks and environment or benefits, there is absolutely no doubt that we are now serving the people of the city well. But I am not complacent and we clearly have more to do to achieve our ambition of becoming an excellent authority. However, I am confident that with the clear leadership and vision from both senior councillors and officers working with our staff and partner organisations, we will make further improvements."

The report praises the council for its "major success" in growing the economy through initiatives such as Liverpool One, Liverpool Science Park, the Capital of Culture title and the Arena and Convention Centre.

It also highlights the "excellent" rating for adult social care by the Care Quality Commission, and the fact that OFSTED has continued to grade children's services as "performing well" - despite a tougher inspection regime nationally following the Baby Peter case.

Work with partner organisations such as Liverpool PCT to reduce health inequalities - such as free Lifestyles leisure passes for under 17s and over 60s – is noted, along with improvements in educational attainment which have seen the city bettering the national average for GCSE results.

Council Chief Executive Colin Hilton said:- "I would like to take this opportunity to thank our staff for their hard work and dedication in helping us achieve so much over the last two years. We have some of the best people in local government here in Liverpool who are completely focused on meeting our aims of growing the economy, developing our communities and empowering our residents."

Liverpool's report can now be found on the Oneplace website since going online on Wednesday, 9 December 2009.

Progress against the council's aims – the inspectors comments:- "Grow the city's economy – The strong focus on growing the economy has been a major success. As result there has been a significant increase in jobs, for example, in the culture, tourism and retail sectors. Liverpool's economy is now much more broadly based and resilient, and although the recession is having an impact, the city is in a better position to weather the storm. Develop our communities – Streets are getting cleaner, recycling levels continue to rise and the state of the pavements and roads have improved. Crime and anti-social behaviour is falling and there is good work with partners to improve the health of local people. As a consequence resident satisfaction has increased. Empower our residents – The council is working well with others to encourage people to improve their skills to help them find work. Educational attainment continues to improve – with pupils outperforming the national average in GCSE results. There are good services for children in public care, and 'at risk' children are kept safe. Adult social care is excellent, becoming more responsive to individual needs allowing people to make choices about the type of care they receive and pay for."
LESS THAN 800 PLACES LEFT / BIG NEWS ON CROATIA AUGUST 2010
THE effect of the economic climate on November's 2009 Southport Weekender, was far more shocking than the effect felt in May 2009 and it was highly visible to all attending. This resulted in the November Weekender being seen as unsustainable under such an uncertain conditions, so the decision was made to put on hold all future November Weekenders. Organisers, UpNorth Promotions, were also worried that the trend which happened in 2009 might also affect the May Weekender in 2010. Thankfully for all Weekender fans, for the foreseeable future it looks like the decision to drop November has saved the Southport Weekender... Amazingly, the reduction of November has now lead the event to another problem, one which has dogged all Weekenders up to 2009. They sell out far too fast! "We have sent a very quick email all our regulars to let (them) know some very important information on how it's going for the 2010 Weekender. Unbelievably, after only one week of being on general sale, we're down to our last 800 places on site at the time of telling your newsroom. We can't begin to say how grateful and humbled we are by the public's fantastic support for our event. Looking at the bookings we realise that there are a huge number of who have yet to book, hence the reason for this update so soon in the run up to May's event. The only chalets we have left now are 6 berth ones and a much smaller number of 4 berth ones and it's impossible to say when they will all be gone. It is so pleasing to see that our fans have not continued to turn away due to the financial climate. At this rate we will be sold out, in more likely days rather than weeks. If you've already booked and intend adding people then ring straight away or friends could miss out! Sadly, once we have sold out, we can not make any more places available. As always we'll try to update you, but we can't guarantee that the next flyer won't be saying that all chalets have gone. Thank you again for this and we're on the case with booking the line-up for what looks set to be a Stormer!" said Gill, from UpNorth Promotions. This is good news as well for the area, as the Southport Weekender is one of the most prestigious events in the Music calendar, attracting clients from all over the world, year on year. Yet oddly, not many locals even know what it really is about. To reserve your places, all you need is a deposit of £50 per person and you can do it ONLINE or call the office on:- 0844 879 7210.
Sefton Red Squirrels Bounce Back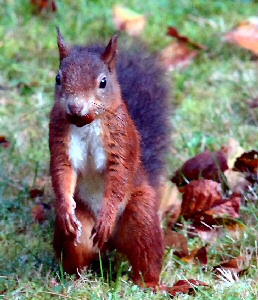 FINALLY there is good news for Merseyside's red squirrels! The once thriving local population recently suffered a drastic decline due to a squirrel pox outbreak. This devastating disease is carried by grey squirrels and is lethal to reds. The epidemic began in the urban area of Ainsdale in mid-2006 and quickly spread to the Ainsdale National Nature Reserve, where it wiped out the entire red squirrel population. Over the next year it made its way steadily southwards and by 2008 had infected all of the Formby pinewoods, killing many hundreds of red squirrels.

Monitoring carried out by Red Alert volunteers and co-ordinated by the Lancashire Wildlife Trust showed that the red squirrel population had fallen to 20% of its normal size by October 2008. Fortunately, however, the disease had burned itself out by December of that year, leaving red squirrels in Hightown and Blundellsands unaffected.

The hard winter of 2008/09 took a further toll and by March numbers were down to 15% of normal, but results just in from the October survey indicate that red squirrels have had a very productive breeding season this year, producing a threefold increase in their population numbers.

Fiona Whitfield, the Lancashire Wildlife Trust's Conservation Officer said:- "This staggering recovery is testament to the hard work and enthusiasm that the Red Alert partners, volunteers and staff have put in, it is vital that we continue to commit to the recovery of the red squirrel in this area."

The battle to save Sefton's red squirrels is far from over. Luckily, a very localised outbreak of squirrel pox in Blundellsands this October failed to spread but it remains of the utmost importance to keep invading grey squirrels away from our reds. People are urged to report all sightings of both grey and red squirrels in the Sefton area to the Wildlife Trust on:- 07590 745862.

This week the Wildlife Trust launched a 'Double Your Donation' campaign to help raise funds for local red squirrel conservation through the 'Big Give' website to have your donation doubled and help give our reds an even better chance of survival.

Joshua Perry of the Red Squirrel Survival Trust said:- "We are delighted to be able to help to fund this enormously valuable work through our contribution to the Big Give. We now hope that people will donate to the campaign to ensure that Red Squirrels are given the help they need to recover."