New sculpture for Bootle Oriel Station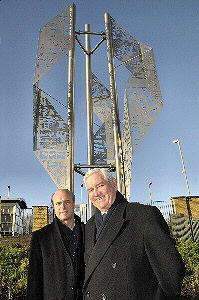 A new sculpture, 'Past, Present and Future' by local artist Stephen Hitchin, has been unveiled at Bootle Oriel Station. The giant steel sculpture, commissioned by Merseytravel and standing over eight metres tall, reflects and celebrates the history and growth of Bootle, its people and the wider Merseyside community.

Bootle Councillor and Chair of Merseytravel Mark Dowd, said:- "Not only does the sculpture reflect on the history of Bootle it is also a celebration of the growth of Bootle alongside Liverpool. The images in the sculpture make reference to some key events in Bootle's history. It is an interesting piece of work and one that I am sure many people will enjoy."

Neil Scales, Chief Executive and Director General of Merseytravel added:- "While we appreciate the need to modernise our facilities, we also recognise the importance of their past and the history surrounding the area, with this in mind we wanted a sculpture that would represent the past, present and future of Bootle, which Stephen has captured perfectly."

The sculpture, part of Merseytravel's ambitious and wide-ranging Public Arts Strategy, depicts a variety of images of the town throughout the years, including the docks and Captain Johnny Walker. During the Second World War, the docks made Bootle a target and as a result it was one of the worst hit areas outside of London. Bootle also played an important part in the Battle of the Atlantic. Gladstone Docks as well as Liverpool served as vital ports during the war and never closed despite being the target of repeated Bombing raids. Gladstone Docks were also home to Captain Johnny Walker who commanded the HMS Starling and along with the 2nd Support Group were instrumental in Allied Victory of the Battle of Atlantic. Captain Walker would occasionally rest in the Mayor's Parlour in Bootle Town Hall and the HMS Starling's bell and flags signalling the General Chase can be found today on display within Bootle Town Hall.

The sculpture also makes reference to the Liverpool Overhead Railway which ran the length of the docks and was primarily built to ease congestion, but turned out to be popular with visitors due to the amazing view of the docks, shipping and the transatlantic Liners on the River Mersey. Images of Bootle's trade, shipping and infrastructure can be seen within the 3 steel metal plates of the sculpture.

Stephen Hitchin, whose work is currently on display at the University of Liverpool's Victoria Gallery & Museum (VG&M) said:- "The sculpture has been designed to be viewed from all angles, giving people something to see from both the main entrance and also the platform level. I spent many hours researching this piece and I was interested to find out so much about Bootle's history, in particular the importance that the area played during the war - it has given me a rich source of reference and I have included what I hope is a fitting tribute, combined with a more up to date reflection of current day events."

Bootle Oriel Station was officially opened in June 2008 after undergoing multi-million pound improvement works including a new ticket office, booking hall, footbridge and new lifts providing free access to the platforms.
LIVERPUDLIANS INVITED TO HERALD A FESTIVE NOTE AT CAROLS BY CANDLELIGHT FOR THE NSPCC
WITH Christmas less than 18 days away, the NSPCC are gearing up for their Carols by Candlelight concert at Liverpool Anglican Cathedral on Monday, 14 December 2009.

Tickets are still available for the festive fundraiser, which has been generously sponsored by Liverpool Based Home Bargains, and the charity is hoping Liverpudlians will come along and enjoy the magic of Christmas, to support the NSPCC's Safe Place Appeal in Merseyside. The special service starts at 7:30pm and will feature seasonal performances by Liverpool Philharmonic Training Choir, Wirral Schools Concert Band and Liverpool Signing Choir who will delight audiences with carols, traditional music and singing in the beautiful candlelit setting of the cathedral.

Employees from the UK's family retailer Matalan store in Wavertree are also supporting the charity concert and will be bringing a touch of sparkle to the evening by kindly decorating the cathedral with festive garlands and decorations. Matalan staff have given their time to volunteer on the evening and the store have provided festive dress from the Malalan Party range for the performers. During the festive period the store are also running a Christmas present appeal, where shoppers are being asked to give an extra gift this Christmas. All the gifts donated will be given to the NSPCC and given to vulnerable children and young people in the region.

Clare Carty, Store Manager of Matalan in Wavertree said:- "Matalan has long supported the NSPCC with its vital work and we believe that it's really important to support children who won't have a happy time over the Christmas period, which is why we have chosen to further our support of the NSPCC through their Carols by Candlelight concert."

Tickets for Carols by Candlelight, are £8 for adults, Concessions and unaccompanied children £5 and children under 16 are free. They are available by calling 0161 628 1209, or 07971291 323 or via email.

Helen Gazzola, NSPCC community fundraising manager in Merseyside said:- "Carols by Candlelight is a wonderful way for friends and families to come together to celebrate the true spirit of Christmas and raise vital funds to support vulnerable children. It promises to be an enjoyable evening and we are all looking forward to the carol service and want to encourage all local people to come along and support the NSPCC's Safe Place Appeal in Merseyside. By supporting this event you will be helping to provide support, advice and protection for these children who are in desperate need of help."
SUSPECTED FIRE ARMS INCIDENT, ELMHURST ROAD, LIVERPOOL
MERSEYSIDE Police are appealing for more information after a car was damaged on 8 December 2009, during an incident in Belle Vale in which gunshots were reportedly heard. Police Officers were called to the scene in Elmhurst Road at 4.10pm, on the 8 December 2009, following reports from residents that they had heard several loud bangs and then saw a car being driven erratically down the road. On arrival officers were told by several witnesses that a car had collided with the wall of a house in Elmhurst Road before being driven off. Further examination of the scene revealed the registration plate of this car had fallen off on impact and detectives then appealed for anyone who had seen a black car, possibly a Golf GTI, with damage to the back of it, being driven around Liverpool, to contact them. They focused attention on the South of the City and, on 9 December 2009, they recovered a car, thought to be used during the incident. A 24 year old man from Netherley was arrested on suspicion of possession of a section 1 firearm. At this stage there have been no reported injuries and high-visibility patrols are operating in the area to provide reassurance to local residents. Anyone with information is asked to call Merseyside Police's anti-gun and gang crime Matrix unit on:- 0151 777 5699 or Crimestoppers anonymously on:- 0800 555 111.