Arthritis drug trialled at Southport & Ormskirk
RHEUMATOID arthritis patients at Southport and Ormskirk Hospital are benefiting from a new drug that could revolutionise treatment of their condition. It is hoped the clinical trial of Tocilizumab will transform the lives of patients for whom other therapies are unsuitable or won't work. 5 patients are receiving injections of the drug once a month for 6 months.

The trial, which is one of a number being run across the UK funded by the pharmaceutical company Roche, is expected to be completed early next year.

Consultant rheumatologist Khalid Binymin is leading the research at Southport and Ormskirk Hospital NHS Trust. He said:- "We are very lucky to be asked to host such prestigious research and this is the first time a clinical trial of such a drug has been conducted at the hospital. The treatment has the potential to stop the disease in its tracks. Arthritis can be a crippling condition and our patients are already reaping the benefits."

Mr Binymin's work will help inform a national decision on whether the drug is judged effective enough to be affordable by the NHS. Those patients on the trial for whom the drug works will continue to receive it for free from the manufacturer regardless of this decision.
Stunning photo exhibition at Bluecoat
YOUNG people with learning disabilities are displaying stunning photographs at the prestigious Bluecoat arts centre in Liverpool. The youngsters, who are aged from 12 to 18 and have autism, all attend Prescot Drive Respite Centre. They have been involved in a 3 month scheme run by PhotoVoice, a national charity which aims to help marginalised groups express themselves. During the project – titled:- "My City, My World" – they have been given expert guidance on photographic techniques by professionals. They have visited many of the city's most famous landmarks to build up a portfolio of work documenting their lives and aspirations. It has included going to museums, cathedrals, Liverpool Football Club and boarding a Mersey Ferry. The exhibition will be officially opened by Lord Mayor Mike Storey on Tuesday, 15 December 2009 at 5:00pm and will be on display at the arts centre, on School Lane in Liverpool city centre, until Sunday, 20 December 2009. Councillor Storey said:- "This is a fantastic project which is giving the young people the chance to have their work displayed in one of the city's most high profile arts venues. As well as giving them the opportunity to express themselves through photography, it will also give them a fantastic sense of achievement to have their images shown in public. I would urge anyone who is in the city centre doing their Christmas shopping to pop in to the Bluecoat and have a look at their work." One of the young people who has taken part in the scheme is 17 year old Daniel Davies from Belle Vale. His photographs include the Bill Shankly statue at Anfield and the city's two cathedrals. He said:- "It's been excellent - it's been really great and I've learnt such a lot by going out with staff from the respite centre. I'm definitely going to be continuing taking more photographs in future." The scheme has been supported by the city council and Fusion, a project based in Norris Green which gives young people with disabilities the chance to take part in activities. Admission to the exhibition is free.
Children shape the future of Liverpool's new community woodland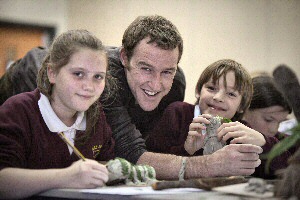 CHILDREN from Liverpool's West Derby area are working with an award winning community artist to create a range of sculptures for the new £600,000 Mab Lane Community Woodland - a Forestry Commission and NWDA project.

School children from St Brigid's, St Albert's and Mab Lane Community Primary schools are getting crafty with artist John Merrill to design three masterpieces that will become the visual identity for the 25ha green space, close to Stockbridge village and Croxeth Country Park.
Taking the environment as the theme, John will be running a series of workshops with the children that will carve out the inspiration for the site's landmark works of art, and gives schools the chance to continue to celebrate Liverpool's Year of the Environment.

Mab Lane Community Woodland, the new multi-functional green space at the heart of the West Derby community is being created through a partnership of Liverpool and Northwest organisations. £440,000 of investment for the project has been provided by the Northwest Regional Development Agency (NWDA) via the NWDA and Forestry Commission partnership programme, 'Newlands' which is rejuvenating 435 hectares of the Northwest's most damaged land to encourage economic growth and social and environmental enhancements.
Further funding for the project is being provided by Riverside via the Big Lottery Fund's 'Changing Spaces' programme, the Forestry Commission through the English Woodland Grant Scheme, and Liverpool City Council.

Work is already underway on site to rectify water logging problems, with a series of drains installed to redirect excess water from the site. And a network of footpaths has began to be laid that will provide access to the woodlands' natural and man-made attractions.

Due for completion in Summer 2010, West Derby's freshest green offering will boast 20,000 new native UK trees, many of which will be planted by local school children and community groups. The site will also offer wildflower meadows and a community orchard as well as larger-than-life sculptures by John Merrill and local school children.

To ensure Mab Lane Community Woodland adheres to the ideas and aspirations of the local community and visitors to the site, Liverpool City Council and The Mersey Forest will continue to work with the people of West Derby to ensure the long-term vision for the area becomes a reality.