"Peel Submit The Largest Planning Application In The UK For Wirral Waters"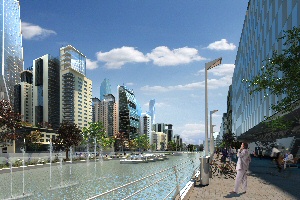 PEEL has submitted the largest planning application in the UK for the East Float part of its scheme known as Wirral Waters which is an investment in Wirral of over £4.5 Billion.

East Float proposes a very sustainable and green high density and part high rise regeneration scheme in the under-used Birkenhead Docks. It will provide 1.4 million square metres of mixed use floor space. The project, which is expected to be delivered over the next few decades, is driven by jobs, culture and education. It will provide office/workshop accommodation to support over 20,000 jobs in a broad range of commercial sectors. It will also include over 13,000 homes aimed at a very diverse mix of people including families plus leisure and culture facilities. It is expected to provide over 4,000 construction jobs over the life of the entire scheme.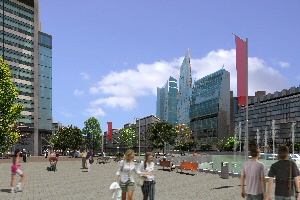 The East Float project is the result of working with Wirral Council, the local community and a range of partners and stakeholders over the last three years. It will act as the catalyst to transforming the local economy and regenerating seriously deprived areas around the docklands.

The planning application follows the 3rd public exhibition held at the Birkenhead Market on 4 and 5 December.

The exhibition attracted hundreds of visitors over the 2 days. Through models and visuals, Peel were able to outline the changes to the scheme following comments made by the public at the previous exhibition. This December's exhibition enabled local people a further opportunity to make their views known. They were encouraged to fill in a questionnaire to enable Peel to find out what they felt about the final scheme before it was submitted.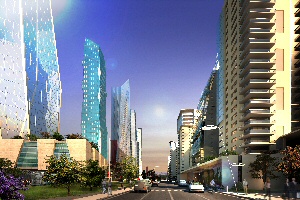 The result of over a hundred questionnaires completed revealed that 99% of people support the East Float proposals part of Wirral Waters (up from 96% in the summer).
The results also showed that a range of new jobs and training for local people was considered to be the most important aspect of the scheme, with 91% of people emphasising this as the most important criteria. New shops, cafes, bars and restaurants, civic and community buildings, and new cultural attractions and events were also high on the list receiving 88% and 79% respectively.

The aim of the exhibition was to show a scheme that has genuinely been shaped by the local community before it was to be submitted to Wirral Council planning department on the 14 December 2009.
Lindsey Ashworth, Development Director at Peel said, "This has been a massive, difficult and complex but exciting journey bringing this project together over the last three years to the point of submitting a planning application. We are in very difficult times and these projects take some resourcing in terms of staff time and finance but it has been worth the effort and expense.
It is Peel's belief that Birkenhead Docks has huge potential in so many ways and Wirral Waters together with Liverpool Waters will completely transform the way the western end of the northwest goes about its business. It will redress the imbalance of the region and create what I would describe as a new super region that will further strengthen this as a destination for international business and as a place to live".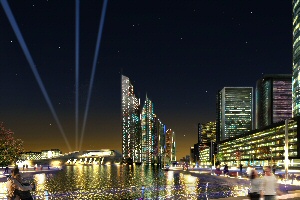 Wirral Council Leader Cllr Steve Foulkes said:- "This is a significant step in our vision to regenerate Wirral. Importantly it is encouraging that even at a time of such economic difficulties we continue to make significant progress towards the delivery of our ambitious investment strategy. The challenge for us now is to ensure this exciting vision delivers real benefits for the residents and businesses of Wirral and indeed the wider region."

It is hoped by Peel that the planning application will be heard at Wirral's Planning Committee in the Spring of 2010. If successful, Peel will then work towards starting the delivery process.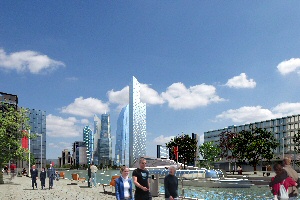 Richard Mawdsley of Peel states:- "We've listened to the public. 'Jobs and skills' are what's being demanded. This squares with Peel's intention that Wirral Waters be a destination for big employers and for them to be located in a very green, well connected world-class waterfront project but that also forms part of a revived and vibrant City region. As well as targeting new start-ups and growing local companies, we can see Wirral Waters having an appeal to companies who have become discontent with London and the South East and wanting to relocate. I can see a government department; a Ministry of Justice, or the Department of Culture, Media and Sport being blown away by Wirral Waters. Peel has experience in delivering these big relocations as we are currently moving the BBC to Salford Quays".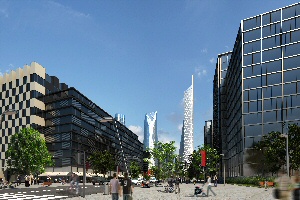 The results of the exhibition in full can be seen on the new Wirral Waters website.
Let us know what you think about these plans? Are they a good idea? Email our newsroom to news24@southportreporter.com with your views on this topic.