Recycling No.1 Young Green Action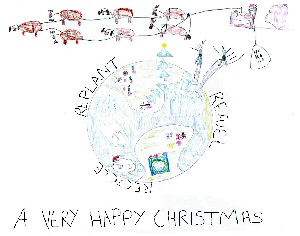 A competition designed to provide an understanding of children's perceptions of the environment and climate change has revealed a reassuring basic comprehension but lack of a wider knowledge of a subject which is generating headlines with the current Climate Change summit currently taking place in Copenhagen. Recycling was a common theme amongst the entries received by competition organisers, the Heat Project, with many children, including the winner, recognising the impact of waste on our planet and the importance of reducing the amount produced as our landfill sites continue to grow.

The Heat Project, a national provider of home energy efficiency measures, is proud to announce the lucky winner of the competition following an influx of drawings, paintings and photographs from children under the age of 11 expressing their green views, thoughts and feelings in response to the competition's green theme, 'Our Planet, Our Future – What my environment means to me'.
Despite the excellent standard of entries that flooded in from across Great Britain, Ben Roberts, age 7, is the deserved winner of a National Trust family pass and Energy Performance Certificate (EPC) for his home, courtesy of the Heat Project. Ben's entry demonstrated a mature understanding of the importance of the phrase 'recycle, refuel and replant', a message which the Heat Project urges is conveyed to the next generation to encourage a sustainable and responsible attitude to the care of our planet and environment.

The Heat Project has reported that the dominant theme of the competitors entries relate to recycling, demonstrating that "further education is required to open our children's eyes to other significant areas of environmental action that we can all undertake for the wellbeing of our planet", says the competition organiser. This revelation comes as the Copenhagen conference, spanning nearly two weeks, brings together around 15,000 participants from 192 countries to try to create a common ground for a coherent, global response to the unavoidable challenge of climate change.

The deadline for going green and actions required if we are to avoid the dangerous effects of global warming and are to hand over a sustainable planet to our next generation are being determined at the climate change conference, as talks continue to try and identify the best way forward for each and every country involved. The Heat Project would like to congratulate all entrants into its Christmas competition for taking the time to think about the environment and the best way forward to maintain a healthy and sustainable planet. If you too would like to do your bit in the fight against climate change by making your home more energy efficient, and at the same time save some pennies, contact the Heat Project on:- 0800 093 40 50 or visit:- heatproject.co.uk.
COMMON CLICHES
'AT the end of the day' was yesterday unveiled as Britain's most common office cliché. The annoying six-word phrase, a favourite of everyone from Premier League footballers to the office loudmouth, is uttered on average at least 3 times-a-day in every workplace.

'What goes around, comes around' was 2nd while 'It's not rocket science' was 3rd and 'Thinking outside the box' was 4th. 5th place was taken by 'flogging a dead horse'.

A string of animal-related phrases also made the top 20 including 'don't look a gift horse in the mouth' and There are no flies on me'.

Yesterday Dorcas Pratt, Director of International Development for charity The Brooke, which carried out the study to celebrate being named charity of the year at Olympia The International Horse Show, said:- '"Everyone has got their pet hates when it comes to office clichés. 'When someone says 'at the end of the day', many people cringe, and this can mean they no longer listen to the rest of the conversation properly. 'However, clichés can be a great way of getting a point across and help people really understand what you mean.''

The study also found 6 out of 10 employees hate it when their boss churns out cliché after cliché. And 6 out of 10 said they believed colleagues made a fool of themselves when they uttered the phrases.

''Give you the heads up' also featured as did 'Live and learn' and 'C'est la vie'. Also on the list were 'Don't put all your eggs in one basket', 'hit the ground running' and 'Always look on the bright side of life' - the phrase made famous by Monty Python. The study also found 1 in 3 bosses have pulled an employee to one side to ask them not to use clichés in meetings with clients.

Dorcas Pratt continued:- ''Office clichés can be very useful to highlight what you are saying and thank goodness these horse clichés are not meant literally! The Brooke has seen first hand people 'flogging horses' and our lifesaving work overseas helps ease animal suffering while supporting the owners who depend on them."
TOP 20 OFFICE CLICHES
1. 'At the end of the day'
2. 'What goes around, comes around'
3. 'It's not rocket science'
4. 'Thinking outside the box'
5. 'Flogging a dead horse'
6. 'Don't shoot the messenger'
7. 'Going forward'
8. 'By the close of play'
9. 'Give you the heads up'
10. 'Live and learn'
11. 'C'est la vie'
12. 'Don't put all your eggs in one basket'
13. 'Hit the ground running'
14. 'Always look on the bright side of life'
15. 'Suck it and see'
16. 'Don't look a gift horse in the mouth'
17. 'Don't worry, be happy'
18. 'I know it's a big ask'
19. 'I'm out'
20. 'There are no flies on me'