It's …. the NEXT BIG THING!
HMV and live music partner MAMA Group announce the launch of a brand new live music initiative – Next Big Thing, an annual festival which aims to showcase and celebrate a broad and diverse range of new and exciting breakthrough artists drawn from across the music spectrum in the UK and Ireland and internationally.

The inaugural Next Big Thing, which is supported by media partners Time Out and Xfm will run for over a week between 5 February to 14 February 2010. It will be hosted by HMV/MAMA owned venues in London, including the Borderline, Heaven and the Relentless Garage, and will feature upto 50 artists representing different genres, from singer-songwriters and indie-rock bands to urban and pop through to crossover classical talent who are either fresh to the scene, critics' choice or who have been 'bubbling-under' and are tipped to breakthrough in a big way in 2010.

Increasingly around December/January each year there is extensive press speculation and media polling, such as the BBC's Sounds Of… as well as HMV's own predictions, seeking to identify the new artists who will make it big in the twelve months that follow. Frustratingly for the public, however, they often have to wait to catch a live glimpse of these fresh faces. The Next Big Thing aims to change all that by giving fans an early opportunity to see these new stars-in-the-making perform live.

This focus on diverse new talent makes Next Big Thing unique in the live arena, and, coming so early towards the beginning of each year, it's hoped that it will effectively come to be viewed as the official start of the festivals season.

Six London venues – either co-owned by HMV and MAMA through their Mean Fiddler Group joint-venture or owned/promoted directly by MAMA will host this live event: the Borderline, the Camden Barfly, Heaven, the Jazz Café, the Relentless Garage and ULU. However, more dates and venues may be added as the number of confirmed artists grows.

Each venue will host three acts per night and, in keeping with the aim of introducing new music to the public, all gigs will cost the bargain price of a flat £10 (incl. of booking fee), whichever the venue and whoever the artist bill.

Tickets go on sale from Wednesday, 16 December 2009 at 9.00am and can be purchased via a number of sources:- online via hmvnextbigthing.com; instore - through hmvtickets kiosks; and by phone to a dedicated 24hr call centre on:- 0844 209 0330; as well as directly from the venue box offices.

Over twenty artists are already confirmed, and more will be added to the bill progressively over the coming days. Acts who have signed up include: The Soft Pack/ Tinie Tempah / Jesca Hoop/ Lissie/ Cate Le Bon/ Hamel/ Leddra Chapman/ Hadouken!/ Unicorn Kid/ The Slow Club/ The Low Anthem

The Wave Pictures/ Paloma Faith/ Ian King/ Example/ Cosmo Jarvis/ The Miserable Rich/ Plastiscines/ Chew Lips/ Alex Gardner/ First Aid Kit/ Jersey Budd/ Band Of Skulls/ Polly Mackey & The Pleasure Principles/ Joshua Radin

HMV and MAMA have always supported new and breakthrough artists, recognising that they represent the future lifeblood of the Music Industry, but Next Big Thing takes this encouragement to a new level, especially as artists can also expect promotional support in-store and online for their new releases as part of the initiative.

Next Big Thing will also look to act as a platform for unsigned artists, including, each year, for one of the annual winners of LIPA's (Liverpool Institute for Performing Arts, supported by Sir Paul McCartney) Make It, Break It songwriting contest.

Feargal Sharkey, Chief Executive of UK Music welcomes Next Big Thing:- "I think this is a fantastic initiative from HMV and MAMA Group. The music industry continues to evolve and embrace all manner of exciting changes, but it will always, and should always, be rooted in discovery and investment in the careers of new artists, composers and musicians. Next Big Thing acknowledges this and offers a great platform for a new generation to play some of London's best live music venues."

Jason Legg, Head of Live at HMV, comments:- "Predicting which new artists break through has become a big deal for media and public alike in recent years, but whilst quite a bit of hype and excitement is generated in print, frustratingly for fans, they often have to wait to see these news stars in the flesh. We wanted to change all that by creating a highly accessible and affordable live music event to showcase the best new bands and artists, whatever their genre of music, and to introduce them to a wider audience. HMV has always done its best to champion new talent, and now that we have access to our own live venues we feel Next Big Thing is a great way to take this engagement to a fantastic new level – not only does it represent a great opportunity for artists and labels, but, just as importantly, we hope it will quickly become established as a great platform for fans to engage and get closer to new talent at an early stage in their careers."

Clare Lusher, Head Of Marketing MAMA Group, comments:- "It is refreshing that two great music brands, Mean Fiddler Group and HMV, are getting behind new talent – new talent starved of investment and opportunities to break. Live is where it is at for these artists and the joint combination of MFG and HMV can support this initiative better than anyone else in the UK."
Christmas cheer in a shoebox for world's poorest children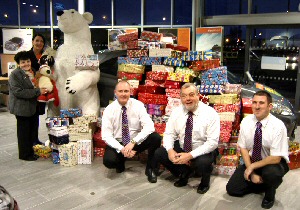 CHRISTMAS has come early for more than 100 disadvantaged children across the world - thanks to the generosity and goodwill of the local community in St Helens, Merseyside. Over the last two months, individuals and groups have been dropping off present-filled shoeboxes at Polar Ford's new showroom in Sherdley Road, which once again opened up its doors as part of this year's 'Operation Christmas Child' appeal. Polar Ford has been acting as a collection point for the appeal run by the Samaritan's Purse; which brings joy and happiness to children in hospitals, orphanages, refugee camps, homeless shelters and impoverished neighbourhoods in some of the world's poorest countries. Graham Woods, general manager at Polar Ford said:- "This is the fourth year that we have taken part in this appeal and we are delighted that we could help bring a little bit of extra happiness to so many children. It's such a great cause and we would like to thank everyone who donated a shoebox and made this year a success". In 2008, the Samaritans Purse volunteers sent 1.2 million shoeboxes to children across Eastern Europe and Africa. Since the appeal began in 1990, more than 60 million boys and girls have received a present filled shoebox.
Review of Christmas Tracks on our Liverpool Reporter station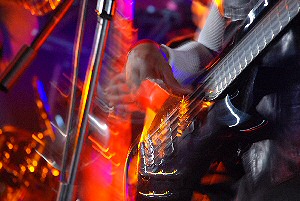 JUST when you thought it was safe to turn on Liverpool Reporter... Well, this year we have got two, very good, local bands sending us Christmas Music, so we have to add some Christmas cheer to our play list. The first band is the one and only Lancashire Hotpots. Yep, the lads are back... Dickie, Bob, Willie and Bernard have all delivered a festive CD that will keep you all amused for hours.... Like the band called The Wurzels, who were best known for their 1976 number one hit, The Combine Harvester, the Lancashire Hotpots are typically British in their humour and their new album 'The Lancashire Hotpots' Christmas Cracker' is just that. The new album has a kind of Spike Milligan tone to it mixed in with George Formby, as the lads return for some festive frolics and as they poke fun at all things Christmas. Nothing is safe from the bands witty lyrics, with songs like 'It's Cliff-mas time', 'Christmas Number One' and 'Without You This Christmas'. Tune into our online radio to hear a few of them... Also, you can hear a few clips by using the player below. If you have not yet got a CD for Christmas, or want something to keep you in stitches go to Townsend Records and get your copy by clicking here now. For us, the two best ones on the CD are the hilarious 'Santa Eckerslike' and also 'Happy Non Denomination Winter Festival Celebration'. For £8.99 this is a fantastic buy. The other Christmas music has been supplied by a new Southport band called Psychic Robot, which is an alternative, funk- cum- reggae band. They have produced a very effective, but simple track called:- 'Christmas is a beautiful thing'. This combines Buddhist chanting styles with pop and funk music to produce a very catchy song. It is not yet out for sale, but the band is hoping that by next year they will have developed this into a Christmas Album. The video with this song by Psychic Robot will also be on the Santa Cam 2009 page... Find out more about them, go to the bands Myspace. Also the sample track can be played below. Psychic Robot is also one of the many bands being played on our online radio station... This band has a very unique and fun sound as well as style, so let's hope they do well in 2010.
Church Services in Formby, Christmas 2009
WHY not join us in celebrating Christmas in one of Formby's Churches? You will be very welcome. Special family services are highlighted in bold print.

St Luke's C of E Church, St Luke's Church Rd, Formby
24 December 4.00pm Crib Service - 11.15pm First Holy Communion of Christmas
25 December 8.30am Holy Communion - 10.30am Christmas Holy Communion

St Michael's C of E Church, Altcar
24 December 11.30pm Midnight Holy Communion
25 December 10.00am Family Holy Communion & Christingle

St Stephen's C of E Church, Hightown
24 December 4.00pm Christingle - 11.30pm Crib Blessing & Midnight Eucharist
25 December 8.15am Holy Communion - 10.00am Family Holy Communion

St Peter's C of E Church, Green Lane, Formby
24 December 4.00pm Christingle - 6.00pm Christingle - 11.30pm Midnight Eucharist
25 December 8.00am Eucharist - 10.00am Parish Eucharist

Holy Trinity C of E Church, Elbow Lane, Formby
24 December 10.30am Little Tiddlers Nativity - 11.30pm Midnight Holy Communion
25 December 8.45am Holy Communion - 11.00am Christingle

Redgate C of E Church, Redgate School
25 December 10.30am Family Holy Communion

Formby United Reformed Church, Green Lane, Formby
24 December 6.00pm Christingle
25 December 10.45am Family Service

St Jerome's RC Church, Greenloons Drive, Formby
24 December 6.30pm Children's Crib Service 11.30pm Readings & Carols followed by 12.00 Midnight Mass
25 December 10.00am Family Folk Mass

Our Lady of Compassion RC Church, School Lane, Formby
24 December 11.30pm Readings & Carols followed by 12.00 Midnight Mass
25 December 9.00am Mass - 10.00am Family Mass

St Ann's RC Church, Timms Lane, Formby
24 December 9.15am Exposition of the Blessed Sacrament - 10.00am Mass - 6.00pm Vigil Service of Christmas followed by First mass of Christmas - 25 December 10.00am Mass

Formby Methodist Church, Elbow Lane
24 December 4.00pm Children's Nativity - 11.30pm Holy Communion
25 December 10.30am Morning Worship

Formby Christian Fellowship, Church Road, Formby
25 December 11.00am Christmas Morning Celebration

Formby Baptist Church
No Information received to date