COLLEGE REWARDED FOR FILM MAKING SKILLS
BUDDING young filmmakers from Huyton Sports and Arts Centre for Learning are celebrating after making a winning movie about the consequences of becoming involved with gangs and guns as part of a Merseyside Police awareness campaign.

Merseyside Police commissioned pupils from Huyton Sports and Arts Centre for Learning and Christ the King Centre for Learning to produce their own films to dissuade their peers from joining gangs and highlight the dangers of carrying/using a gun.

Armed with a video camera they were asked to produce a three-minute film and distribute to as many young people as possible within three weeks. Judges from Merseyside Police and Knowsley Council were stunned by the creativity and innovative ways the schools pushed their videos out. This included using social network sites such as You Tube and Facebook.

Both entries were of a consistently high standard, but after much deliberation, Huyton Sports and Arts Centre for Learning was selected as the winning team. All the entries were judged on content, creativity, effectiveness and distribution.

The winning students received £250 for their school and the video equipment they used for the project. The video will also be posted on the Merseyside Police website. The Safer Knowsley Partnership has also made a donation to the runners-up in recognition of their contribution.

The team - which consisted of Lloyd Williams, Sophie Lynch, Andrew Connor, Sam Meaghan, Chloe O'Neill, Natalie Reppion, Jess Balmer and amy Houghton - chose hard-hitting themes throughout their video to try and influence the behaviour of other young people.

One of the winning school pupils Lloyd Williams, said:- "It's been a very interesting experience coming up with ideas and progressing the video. We have all worked hard to create a video that will have a positive impact on the community."

To get their video out to as many people as possible the students put the video on the school screen and it has been viewed by 1400 pupils. It has also been shown during lessons and at local youth centres and placed on YouTube. They also asked for feedback on how effective the video was and received a 96% satisfaction rate. A total of 106 pupils were interviewed for the survey, which also revealed the following:-

96% of students said that the film was successful in getting across the dangers and consequences of gun crime 58% of students knew about the consequences of gun crime before watching the video

The viral video schools competition is part of a wider Merseyside Police Gun Crime campaign and the videos produced by the schools were aimed at young people under the age of 18.

Acting Superintendent Claire Richards, said:- "This project has been a great success. I was overwhelmed by the high quality of both video's and the innovative, hard-hitting approaches used by the students to get key messages about gun crime across to their peers. Using groups of young people to act as role models to influence other young people is invaluable. It was evident that a lot of hard work and effort had been put into the project and feedback from the pupils who were involved was very positive."

Steve Agger, Knowsley Council Service Director - Crime and Disorder, said:- "The Safer Knowsley Partnership recognises the hard work that has been put into this project by the schools and pupils involved. They both showed great creativity and a sound understanding of the issue. We value their involvement in helping to promote, what we feel is a very important message to members of their own peer group. We hope to continue the relationships we have developed with both schools and to work with them again on future projects."

The winning video will be broadcasted on the Merseyside Police and Knowsley websites from Thursday, 17 December 2009.
ROBBERY AT GOLDSMITHS, LIVERPOOL ONE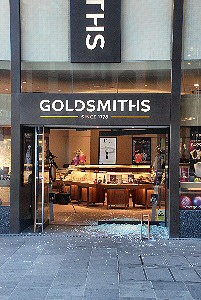 MERSEYSIDE Police are appealing for witnesses following an incident at a jewellery store in Liverpool One on Saturday, 12 December 2009. Police were called to Goldsmiths in Liverpool One just before 10am on Saturday following reports that four men had forced entry to the store. The men, who arrived at the store in a dark green Golf with the registration number M387 UCX, had their faces covered and were wearing grey and dark hooded tracksuits. The men smashed into the glass display cabinets in an attempt to steal expensive watches. Nothing was stolen during the incident. A security officer from the store chased the men but was knocked to the ground as the car left the scene. The four men split into pairs and ran off through the centre of Liverpool before all getting back into the vehicle around the corner. The vehicle was later found partially set alight in Gildart Street. Only minor injuries were sustained by the security guard during the incident. The investigation is continuing and officers are examining CCTV footage from around the area.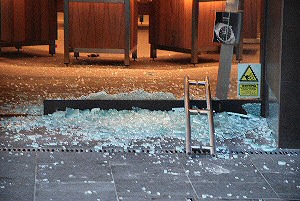 Detective Chief Inspector, Chris Green, said:- "We are doing everything we can to catch these men who carried out this attempted robbery in a busy shopping centre where people were carrying out their Christmas shopping. While I understand that this was a frightening incident for those in the shopping centre at the time I would like to reassure people that no violence was aimed at the public during this incident. Officers are continuing to investigate and are examining CCTV footage from around the area to establish who these men are and bring them before the courts. We are investigating a number of positive lines of enquiry relating to this offence. The offenders attempted to set the vehicle alight but were unsuccessful so a number of clues have been left at the scene and police are working with forensic experts to recover evidence. Police also investigating possible links to other similar incidents that occurred in Heswall, Birkenhead and Wigan. I would encourage anyone who has any information about the incident to come and speak to us. Did you perhaps see the dark green Golf arriving or leaving the scene? Someone out there knows who is responsible and I would urge any person with any information about this incident to get in contact."

Anyone who witnessed the incident, saw anything suspicious in the area either before or after or is asked to call Liverpool North CID on:- 0151 777 4809 or Crimestoppers anonymously on:- 0800 555 111.