NORTH WEST PROJECTS WIN FUNDING FOR COMMUNITY LEARNING
TWO North West projects, in Wirral and Sefton, have won government funding – along with 34 other projects across the country - to change the lives of local people through informal learning; under the Community Learning Champions' Support Programme. The Community Learning Champions' Support Programme helps volunteers promote learning in their homes, workplaces and communities. It provides training and development opportunities for Community Learning Champions, has set up regional networks and a website for exchanging good practice and has also created a branding and badging scheme to raise the profile of Community Learning Champions across the country. Wirral Council for Voluntary Service will reach out to local people in deprived areas including the long-term unemployed, lone parents, people with low or no qualifications, women from minority ethnic backgrounds, adults with learning difficulties including mental health service users and homeless people. The project will complement and enhance existing provision and will reinforce the drive towards increased engagement in informal adult learning. The project will work closely with existing initiatives including the Wirral Learning Guides and Aspire Futures (funded by the European Social Fund - which provides learning mentors for people pursuing vocational learning), Cascade (a Learning Revolution Transformation Fund project – which promotes informal adult learning using local media) and the Learning Wirral websites. The site highlights learning opportunities across the borough. Vola Learning Consortium, in Sefton, will recruit Volunteer Community Learning Champions to encourage, signpost and support potential learners through informal learning opportunities. Learners from a range of backgrounds will be targeted; people in disadvantaged wards, older people, carers, young women/parents, recovering drug users and their families, survivors of domestic abuse, social housing tenants, homeless and other vulnerable young adults. Kevin Brennan, Minister for Further Education, Skills, Apprenticeships and Consumer Affairs, said:- "Community Learning Champions play a vital role in their communities, encouraging peers, neighbours, family, and friends to take up learning. They act as role models, showing it is never too late for anyone to develop new interests, learn new skills and embark on new career routes." He continued:- "I'm pleased that these 36 projects have been successful in bidding for funding to get started. I wish them the very best of luck in boosting learning in their communities." Liz Cousins, NIACE Project Manager of the Community Learning Champions Support Programme, said:- "We were delighted to receive almost 200 applications from organisations hoping to deliver a Community Learning Champions' scheme. It illustrates just how well this approach is regarded across the country and just how many organisations want to incorporate it into their work. Out of all the applications to the Development Fund, a successful 36 projects were awarded contracts. Over the next year we will work hard with them to help raise their profile and sustain their valuable work in the future. However, none of this could be achieved without funding from the Government's Learning Revolution, which fully recognises the importance of informal adult learning."
Massive staff investment from Polar Ford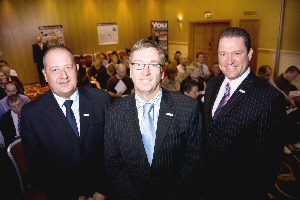 AT a time when many businesses are clamping down on expenditure and investment, one motor dealership group is bucking the trend. Polar Ford, which employs nearly 350 staff across seven motor dealerships in the North West, is benefiting from a £1.2 million investment in employee development and training designed to propel the business forward.

'Moments of Truth' was launched to all Polar Ford employees including the Polar Ford St Helens staff last month. They have sung its praises because everyone is involved, whether they deal with customers or not, and everyone has the opportunity to gain a nationally recognised qualification in customer service.

Graham Woods, General Manager, Polar Ford St Helens, said:- "It's been absolutely superb and incredibly motivational for everyone. It's beneficial for each individual as well as the business as a whole and is part of our drive to deliver the highest levels of customer service. We've also introduced a recognition scheme called 'Who Made the Moment' so customers and employees can tell us where we're getting it right."

'Moments of Truth' was launched to all Polar Ford employees in the North West in November and over the past month every employee has also attended one of 16 practical one day workshops. Everyone is now working towards a National Vocational Qualification Level 2 in Customer Service or a Ford Retail Customer Service Diploma.

Richard Beevers, Director of Customer Plus, the specialist customer experience company working with Polar Ford, said:- "Moments of Truth is radical and with the commitment from everyone it will give Polar Ford a competitive edge that will be hard to beat. But the benefits are as much for every individual and will add to job satisfaction and job security for everyone in the longer term."

Training specialists Total People are also working with Polar Ford and major Government funding was secured through the Train to Gain programme.

Visit Polar Ford St Helens on Sherdley Road or telephone:- 01744 610600 for further information.

Moments of Truth recognises the fact that all employees perform a critical part in delivering excellent service to customers, whether they deal with customers or not. Over 3,000 people employed by Polar Ford's parent company Ford Retail across the UK are taking parting the customer experience training and no other UK dealership group has ever done anything on a similar scale before.
Pedal power for good causes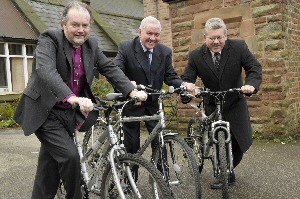 MERSEYTRAVEL has donated five bicycles to the Bishop of Liverpool for use within the Diocese of Liverpool.

Over 45% of the parishes in the Diocese of Liverpool are areas of high multiple deprivation and the bicycles are currently being used by two organizations, Faiths4Change and Asylum Link Merseyside.

Faiths4Change support faith communities across the North West by enabling members and local residents to work together, turning ideas into small scale environmental projects and transforming neighbourhoods.

Asylum Link Merseyside is a grassroots charitable organisation that mobilises people of goodwill to offer a compassionate welcome and continuing support to those seeking asylum in Merseyside.

Councillor Mark Dowd, Chair of Merseytravel said:- "We are delighted to donate these bikes for use within the community, we appreciate the pressures that voluntary and charitable groups are constantly under and so we are happy to see these bikes go to support such worthy causes."

Neil Scales, Chief Executive and Director General of Merseytravel added:- "These bikes were formerly used as pool bikes at Merseytravel, so after having them refurbished we wanted to make sure that they went to good homes. Both of the organizations are using the bikes to allow their staff and volunteers to travel sustainably when attending meetings and visiting community projects."

Merseytravel support cycling in a number of ways and are committed to promoting sustainable modes of transport.

Bikes are carried free across the Merseyrail network and on the Mersey Ferries.

In partnership with Merseytravel, Merseyrail recently secured a £1 million bid to become a National Cycling Demonstration Train Operator.

The money was awarded by Cycling England; an organisation supported and funded by the Department for Transport, will allow a total of 18 stations across the network to benefit from a variety of new facilities due for completion by late 2010.

As part of the Merseyside Local Transport Partnership, Merseytravel also supports WorkWise Wheels, an innovative scheme offering bicycle loans to people leaving benefits and taking up employment, who cannot access work via public transport due to shift working or location.
KNIFE CRIME PLUNGES IN LIVERPOOL CITY CENTRE
A ten-day campaign to reduce crime and disorder in Liverpool city centre in the run up to Christmas by targeting people who carry knives has seen a large reduction in woundings.

Police officers have been deploying safety arches in the busiest parts of the city centre and inviting people to step through them to make sure they are not carrying anything they shouldn't, like a weapon.

The tactic has resulted in three knives being recovered and a 21 per cent reduction in the number of wounding offences within the city centre between 14 December 2009 and 23 December 2009 compared to the same period last year.

The neighbourhood inspector for Liverpool city centre, Mark Morgan, said that the reduction was proof that knife arches, along with school visits to educate young people on the risks of carrying a knife, and officers visiting licensed premises where problems have arisen in the past, have worked.

Mark Morgan said:- "We have concentrated our efforts on the city centre's night-time economy, the popular shopping areas and the key transport hubs, to ensure that people coming into Liverpool during the festive period are safe. We have used information provided by our partner to identify hot-spot areas and problem bars and clubs, which are then targeted with additional policing to deter crime and disorder. This operation has led to several knives being recovered, one man being arrested and charged for possession of a weapon, and 21 per cent fewer woundings in the past ten days than we had last year. The recovery of the knives in particular is a direct result of the use of the safety arches in prominent areas and denied the people carrying them of using them to potentially inflict serious injury on others. Thousands of shoppers will have witnessed this high-visibility operation and hopefully can be reassured that we will continue our tough stance on knife crime, violence and disorder, and maintain Liverpool as a safe place to be this Christmas and New Year."

Anyone with information about knife crime or if you know someone who is carrying a knife can contact Crimestoppers on:- 0800 555 111.