FESTIVE FUN BRINGS CHRISTMAS CHEER TO EDGE HILL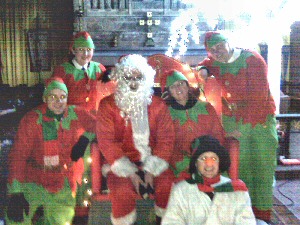 MERSEYSIDE Police Officers have swapped their uniforms for Christmas costumes to bring some festive cheer to youngsters across South Liverpool on Friday, 18 December 2009.

Santa and his officer helpers were greeting children and members of the community at a special grotto at St Dunstan's Church in Earle Road, Edge Hill handing out gifts to youngsters across the area.

Sergeants Alan Wood and Andy Murphy, from Liverpool South Neighbourhood Policing Team, organised the Christmas experience, which was made possible thanks to a grant from Picton ward councillors and donations from the Christmas Warehouse on Wellington Road.

Sgt Wood, who was dressed as a snowman, said:- "The event was fantastic with around 180 children coming along to the grotto and there was a real sense of community spirit with our team of neighbourhood officers decked out in festive costumes. We hope it brought some joy to the children in the area and that it will help to build on our relationship with the community. We would like to thank all the businesses in the area and our partners that have made donations to the event to make it possible."

This year was the first that Merseyside Police in south Liverpool have held a grotto of this size and it is now hoped to become an annual event.
ROBBERY - MCMAHON'S NEWSAGENTS, LIMEKILN LANE
MERSEYSIDE Detectives are appealing for witnesses to come forward following a robbery at McMahon's newsagents, on Limekiln Lane, Kirkdale, at 6.20pm on Wednesday, 16 December 2009. Two men, one armed with an iron bar, entered the store and threatened staff before escaping with a small amount of cash. As the offenders were leaving the store the cashier threw a bottle of red wine at the offenders and it hit one of the offenders on the head.

Detective Constable Andy Bason, said:- "I am eager to speak to anyone who witnessed this offence. One of the offenders may have suffered a cut to the head and his clothing may well have been covered in red wine. I urge anyone who knows anything about this incident to contact us as soon as possible."

The offenders are described as being aged between 18 and 19 years and 5ft 10in to 5ft 11in tall. They were wearing dark clothing with their hoods pulled up.
Anyone with information which could help the police with their inquiries should contact the Robbery Investigation Team at St Anne Street police station on:- 0151 777 4808, or Crimestoppers anonymously on:- 0800 555111.
IS A FIREFIGHTERS STRIKE ON CARDS FOR 2010?
MERSEYSIDE'S firefighters could be back on strike in 2010, after they voted to expose the "staffing crisis" gripping the emergency service. This vote now means Merseyside's Fire Brigades Union (FBU) could call official action against the service anytime. Merseyside FBU secretary Les Skarratts said that:- "We do not want to strike, but we are heading for an absolute meltdown. This will have catastrophic if we lose any more staff. This result is tremendous as it is taken under tremendous adversity. We're now asking for the employer to sit down and talk with us. We want them to work with us to resolve the dispute." Fire Service bosses hit back saying the action they are taking would not affect how the service is performing. Yet Mr Skarratts hit back by demanded four fire engines, which have been stood down from the frontline, supposedly for training, should be reinstated. Do you agree with the call for industrial action by Merseyside Fire Fighters? Email us your views to news24@southportreporter.com.
Government risks civil unrest over pensions
THE Government is creating a social pressure cooker by failing to reduce the heat on public sector pensions, New Party leader Richard Vass said on 22 December 2009. He was responding to news from the new Public Sector Pensions Commission, set up by the Institute of Economic Affairs, the Institute of Directors and other groups and chaired by an independent actuary, that unless action were taken to stem public sector pensions payments, taxpayers would face "unacceptable rises." He says:- "Almost six million public sector workers are guaranteed a pension based on a proportion of their final salaries. However, most private sector companies have had to do away with final salary schemes altogether. This is a sure recipe for disputes, strikes and possibly even civil unrest as the full extent of our imminent poverty becomes clear...." Do you agree with this? Email us your views to news24@southportreporter.com.
Festive show at Dobbies Southport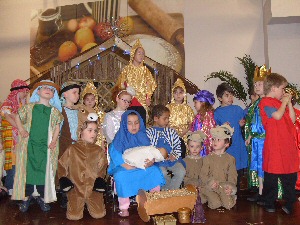 DOBBIES Garden World Southport was transformed into a theatrical festive stage when it hosted a live nativity performance on Wednesday, 16 December 2009.

Pupils from Farnborough Road Infant School will perform a traditional live nativity telling the story of the baby Jesus - a performance which inspired the true meaning of Christmas.

Mark Croughan, General Manager at Dobbies Garden World Southport said:- "I was delighted with the number of people attending the nativity performance and showing support for the pupils. I look forward to welcoming back Farnborough Road Infant School to Dobbies, Southport in the future."