Ryanair brings JLA an early Christmas present
IN the run up to Christmas, Ryanair have announced the return of services to the popular Canary Island of Fuerteventura from Liverpool John Lennon Airport (JLA) for Summer 2010, bringing an early Christmas present for the region's holidaymakers. Flights will operate twice a week and commence on 31 March 2010. Ryanair will now serve four of the Canary Islands from Liverpool, with flights already available to Tenerife, Gran Canaria and Lanzarote. This latest news follows last month's announcement by Ryanair of two more aircraft to be based at JLA, with three additional routes from Liverpool to Rimini, Trapani and Lodz in Poland and Ryanair now offers a choice of 45 destinations from the Airport. Robin Tudor, Head of PR for Peel Airports commented:- "In the run up to Christmas, this is a nice early Christmas present for the Airport and further compliments Ryanair's services to The Canaries." Ryanair's Maria Macken, added:- "Ryanair is delighted to announce a new route from Liverpool to Fuerteventura in the Canaries which is now on sale. Fuerteventura is a fantastic holiday destination, big on beaches, turquoise waters that offer an amazing variety of water sports and most importantly sunshine! Ryanair currently operates routes from Liverpool to Gran Canaria, Lanzarote and Tenerife which have proved hugely popular so we advise all holiday seekers to log onto www.ryanair.com and book their holiday to Fuerteventura with Europe's most financially secure airline."
Liverpool Airport - Festive Season Warning To Passengers
LIVERPOOL Airport has issued information page all about travelling through JLA this festive season. But if you are travelling to any airport follow these simple rules:-
1. Aarrive early and allow plenty of time to get through Security!
2. Keep Security queues to a minimum by:-
* Removing any coats, jackets, belts and anything in your pockets, like coins, keys and mobile phones. All these items will need to be screened, so do this before you get to the front of the queue!
* You are best only carry one item of hand baggage at most airports. But at Liverpool Airport, passengers flying with easyJet, Ryanair or Flybe will only be able to take 1 item, but yet those flying with KLM or Eastern Airways are permitted 2 items of hand baggage.
* Take into account the Security Restrictions currently in place at all UK airports regarding liquid items and wrapped gifts or Christmas crackers in Hand Baggage.
To find out more go to liverpoolairport.com.
DRIVERS ADVISED TO TAKE CARE DURING ICY WEATHER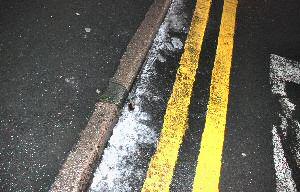 ALL Motorists are being advised to drive with extreme caution and avoid making unnecessary journeys during the icy weather, as the police and highways agencies deal with several incidents on Merseyside's roads this festive seasion. Inspector David Corcoran from the North West Motorway Police Group is advising people to avoid making journeys by car unless absolutely necessary, and if they do take to the roads, to drive with extreme care or delay the journey until the sun is higher in the sky and some of the ice may have melted.
APPEAL FOR INFORMATION OVER MAN FOUND IN SOUTHPORT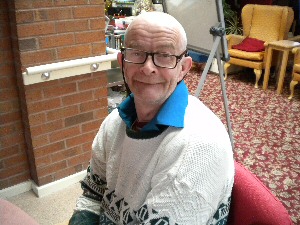 POLICE Officers in Southport are appealing for information about a man who was found on Saturday, 19 December 2009 and have released his picture in an attempt to identify him.

The man was found by officers at the junction of Hill Street and Lord Street in Southport.

It would appear that the man has previously suffered a stroke and has no ability to speak. He was hospitalised overnight and has since been placed in a care home.

The man has been able to communicate with officers by giving written answers. He has given some information to officers that appear to be incorrect but it is possible that he lived with relatives in Southport. He appears to be confused and could only give limited details.

Officers have taken steps to try to identify the man, but they have come to no avail.

He is described as white, approximately 5ft 5" tall with a slimbuild. He is balding, with some grey hair and clean shaven and wearing brown glasses. When found, he was wearing a blue/green windcheater with a white pullover underneath. He also wore a tweed hat and carried a walking stick. He does not have the use of his right arm and can only walk very slowly with the assistance of his stick.

Merseyside Police are very keen to reunite the man with any relatives he may have and would urge anyone who recognises this man to come forward and contact the Neighbourhood Team on:- 0151 777 3442, Southport police station on:- 0151 777 3430 or Crimestoppers on:- 0800 555 111.
DON'T BE A UGG MUG
TRADING Standards officers in Sefton are warning residents not to be a mug when it comes to UGGs.Officers have recently been
contacted by a number of consumers across the borough who have bought UGG boots on the internet only to find out they are fakes.

One consumer who bought a fake pair was even offered a refund of just 10 per cent of their money back as 'compensation' by the fraudsters.Sefton Council Trading Standards are warning residents not to be fooled by cheap prices on the internet when buying UGG boots, especially in the run up to Christmas.

Currently, fake UGG boots are being offered for sale at a reduced rate by web traders due to a 'seasonal sale'.

Trading Standards manager Andrew Naisbitt said:- "Sadly there are several counterfeit UGG boots offered for sale via the Internet. The best action consumers can take is to visit the UGG website and contact them directly and use their site to identify whether or not the trader is a genuine distributor. Genuine Ugg boots retail from more than £100 and those that seem like a bargain, more often than not, will only be fakes. Authenticity cards, packaging, care booklets and dust bags are all copied by the counterfeiters so please don't presume that just because the boots come with all the UGG extras they are authentic. Please don't get stung by a scam like this in the run up to Christmas."

For help and advice on all consumer issues by contacting Consumer Direct on:- 08454 040506. .