Manchester Airport - Weather Conditions
THERE have been difficult weather conditions across Europe and in the USA this week and Manchester Airport has issued this release to the press for all passengers from heading to and from the Airport. "As a result of the difficult weather, passengers are experiencing delays and cancellations across the transport network. This is likely to continue during the run over Christmas 2009. Manchester Airport staff have continuing to clear the runway, stand areas and taxiways of snow to keep the airport open after snow falls. We have got extra staff in over the festive period to assist both in the terminals and on the airfield and the airport is prepared and able to tackle further snowfall. We are continuing to clear the backlog in conjunction with our airlines, to get our passengers to where they need to be over Christmas. Passengers who are travelling over the next few days should also continue to check the websites of their airlines for changes to the schedule. The airport website is now displaying essential data only, such as live flight information arrivals and departures. We hope that way it will be is able to handle the additional traffic from passengers looking for information on their flights. We are ncouraging passengers to check with their airlines or tour operators before they travel to get the most up-to-date information over the Christmas and New Year period. To check the website go to:- manchesterairport.co.uk."
Letter to the Editor:- "Action stations"
"DEAR Southport Reporter, A little while ago we issued the attached news release about the £3.25bn we intend spending on providing better facilities at stations throughout the country over the next five years. We wanted to hear from rail users what they would like to see improved at their station. We have had a good response - but we want more. Your readers/listeners/viewers can win an annual rail season ticket simply by taking part in our on-line survey and because many people renew their tickets in the New Year, now is a good time to enter - but entries close on 31 December 2009. Have a happy Christmas and peaceful New Year." Regards, K Lumley (networkrail.co.uk}.
NEXT OF KIN APPEAL - KEVIN VINCENT ROBERTS
LIVERPOOL Coroner's Office is appealing for the next of kin of 59 year old Kevin Vincent Roberts, who died at his home in Anfield on Saturday, 19 December 2009.

The Coroner's Office has been unable to trace Mr Robert's next of kin and is appealing for any relatives to come forward.

There are no suspicious circumstances surrounding his death.

Any next of kin, or anyone who has information about Mr Robert's next of kin, is asked to contact Liverpool Coroner's Office on:- 0151 233 4713 or you can also call them via:- 0151 233 4705.
Celebrity Photo Zone - Stavros Flatley
Photographs by Ian Fairbrother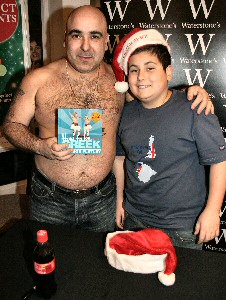 BRITAIN'S Got Talent Finalists, Stavros Flatley where at a book signing on Friday, 18 December 2009 and our snapper Ian headed on over to Bold Street Waterstone's for this weeks celebrity photo page! The acts website, if you want to know, is stavros-flatley.com... Thanks Ian,,, Can't wait to see who ya snap in 2010 for us!