Missing Iconic Yellow Submarine Is Replaced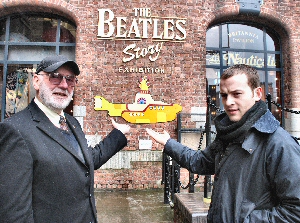 THE iconic Yellow Submarine Plaque had been a major photographic draw. It had hung on the entrance to the Beatles Story, since that exhibition opened. The image became world famous, being featured in millions of pictures, as visitors posed for what had become the customary photograph. Sadly, this distinctive art vanished back in July 2009. Mystery has surrounded its complete disappearance. Although a reward was offered for its safe the original wooden 5ft plaque, the art work has never been found or returned. On Wednesday, 13 January 2010, we headed for the very cold Albert Dock to see the former Beatles Booking Manager, Joe Flannery along with Mary Chadwick, a Beatles Story General Manager unveil the new contemporary replacement. This new work of art should make a welcome return to visitors' snap shots. The Beatles Story commissioned a new Yellow Submarine to hang in its place. The latest model is made out of 12mm Marine Plywood, the same material as sailing boats, so it should survive Liverpool's winter weather. The Beatles Story's new branding has been incorporated into the design, and the faces of John Lennon, Sir Paul McCartney, Ringo Starr and George Harrison now feature in the submarine's portholes. The model has been produced by employees of the Beatles Story, Daniel Rogers and John Clarke. Daniel is a big Beatles fan with a background in art. Daniel said:- "I was asked if I would create a new submarine and I jumped at the chance. The design is slightly different to ensure that it doesn't infringe any copyright laws and I've incorporated the faces of the Fab Four. It took several weeks to make and I can't wait to see it positioned outside the Beatles Story." Jerry Goldman, Managing Director of the Beatles Story said:- "Although we are disappointed that the original Yellow Submarine was never returned, we are delighted with its replacement. We have increased our security measures to ensure that such a selfish act will never happen again." To see our video footage and hear our audio interviews, please click on here.
HAPPY BIRTHDAY

Happy Birthday Emma from all your staff and clients at the Arion Pub in Ainsdale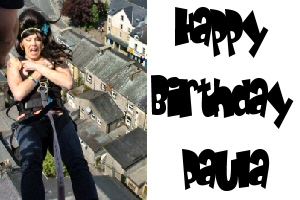 If you have someone you want to say happy birthday to, for free, then use the email address below to send us the names you want us say happy birthday to, and/or a photograph. Email us today!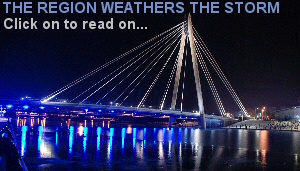 --- MORE NEWS REPORTS BELOW ---
CRIME PREVENTION - AINTREE - MAKE YOUR CHRISTMAS PRESENTS LESS ATTRACTIVE TO THIEVES
YOU DANCE, YOU TUBE, YOU PERFORM!
15 Year Old Girl Still Missing
Warning Over Winter's Effect On Local Wildlife
Have you seen Harold Spencer?
Mums and dads say no to TV product placement
NORTH WEST BRITS GET INTO SHAPE WITH ARMY'S KEEP FIT AUDIO
Up to 20,000 Liverpool pensioners will miss out on Cold Weather Payments
Be a part of Red for Heart in Merseyside this February
NORTH WEST CHILDREN GET TO GRIPS WITH SCIENCE
New figures prove that shoplifting is not a victimless crime
APPEAL TO TRACE A POTENTIAL WITNESS TO SOUTHPORT MURDER
CHARITY WARNS PUBLIC IS BEING DUPED INTO BUYING 'FARMED' DOGS
Hospital chief's big hand for staff in Big Freeze
ARMED ROBBERY - ST OSWALDS STREET, OLD SWAN
FROSTY THE 'NO' MAN
Trust seeks views from patients and public
ARMED ROBBERY, MCDONALDS, QUEENS DRIVE, WALTON
LARGE HAUL OF DRUGS AND CASH SEIZED IN OLD SWAN
The AA Save the Day at Alexandra House
NEXT OF KIN - JOHN MCLEOD
Almunia backs North West Euro MP Arlene McCarthy in warning bailed-out banks not to use taxpayers' money for bonuses
Yellow Submarine Plaque Unveiling Extra...
STAG PARTIES
Hospital appointments in the winter weather
A Helping Hand for Farmland Birds
WITNESS APPEAL - ROBBERY AT LADBROOKES, HAWTHORNE ROAD, BOOTLE
Witnesses wanted to RTC on Hoghton Street Southport
Your chance to get involved in your local Hospital
Lancashire Police Follow up Possible Sightings of Missing Man on Merseyside
Hollyoaks Star Challenges You to Challenge Poverty and Yourself at the Mega Mersey Abseil
THE REGION WEATHERS THE STORM
Dash for gas could put UK lights out
£8,000 Boost Makes Southport Sensory Garden a Rosy Success!
A lot done, a lot more to do on diversity and equality says Law Society
WITNESS APPEAL - ARMED ROBBERY, SOMERFIELD, COUNTY ROAD
| | | | |
| --- | --- | --- | --- |
| This weeks news in pictures | | | |