Safer City Stars Honoured @ Awards
ORDINARY people doing extraordinary work to make Liverpool a safer place are to be honoured at an awards ceremony.

The first-ever Citysafe Celebration Awards at St George's Hall on Friday, 22 January 2010, an evening has been organised by the city's Crime and Disorder Reduction Partnership (CDRP).

The event – hosted by BBC Radio Merseyside's Roger Phillips - will recognise and reward those who have helped Liverpool become one of the safest cities in Europe.

Crime in the city centre is at a 10 year low despite a huge increase in visitors, while car crime and burglary have been slashed and anti social behaviour has reduced.

Businesses, teams, projects and individuals who have made a major contribution to the city's incredible success have been shortlisted in six categories.

The nominations include:-

► A woman who has dedicated her life to supporting bereaved families and educating young people about the consequences of violence following the murder of her son

► Students at North Liverpool Academy who have helped produce powerful drama productions aimed at persuading young people not to take part in anti social behaviour

► A Community Payback scheme in Everton which has seen 3,000 hours of work resulting in the removal of 160 tonnes of rubbish, and a 50 percent reduction in reported anti-social behaviour

Councillor Marilyn Fielding, executive member for safer stronger communities said that:- "Liverpool has shaken off its image as a crime ridden city thanks to the hard work of many people in lots of different organisations. The Celebration Awards are a chance to officially recognise and thank some of those who have contributed to the success, and are continuing to work hard at making Liverpool an even safer city. The quality of the entries is absolutely outstanding and it has been very difficult to pick winners."

The categories and the nominees are:-

Business Champion

A local business that has shown commitment to safety and crime reduction for the benefit of staff and customers

In Places Plus Dane Group

The Inplaces-Safer Homes Initiative which has installed security measures in 400 homes and created training places for the
long term unemployed

Robcliffe Ltd

Removing untaxed, nuisance vehicles from neighbourhoods across Liverpool

Extra Mile award

A member of staff who does more than their key task and is positive and motivated

SAMM – Gaynor Bell

Gaynor supports bereaved families who are coping with the loss of a loved one through manslaughter or murder. She arranges practical help such as funeral arrangements and mediates between families to resolve disputes. Gaynor works tirelessly for SAMM (Support After Murder and Manslaughter) raising funds as well as working with excluded children and young offenders helping them understand the consequences of violence
Door staff at Puzzle Bar – Paul McQuirk and Liam Shaw

These staff rushed to help following the recent alleged gang homophobic attack on a young police constable in Liverpool city centre and prevented it from being far worse.

PC Carol McCartney – Admiral Street police station

Carol has worked tirelessly in Wavertree for four years and has greatly improved issues such as anti-social behaviour, alcohol misuse and vehicle crime. She is always cheerful, positive and very supportive, going beyond the call of duty.

Best Partnership Work

A project that has delivered one of more successful joined-up initiatives which have achieved outcomes which improve life for local communities

Respect Weeks of Action

This annual programme has provided partners with a focus to address key priorities in the most deprived communities including crime and grime, providing activities for young people, opportunities for employment, education and training and healthier lifestyle projects.

Domestic Violence Multi Agency Risk Assessment Conference (MARAC)

Liverpool has approximately 12,000 domestic violence calls per year, so the establishment of the Liverpool MARAC posed significant challenges. It has involved more than 75 agencies city wide and led to an increase in the number of cases assessed – up from 226 (2007/8) to 379 (2008/9), with 308 cases in the first half of 2009/10.

Best Local Initiative

A scheme that has involved local communities and reflects their aspirations and goals

CCTV unit

Operation Blazer is the dedicated Automatic Number Plate Recognition (ANPR) team which uses the cameras of the central CCTV Unit. Since 2007, it has resulted in over 1,200 arrests for offences including robbery and murder; recovery of over £10 million worth of drugs; seizure of over 400 vehicles and the recovery of over £3 million worth of property.

Intensive Community Pay Back Scheme

This scheme on the Fountains Estate in Everton has been hailed a success by residents, offenders, Merseyside Probation Trust and the Criminal Justice Centre. It puts offenders to work in supervised teams within 24 hours of being sentenced including cleaning up communal areas, planting and removing graffiti. A total of 3,000 hours of work between April and September resulted in the removal of 160 tonnes of rubbish, and a 50% reduction in reported anti-social behaviour.

Street based teams

Merseyside Fire and Rescue Service has been working in Kensington to engage with young people on the streets during Thursday, Friday and Saturday nights to address anti-social behaviour and provide reassurance to the public and local businesses.

British Transport Police (BTP) Initiative team

This small group of officers has dealt with nearly 500 offenders largely involved in alcohol fuelled violence, drugs and weapon related offences. They have worked with partners to achieve an 18 percent increase in people's feelings of safety.

Community safety champion

Someone who is committed to improving the safety and wellbeing of their neighbourhood

Michelle Stoops

Michelle has been instrumental in the Armistead Street Project outreach service which has seen detection rates for rapes against sex workers increase from 5.6 percent in 2006/7 to 40 percent in the past year. The figures - the best in the country - send out a clear message that the police will bring perpetrators to justice and also increases victims' confidence and encourages them to use the support services.

Earl Jenkins

Earl has worked within the Toxteth community for over 20 years and is Vice Chair of the BRM network, member of the Liverpool Black Leaders Forum and a Director of Kingsley United Football Club. He works for the Fire and Rescue Service and in partnership with Merseyside Youth Association and the Unity Youth and Community Association. He is a fantastic role model for young people, always putting other people first showing endless energy and enthusiasm to support their needs and is truly an inspirational community member.

Penny Bassi

Penny dedicates her time to tackling hate crime and has supported Merseyside Police's new investigation unit. She has been involved in the roll out of the "Hate Crime on Trial" events which are designed to boost confidence of community members to report incidents.

Rising star

A young person/people who have made great efforts to improve the safety and wellbeing of their community/neighbourhood Chelsea Rutherford, James Welsh, Tom Cain, Jake Flood, Rachel McCardle and Peter Halliday

These six young people from Cobalt Housing's Youth Forum held a 'teen takeover' event for 13 to 19 year olds in Croxteth, Norris Green and Fazakerley. Their aim was to promote community cohesion through organising a cross boundary event, consulting on young people's priorities and encouraging their involvement in resolving neighbourhood issues. The event was fun, educational and successfully engaged the 160 young people who attended.

Students at North Liverpool Academy

Students from North Liverpool Academy have worked with Citysafe on numerous initiatives such as Act Together, Inside Justice Week, and a Schools Parliament Safety Event. They have consistently delivered top class drama performances to schools across the city and have actively promoted positive community safety messages, showing young people that they do have choices in life, and illustrating the potential impact of making the wrong choices on themselves, their families and their community.

There will also be a Citysafe Special Award for an individual which will be revealed on the night.
Spend an hour gazing out of the window and do your bit for Merseyside's garden birds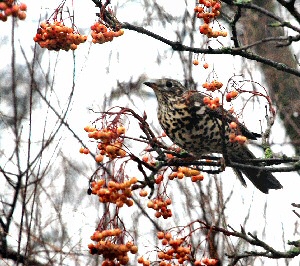 THE biggest wildlife survey in the world is back. The RSPB's Big Garden Birdwatch takes place on Saturday, 30 and Sunday, 31 January 2010 and it needs your help. Now in its 31st year, with half a million people taking part annually, it's that time of year again to count our country's garden birds.

In Merseyside last year, over 5,000 people participated across nearly 3,000 parks and gardens and this year we are hoping for even more.

Carolyn Jarvis, the RSPB's People Engagement Manager for Northern England said:- "Big Garden Birdwatch is a great activity for everyone, especially in this cold weather as you can take part by just looking out your kitchen window, cradling a hot drink and some tasty biscuits. By giving up just one hour of your day, you can make a real difference to our knowledge of garden birds. From the results we can tell the ones that are doing well from those that need our help."

Why not make a day of it by creating bird feeders from recycled household goods or bird cakes for the birds in your garden?

The RSPB is also running lots of Big Garden Birdwatch events and activities across the UK leading up to and over the weekend of 30 January and 31 January 2010.

In and around Merseyside, Eastham Country Park, Ness Botanic Gardens and Chester Zoo are getting involved, offering visitors guided tours, bird food making activities and talks on garden birds. To find out more about these events and others in your area, as well as how to take part in the survey, visit:- rspb.org.uk/birdwatch.

Alternatively call:- 0300 456 8330 to request a Big Garden Birdwatch form to be sent to you (calls charged at standard rate). The hotline number will be in operation until 29 January 2010.

An online results form will be available from Saturday, 30 January until 19 February 2010.
APPEAL FOR WITNESSES - STABBING MUIRHEAD AVENUE EAST, NORRIS GREEN, LIVERPOOL
MERSEYSIDE Police Detectives are appealing for witnesses after an 18 year old man from Norris Green was stabbed on Muirhead Avenue East, Norris Green, this afternoon of Sunday, 17 January 2010.

The victim was walking along Muirhead Avenue East at about 2.15pm with a friend when a white Ford transit van pulled up and two men got out and chased the victim and his friend.

The victim ran across Muirhead Avenue East and was stabbed in the back, his friend managed to escape. The victim managed to run in to the Londis supermarket across the road and was chased by the offenders in to the store, but he managed to jump the counter and ran in to a back room.

The offenders then left the scene and the victim was taken to hospital where he is being treated for a stab wound to his back, his injuries are not believed to be life threatening. At this stage of the inquiry it is believed that the victim was targeted.

The offenders are described as white and it is believed they are in their 20s. One of the offenders was wearing a light coloured top with two distinctive dark coloured hoops on it.

Crime Scene Investigators have attended at the scene and carried out forensic examinations and house-to-house inquiries have been carried out. High visibility patrols have been stepped up in the area to reassure the local community.

Detectives are appealing for anyone who may have information which could help them with their inquiries to contact Lower Lane CID on:- 0151 777 4565, or Crimestoppers on:- 0800 555 111.
Want to be on Dragons' Den?

LAST series saw some of the most diverse range of inventions and business ideas receive offers of investment from the multi -millionaire investors. All the Dragons were won over by entrepreneur Sharon Wright and the simplicity of her cable wiring
device; Rupert Sweet-Escott went into business with James Caan who was impressed with his unique range of aviation designs and prototypes; and Carol Savage chose to accept Deborah Meaden's offer of a cash injection into her tasty new food networking website. In fact, when the Den finally closed for business an incredible 15 entrepreneurs had managed to convince the fearsome financiers, they were worthy of their cash.

2009 saw Londoner Jason Roberts ask for a £150,000 investment in his innovative range of mobile phone and laptop protection products. After some tense negotiations, Peter Jones and Theo Paphitis joined forces to secure a stake in the company. Post investment, Jason says that he gets up to 5000 visits to his website every day, and the current range is available in eight nationwide chains. Agreements are in place with the major phone and computer manufacturers, and he's now planning to launch a range of own-branded cases, across the globe.

Previous success stories in the Den include Brixton based Levi Roots who secured an investment of £50,000 for his secret recipe, Reggae Reggae Sauce. Just 4 weeks after his appearance on the programme his Dragon investors helped him launch his sauce in a major supermarket all over the country. Now Levi has increased his product range to 8 sauces, produced a Caribbean cook book, and won Best New Product at the World Food Awards 2009, even going on to present his own successful BBC Television series - 'Caribbean Food Made Easy'. Having also successfully licensed his sauce to one of the world's largest
frozen food manufacturers and to an international fast food chain, Levi says that thanks to the Dragons he has a business empire that is now valued in the millions.

Of course, not everyone secures investment in the Den, but that doesn't stop the most tenacious of entrepreneurs from achieving success. After a gruelling time in front of the Dragons in 2008, inventor Natalie Ellis failed to convince them to back her Road Refresher. But one year on, her product became the fastest selling dog bowl on Amazon USA. Natalie says her company now has a million pound turnover and that her range is currently stocked in 32 countries. Likewise Shaun Pulfrey wanted the Dragons to invest £80,000 in his rework of the hairbrush – the Tangle Teezer. Unsuccessful in his bid he claims he is now stocked nationwide in high street stores and top hair salons, with sales approaching 400,000 units.

The rules are simple: entrepreneurs ask for a cash investment in return for equity in their business. However, they must get at least the amount they ask for or they will walk away with nothing. The Dragons are prepared to listen to a pitch for any kind of business but they must be convinced that it will make money.

As demonstrated by the investments in the last seven series, ideas, businesses and products that meet some or all of the following criteria stand a good chance of securing the Dragons' interest:-

► A Unique Selling Point: a product that serves a need like nothing else.

► Scalability: something that can be up scaled to make real money.

► Route to Market: the clear way the product can be sold and marketed.

► Mutually Beneficial Arrangement: just what will the Dragons get out of it?

► Exit Strategy: a plan of how the entrepreneur/Dragon will exit and make money.

The BBC is currently searching for Britain's best entrepreneurs and will be auditioning throughout the coming months. We want to hear from anyone who thinks they've got what it takes to enter the Dragons' Den.

If you would like an application form please send an email to:- dragonsden@bbc.co.uk or visit:- bbc.co.uk/dragonsden.
APPEAL TO TRACE NEXT OF KIN - THOMAS WILLIAM CORLETT
LIVERPOOL Coroners Office are appealing for the next of kin of Thomas William Corlett to come forward following his death last month.

Mr Corlett was found dead in his home in Cromarty Road, Old Swan, on 14 January 2010. There are no suspicious circumstances surrounding the 64 year old's death.

The Coroner's Office has been unable to trace Mr Corlett's next of kin and is appealing for any relatives to come forward. It is understood that he may have had a brother in law with links to the L7 and L12 postal areas but no other details are known.

Anyone who has information is asked to contact the Coroners office on:- 0151 233 4703.