MISSING 15 YEAR OLD - HAVE YOU SEEN HER?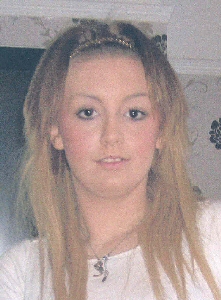 MERSEYSIDE Police are now concerned for the welfare of 15 year old Sarah Lewington who has been missing from her home in Buxton since Sunday, 20 December 2010.

Sarah travelled to Merseyside to visit family and is believed to be somewhere in the Kensington area.

Sarah is described as white, 5ft 4in tall, of slim build, brown eyes and shoulder-length light brown hair and she speaks with a Liverpool accent. She was last seen wearing black baggy trousers, a white top with black belt and a short white bomber jacket.

She is known to frequent Liverpool City Centre, Southport and Kensington.

Anyone who has seen Sarah or who knows of her whereabouts is asked to call Merseyside Police on:- 0151 777 4100 or Missing People on:- 0500 700 700.

If you can help spread the word by printing off and putting up a Missing Person's poster in your business, then please download this Word .doc file by clicking on here. Please remember though to remove it when she has been found. Thank you.
Estelle Morris to chair commission on school libraries
THE Museums, Libraries and Archives Council (MLA) and the National Literacy Trust are launching a commission to examine the future of school library provision in England. The joint initiative will assess the role of the school library in the 21st century school.

The commission will focus on the definition and role of a modern school library; the characteristics of effective school library provision; the agencies and partnerships which can best provide and support this model; and the articulation of a national improvement agenda. The final report will provide an informed and proactive vision for the future of school libraries and their role in supporting learning outcomes.

The commission will be chaired by Baroness Estelle Morris, who began her career as a teacher and has held a number of positions in government including Secretary of State for Education & Skills (2001 to 02). Baroness Morris will be joined by commissioners including Peter Wanless, Chief Executive of the National Lottery Fund; Jean Gross, Director of Every Child a Reader partnership; and Catherine Blanshard, Chief Officer of Libraries, Arts and Heritage for Leeds City Council.

The commission will ask schools, local authorities, education professionals and any organisation or individual who is interested in the future of school libraries to submit their views and ideas. Throughout the commission there will be ongoing dialogue with national and local government and other policy makers with an interest in the development of school libraries as well as commercial service providers. These bodies will be updated and briefed ahead of the commission's final findings in June 2010.

Between 1997 and 2007 pupils supported by schools library service provision dropped from 82% to 66%. An evidence based examination of the role of the school library in the new education landscape is urgently required as is a fresh and imaginative approach to redefining the role of the school library.

Baroness Estelle Morris said:- "Libraries provide children with fantastic educational and social opportunities and the central aim of the commission to look at ways to furnish school libraries with the very best support and advice."

Museums, Libraries and Archives Chief Executive, Roy Clare, said:- "The Museums, Libraries and Archives and National Literacy Trust partnership will support the vital role that the library service plays in children's access to reading and learning. We are committed to helping libraries deliver the best possible service to help children achieve their potential. We launched this commission to answer current inconsistencies in the school library services and to offer effective examples and support for school libraries in the future."

Director of the National Literacy Trust, Jonathan Douglas, said:- "School libraries are a vital resource in supporting literacy standards. They are powerhouses of reading where children and young people discover their identities as readers and develop appetites for literacy which will equip them to be lifelong learners. As such, school libraries are crucial in enabling students to fulfill their potential. A resource as important as this needs to be rediscovered in the context of a changing educational landscape."
Maddie Search Marks 1,000th day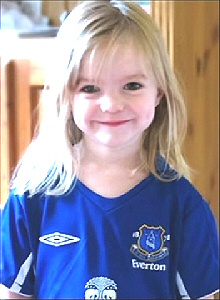 FORMBY marked the 1,000 day since Maddie McCann disappeared, as other related events took place worldwide. Formby Football Club launched as many lanterns as they could, unfortunately wind stopped them from launching all the 250 which had been planned. It was in May 2007 that Liverpool born parents, Gerry and Kate McCann, found their 3 year old child had vanished whilst they were on holiday in a Portuguese holiday resort. Since then, they have worked tirelessly to clear their names and also to keep the public and authorities searching for her. At this event in Formby Football Clubs grounds, on Altcar Road, were Maddie's Liverpudlian grandparents, representatives of Formby FC, Councillor Barry Griffiths and residents from all over Merseyside. Since Madeleine was taken, both Gerry and Kate have become very aware of just how many children go missing each year from all around the world. They also now support other families of missing children and on the Find Madeleine website they have a very interesting section to read. You can help the search for Maddie by logging onto their appeal website:- findmadeleine.com. The lanterns that were not set off on 27 January 2010, were given to the public who attended the event to set off over the next few days. So keep your eyes on the skies as well as keeping up the search for Maddie.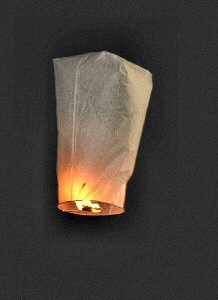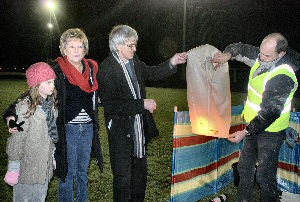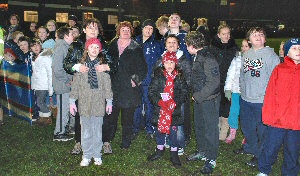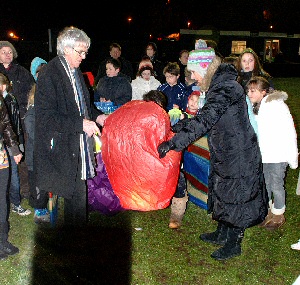 Page 1 of 2
If you like the photos, please order them and do not copy them. Help to keep this site online. Click here to find out out you can get you copy of these photos.