SENT OUT BY MERSEYSIDE POLICE ON BEHALF OF THE NATIONAL FRAUD AUTHORITY (NFA)
FRUAD has been described as a 'silent crime'. But it is not a victimless crime. It knows no boundaries and deeply affects tens of thousands of people in the UK each year. It is a crime that is second only to the illegal drugs trade in terms of its impact on the UK, and on average, it costs each adult living in the UK around £621per year. But the human cost is even higher because proceeds of fraud are often used to fund serious crimes such as drug smuggling and people trafficking.

Over half of people who are victims of fraud do not report the crime. Victims of fraud often don't want to talk about what's happened to them because they feel embarrassed and ashamed. Fraudsters rely on that silence. But we can fight back by talking. The National Fraud Authority (NFA) has launched Action Fraud, a national fraud reporting centre that provides a single point of contact for fraud victims where they can both report a fraud and seek guidance and advice.

Dr. Bernard Herdan, Chief Executive of the NFA, said:- "Action Fraud is at the heart of our strategy to make the UK a more hostile environment for fraud. Victims of fraud often don't want to talk about it because they feel embarrassed. They not only suffer a financial loss but a loss of self esteem because they blame themselves for being taken in. But the best way to fight fraud and fraudsters is to get people talking about it and reporting it to Action Fraud."

Action Fraud provides a clear signpost for reporting all types of fraud, including identity theft, investment, credit card and consumer fraud. At the same time it gives law enforcement and counter-fraud agencies better information to better target fraudsters, better protect the public and bring criminals to justice, by providing vital information to the National Fraud Intelligence Bureau (NFIB). This collaboration between the Forces, the NFIB and Action Fraud will help tighten the net on fraudsters.

Detective Chief Inspector Colin Radcliffe, who is part of Merseyside Police's Economic Crime Unit, welcomed the launch of Action Aid:- "Merseyside Police takes all crime seriously including fraud type offences. We have a dedicated team, the Criminal Enterprise Team, that deals with instances of serious and organised fraud, money laundering and financial crime. A common misconception is that fraud and associated offences are victimless crimes where only large financial institutions have lost out. However, you only need to ask anyone who has had their bank accounts or credit cards compromised to see the real effect of this type of crime. Merseyside Police is committed to Total Policing and this includes investigating frauduent transactions and business."

One such fraud case that has been successfully investigated by Merseyside Police, with the help of the NFA and information from the public are that in May 2009 two west African males were convicted at Liverpool Crown Court for offences of fraud by false representation. The pair were found guilty of impersonating a number of people and altering details on their bank accounts before transferring money from those accounts to accounts abroad. The offenders were also passing fraudulently altered cheques through the bank accounts of a number of vulnerable people, to whom they paid small amounts of money. During the 18-month operation officers from the Economic Crime Unit recovered £60,000.00 cash and forged documents including driving licences, bank statements and debit cards. The main offenders, were sentenced to a total of over 5 years imprisonment with the people who allowed their accounts to be used receiving community justice sentences. In December 2009 the main offenders were also charged with further fraud offences and await trial on those matters.

City of London Police is the National Lead Force for fraud, and is leading the implementation of the NFIB. Commissioner Mike Bowron said:- "One of the biggest challenges we face in combating fraud is the reluctance of victims to come forward. People often feel they have somehow 'fallen' for a scam and hold some responsibility for having lost money, but this is simply not the case. These fraudsters are sophisticated criminals who use high-pressure sales-techniques to convince victims to part with their cash. There is no shame in becoming a victim and it is crucial that the crime is reported, so that these criminals can be caught. Action Fraud, which we have worked with the NFA to develop, will make that reporting easier - and make life significantly more difficult for fraudsters."

If individuals or business operators have been a victim of fraud in the last 12 months and want to report a fraud, they are encouraged to call Action Fraud on:- 0300 123 2040, Textphone:- 0300 123 2050 or visit:- actionfraud.org.uk to get advice and guidance on protecting yourself from fraud.
NEW CHIEF CONSTABLE TAKES UP THE BATON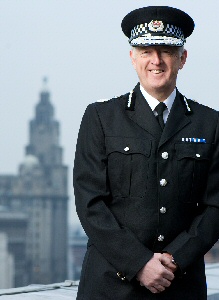 MR Murphy has previously served with the police service for 35 years. Mr Murphy first joined Merseyside Police in 1975 as a cadet where he progressed through the ranks and by 1995 was Detective Chief Inspector. In 1999 he was a Chief Superintendent and held the role of Force Operations Manager with overall responsibility for all uniform support departments before being promoted to Assistance Chief Constable at the National Crime Squad. In 2004 he returned to Merseyside Police as Deputy Chief Constable, a role he held for three years before leaving to work for the Home Secretary as the lead for the national Tackling Gangs Action Programme and most recently as National Coordinator for Serious and Organised Crime with the Association of Chief Police Officers (ACPO).
THE POST MORTEM RESULTS - MOHAMED ABDUL-KADIR
A post-mortem was carried out on Monday, 1 February 2010, to establish the cause of death of 19 year old Mohamed Abdul-Kadir has shown that he died as the result of a severe head injury.

Detectives are continuing to appeal for witnesses after Mohamed was found at the rear of flats on Princes Road, Toxteth at around 6.45pm on Tuesday, 26 January suffering from serious head injuries.

Mohamed was taken to hospital by ambulance where he was treated until his death late on Saturday, 30 January 2010.

Detectives have launched a murder investigation and are continuing to investigate the circumstances surrounding his death.

Merseyside Police would continue to appeal to anyone who was in the area at the time and may have any information about this incident to contact officers on:- 0151 777 5394 or Crimestoppers anonymously on:- 0800 555 111.
NEXT OF KIN APPEAL - KEITH HARRIS
THE Liverpool Coroner's Office is appealing for the next of kin of a man who died at his home on Sunday, 24 January 2010. Keith Harris, was 60 years old and lived in Canterbury Street, Garston. There are no suspicious circumstances surrounding Mr Harris's death. The coroner's office is now trying to trace his next of kin. Any next of kin, or anyone who knows of his next of kin, is asked to contact Liverpool City Coroners Office on:- 0151 233 4707.
ROBBERY AT SAYERS IN, LIVERPOOL
MERSEYSIDE Police are appealing for witnesses following a robbery at Sayers on County Road on Tuesday, 2 February 2010. Officers were called to the scene at 8.40am following reports that a man had jumped over the counter, forced a member of staff into the back room and demanded cash. The offender is described as white, about 25 years old, 5ft 8in tall with a gaunt appearance. He was wearing a dark jacket and a blue hooded top with the hood pulled up. He escaped with a quantity of cash and made off turning right along County Road, then right onto Ismay Street in the direction of Lind Street. The staff were uninjured but obviously shaken by the incident. Anyone with information is asked to contact Officers at St Anne's Street Police Station on:- 0151 777 4809 or Crmiestoppers on:- 0800 555 111.