Free Energy Display Meters for schools initiative launched
THE Secretary of State for Children, Schools and Families, the Rt Hon Ed Balls MP, saw the first school Energy Display Meter in action as part of a £12 million energy efficiency initiative to help schools and pupils up and down the country to become more aware of energy use.

In a visit to Pimlico Academy in Westminster, London, the Secretary of State spoke to pupils and teachers about how the new technology, which gives real time information about electricity use in their school, will help them to understand more about how simple changes in behaviour can make a big difference to the amount of energy consumed in their school.

The new initiative is to coincide with the publication of the Zero Carbon Task Force final report which recommends that the use of energy display meters and a comprehensive awareness campaign can help change energy efficiency behaviour in schools.

All primary and secondary schools in England can apply for a free energy display meter which will provide an accurate real-time reading of how much electricity a school building uses which can be displayed via the school's computer network. This means that pupils can see for themselves how simple actions – such as switching off lights, computers and electrical equipment – affects the school's electricity use.

Schools account for around 2% of UK green house gas emissions, with 9.4 million tonnes of carbon dioxide emitted annually by schools in England. The energy display meters, which are provided and installed by British Gas, are expected to help reduce consumption by 10-15% and it is estimated that it could save an average 900-pupil secondary school more than £3,000 a year on fuel bills alone.

The Energy Display Meter offer is funded by the Department for Children, Schools and Families, with Partnerships for Schools responsible for overseeing the delivery of the project, working in partnership with British Gas as the selected private sector partner. The project is being supported by the British Gas Generation Green educational programme which has created a range of learning resources, including lessons plans, which are specifically designed to be used alongside the 'dashboard' displays.

Speaking at the Pimlico Academy, the first school to sign up to the initiative, Secretary of State for Children, Schools and Families, the Rt Hon Ed Balls MP said:- "School children of today have a real desire to become the environmental champions of the future – and we need to harness this interest. This £12 million investment will enable schools to lead the way on an energy revolution, helping staff to reduce energy consumption, and helping children to have a better understanding of the importance of their behaviour in tackling environmental issues."

Tim Byles, Chief Executive of Partnerships of Schools, said:- "Display meters are a great way of tapping into the enthusiasm and interest that young people have in the environment and energy efficiency. In new and refurbished schools where these meters are already in operation, we are seeing energy information actively being used in lessons and positive changes in behaviour that will help reduce the carbon footprint of our schools. We're looking forward to making this opportunity available to more schools across the country and in so doing introduce more environmentally sustainable behaviours, both within schools and in the ways young people live their lives beyond the school gates."

Kanat Emiroglu, Managing Director of British Gas Business said:- "British Gas is committed to supporting the public sector in meeting government targets to reduce carbon emissions and we are proud to be at the forefront of the biggest revolution in energy efficiency since the switch to natural gas in the home in the 1970s. British Gas is the largest provider of advanced and smart meters to the public and private sector. Smart and advanced metering, combined with our Energy Services and our multi-site expertise, are already showing how our customers can be put back in control of their energy usage, helping them use less energy, cut carbon emissions, comply with government legislation and save money."

The Zero Carbon Task Force was set up in 2008 to advise on carbon reduction measures for schools and how best to achieve this. 2 key recommendations made by the Task Force in March 2009 were the use of energy display meters and a comprehensive awareness campaign to help change energy efficiency behaviour in schools. All primary and secondary state schools in England will be eligible to apply for a free energy display meter. Schools can find out how to apply for a meter via the Teachernet website.
UPDATE ON HAROLD SPENCER
WE have sadly had the following report sent from Merseyside Police who have confirmed that the body of Harold Spencer was discovered on Thursday, 28 January 2010, in the Leeds Liverpool Canal near to the Linacre Lane Bridge by the Force's underwater dive team. Investigations are on-going into the circumstances of his death. Mr Spencer, 71 years, was last seen on Knowsley Road on Saturday, 2 January 2010. Our thoughts go out to the family.
LADBROKES ROBBERY
MERSEYSIDE Police Detectives are investigating a robbery at Ladbrokes bookmakers on Lord Street, Liverpool city centre, this morning on Wednesday, 3 February 2010. Investigations are at an early stage, but it would appear that one man entered the bookmakers at around 9.10am. He threatened staff with what appeared to be a black and silver handgun and forced them to open the safe. He then left the bookmakers on foot with a substantial amount of cash. The staff members, a man and woman, were uninjured but have been left very distressed by their ordeal.
Hunt is on to find Formby's Worst Forces Snorer
THE family and friends of the noisiest snorers stationed at RAF Woodvale are being asked to nominate their groaning comrades to represent the unit in a bid to find the British Forces' worst culprit and raise cash for Help for Heroes and The Big Salute.

Helps Stop Snoring, makers of the UK's first natural snoring remedy, is hoping that Formby's riled regiments of spouses, siblings, offspring and, in extreme cases, neighbours, will lead the charge, and has pledged to donate £1 to charity for each nomination received.

The idea came about after the company received a letter from a soldier desperate for a cure after waking up in his barracks each morning surrounded by boots and other items that had been thrown during the night by comrades desperate for a peaceful night's sleep.

Graham Carr-Smith, of Helps Stop Snoring, said:- "Our armed forces are on the frontline when it comes to representing the UK at home and abroad – it's vital they get a good night's sleep. With 15 million of the UK population believed to be snorers, I'm sure that quarters on land and sea are awash with night-time nuisances who are keeping their comrades awake, and it would be great to have RAF Woodvale represented in the search for the worst forces snorer and help raise much needed funds for Help for Heroes and The Big Salute. I'm extremely pleased to take this opportunity to support such worthwhile causes as Help for Heroes and The Big Salute, who help the brave individuals who have been wounded in Britain's current conflicts."

A winner will be selected from RAF Woodvale who will receive a complimentary pack of anti snoring product to help them and their fellow servicemen and women enjoy a peaceful night's sleep.

This person will be put through to the national final and could be crowned with the unenviable title of 'British Forces' Worst Snorer', and invited to present the cheque to Help for Heroes and The Big Salute on behalf of Helps Stop Snoring.

Snorers from RAF Woodvale can either put themselves forward for the appeal, or be nominated by family or fellow servicemen and women, by emailing:- stopsnoring@htpr.co.uk.
Visit:- stopsnoring.co.uk to find out more.
SNOWING AGAIN?
Photographs by Craig Boon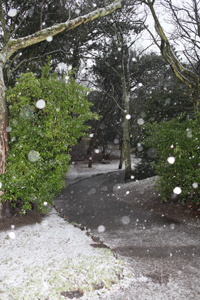 THESE are a few pictures of the snow flakes falling in Hesketh Park on 3 February 2010. If you get any good pictures, please do send them in... news24@southportreporter.com Please always read out T&C before sending reports and photographs.