The search is on to find Miss Southport Galaxy 2010!!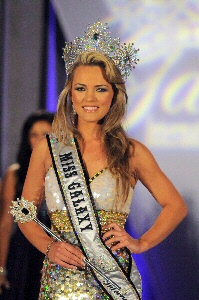 THE hunt is on to find Southport's next top model! Applications are being sought from girls to represent Southport in the Miss Galaxy-UK competition.

The Miss Galaxy-UK final will be a fun-filled event in March, with girls from all over the UK competing in different sections, including fashion and eveningwear! The winner of Miss Galaxy-UK will be flown to the USA in the Summer of 2010 to compete in the world famous Miss Galaxy International Pageant with contestants from all over the world. The reigning Miss Galaxy-UK, Hayley Mac, won the title of Miss Galaxy International when she competed in Florida last year. In an amazing UK victory, Emma McInnes, the current Miss Teen Galaxy-UK, also won her division - making her Miss Teen Galaxy International!

The contest has no size, height or weight restrictions, and its aim is to celebrate the beauty of every young woman. The finalists will let their individuality shine through during the pageant as they will be judged on more than their looks, it is about personality too! Much more than a traditional beauty pageant, the contest allows women who have been married or have children to compete - something that most beauty competitions forbid. The winner of Miss Southport Galaxy will win a place in the grand final of Miss Galaxy-UK, taking place in March at the Daresbury Park Hotel, Cheshire.

Contestants for Miss Southport Galaxy 2010 can enter by email or via the website at:- galaxypageantsuk.com All contestants must be aged between 19 and 29.
New Highways Agency Service Provider for Cumbria and north Lancashire
THE Highways Agency has appointed civil engineering company Enterprise Mouchel to be responsible for the day−to−day management of the motorways and strategic roads in Cumbria and North Lancashire from 1 July 2010.

The contact is worth £149m over the five year period.

The company will be responsible for the maintenance of 519 miles (835km) of roads and bridges including the M6 and M55 motorways, the A66, A590 and parts of the A585 and A595.

This contract includes some of the most diverse and scenic sections of the Highways Agency's network.
Last call for Teaching Awards nominations!
IS your village, town or city proud of its schools? Do you have teachers and other staff who go the extra mile for pupils and change young lives? If the answer's 'yes', why not show how thankful you are and nominate them for a Teaching Award before 1 March 2010 at teachingawards.com. Anyone can nominate and say 'thank you' whether you are a pupil, parent, colleague or friend. You can nominate headteachers, teaching assistants, school governors, teachers as well as school teams. These are people who dedicate their lives to helping others reach their potential and fulfil their dreams.

Teaching Award winners agree that the spotlight can shine on a whole school and make everyone feel good. "Being nominated for a Teaching Award was wonderful" says Rhoda Edwards. "The whole school felt valued and so proud. Pupils, teachers parents, governors; we all felt that someone had made an effort to turn around and say 'well-done' - what a fantastic feeling."

The Teaching Awards is delighted to announce three new awards for 2010

► The Teaching Award for Outstanding School Team of the Year which will recognise excellent teams of staff working together and achieving exceptional things

► 'Film my school' is a competition that invites children and young people to get involved and make a short film celebrating their school, showing that it's a great place to be . There's a prize of £5,000 worth of video equipment for the UK winner

► The Henry Winkler Teaching Award for Special Needs will recognise outstanding special needs teams which can now bid for the funds to support their crucial work. 3 bursaries are available - 1 of £15,000 and 2 of £10,000

Christine Bleakley who hosted the 2009 UK ceremony alongside Jeremy Vine at the Theatre Royal, Drury Lane, understands the importance of shining a spotlight on outstanding teachers and saying 'thank you' to them. She said:- "I loved school and when I look back on my school years I appreciate my teachers so much. They made me good at subjects I found difficult and were so supportive. The Teaching Awards makes sure teachers are recognised for the fantastic work that they do. Teachers change lives – they build the foundations for us all."

Danny Boyle who presented The National College Award for Headteacher of the Year in a Primary School at the UK ceremony said:- "You feel when you can give something back that acknowledges what teachers have done it's extraordinary and of course that's the idea (of the Teaching Awards) - it's institutionalising that appreciation."

Founded by Lord Puttnam CBE in 1998, the Teaching Awards is an annual celebration of teaching and learning with a UK final televised on BBC2 every October.

Oscar-winning actress and writer Emma Thompson is the president of the Teaching Awards Trust. She said:- "I am genuinely proud and honoured to take on this new role as president of the Teaching Awards. I owe so much of what I've done to my fantastic teachers at school and at university. It is very difficult to imagine how any of us would develop into happy, confident, fulfilled citizens without good teachers. But for them, all the other professions would pretty much cease to exist."

Teachers make it happen, say thank you and nominate now: teachingawards.com. Nominations close on 1 March 2010.