LOCAL CARE HOME IN OLDEST PANCAKE RACE CHALLENGE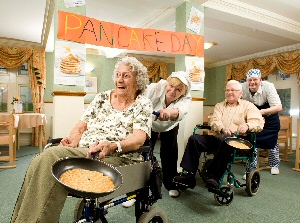 STAFF and residents of Bupa's Mersey Parks Residential and Nursing Home in Liverpool are gearing up to take part in a special pancake race next week to mark Shrove Tuesday, 16 February 2010. The care home is one of 50 across the UK that are organising 'golden oldies' pancake races, adding up the ages of everyone taking part to see if they can claim the 'Bupa's oldest pancake race' title.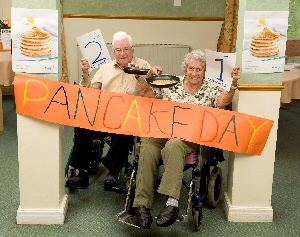 Dawn Flynn, activity co-ordinator for Mersey Parks, said:- "We're trying to get as many residents as possible involved, with a little bit of help from the staff of course, but it will be a great way to celebrate the day. Everyone else will be cheering us on and we'll also be donning our aprons, choosing our favourite pancake fillings and sampling them all to round off the party."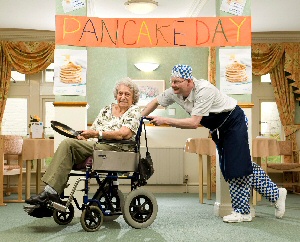 Liverpool praised for care information
LIVERPOOL has emerged as the best local authority in the north west for providing information about personalised care services. The city council came out on top in the region in an independent review carried out by Livability – the national disability charity – which surveyed disabled people and checked the information available from local authorities over the telephone and on websites.

The study looked at how much information is available about individual budgets – known in Liverpool as 'Personalisation' - which allows people to choose the type of care and support services they receive, rather than having to attend traditional council services such as day centres. A total of 103 local authorities were surveyed – 13 of them in the north west – and Liverpool came out as the best in the region and ranked 35th nationally.

Councillor Ron Gould, executive member for adult social care at Liverpool City Council, said:- "I am pleased we have done well in this survey, and it reflects why we are having success with our Personalisation programme. By April we will have around 2,000 people managing their own budgets, giving them choice over the care they receive and helping them make the most of life. But we're not complacent, and are working hard to let people who have previously received traditional types of care services know that there are many more options available to them now. 2010 is the Year of Health and Wellbeing in Liverpool, and a key focus is making sure we provide services which help people achieve all they want to."

Previously, people were offered very traditional fixed services such as going to a day centre or having a carer pop round to cook meals for them, people now have a greater choice of what they want to access and in a variety of ways personalised to their individual needs. Now, because the city council builds services around the needs of individuals, they can choose to use their budget to take part in an activity or hobby, or employ a personal assistant to provide care or get them around.

Chief Executive of Livability, Mary Bishop, said:- "Individual Budgets have the potential to transform lives and it is vital that disabled people are made aware of this opportunity for choice and control. We are pleased that Liverpool City Council are focusing on the needs of disabled people in their area during the biggest shake up in a generation for social care funding."

The survey comes just a few months after the council was graded "excellent" by the Care Quality Commission, and praised for providing services "that enable people to improve and manage their own health and wellbeing".

More information about Liverpool's Personalisation programme is available at:- liverpool.gov.uk/makingitpersonal.