WITNESS APPEAL - FIREARMS INCIDENT - KIRKDALE
MERSEYSIDE Police are appealing for witnesses to come forward following the shooting of a 18 year old man in Kirkdale on Sunday, 7 February 2010.

Emergency services were called at around 8.30pm to a report of a man having been shot near to the junction of Stanley Road and Pansy Street. He was taken to hospital and was treated for injuries to his arm and chest. His condition is currently described as stable.

The area was cordoned off and crime scene investigators carried out forensic examinations of the scene. CCTV footage is now being examined and officers are conducting house-to-house enquiries. Officers have also stepped up high visibility patrols to reassure the community.

Although it is in the early stages of the investigation, Merseyside Police believe this was a targeted attack.

Detectives are appealing for witnesses to the incident or to anyone who may have seen either a distinctive green Land Rover or a blue saloon car driving at speed in the Stanley Road, Melrose Road and Fonthill Road areas to come forward. The Land Rover, which is described as long-wheel based with raised suspension and large off-road tyres with a steel roof rack, was discovered burnt out by officers on Becket Street.

Detective Inspector David Rooney, from the Matrix team, said:- "We believe that this was a targeted attack and I am appealing to anyone who may have information which could help us with our enquiries to come forward. Stanley Road is a main road in and out of the city centre and I am sure there would have been a number of people using this route at the time. I would appeal to anyone who was in the area, who may have seen or heard anything which could help us with our inquiries to contact us immediately. I would also appeal to anyone who may have seen the distinctive Land Rover in the last few days. I am particularly interested in speaking to anyone who may have seen the car shortly before the shooting took place, or being abandoned and set fire to in Fonthill Road. We would also appeal to residents to be patient while the cordon is in place for officers to conduct a thorough search of the area. Merseyside Police will not tolerate guncrime on our streets and we are committed to tackling those involved with firearms and putting them before the courts where they can expect to receive lengthy prison sentences."

Merseyside Police are still appealing for anyone who may have information, which could help them with their enquiries, to call:- 0151 777 5699, or Crimestoppers, anonymously, on:- 0800 555 111.
COPPERS RAISE THOUSANDS FOR CHARITY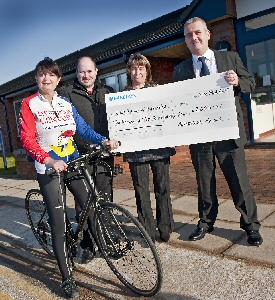 MERSEYSIDE Police on Wednesday, 10 February 2010, presented a cheque for over £2,000 to Denise Fergus from the Red Balloon charity

The presentation, at Mather Avenue Police station, was made Detective Chief Superintendent Brian McNeill on behalf of officers and staff who completed a charity bike ride.

Officers and staff from Merseyside Police's Matrix and Force Crime Operations Units raised £2,003.61 for The Red Balloon charity by taking part in a 130 mile charity bike ride.

17 people took part in the event which covered the 130 miles from Chester to Worcester between 11 and 13 September last year.

Detective Sergeant Ray Jump said:- "We would firstly like to thank everyone who has sponsored us, and we are absolutely delighted to raise such a large amount of money for such a worthwhile cause. The journey itself was extremely challenging and it was a real achievement to reach the finish line along with everyone else. The support we have received from family, friends and colleagues has been fantastic and the long, hard hours of training have paid off. The opportunity to support such a fantastic cause is a great a honour. The investment of our time into this cycle is nothing compared to the benefits of the work the Red Balloon Charity."

Denise Fergus, who is a trustee of Red Balloon Merseyside, said:- "I would like to thank everybody who has taken part in raising money for this much needed charity. This is bringing us a step closer in opening James Bulger House."