WITNESS APPEAL - ROBBERY, CORONATION ROAD, CROSBY
MERSEYSIDE Police Detectives are appealing for witnesses after an elderly woman was robbed while sat in her car in Crosby Village.

The 74 year old had just returned from shopping and started the engine of her green Renault Scenic, which was parked in Coronation Road, close to the junction with Moor Lane, when an unknown offender opened the door and tried to grab her handbag.

During a brief struggle verbal threats were made and the offender managed to steal the handbag, which contained cash and other personal items, before leaving on foot down Coronation Road towards College Road.

The victim was not physically hurt during the robbery but has been left very shaken by her ordeal.

The incident happened at around 4.30pm on 27 January 2010 and detectives believe there would have been many people passing by in cars queuing at the roundabout in Moor Lane as well as pedestrians, who may have witnessed the incident or seen something suspicious.

During the robbery the victim did manage to sound the horn of her car to try and attract help and officers would like to hear from anyone whose attention was drawn to the incident by this.

Detective Inspector Neil Blanchard, of Copy Lane CID, said:- "This was a very disturbing, if thankfully rare, kind of robbery in which a woman who had simply been out shopping in Crosby Village was targeted as she loaded shopping into her car. She has been left very upset by her ordeal and unfortunately is now very wary about going out as this happened during the day when many people were around. We are determined to catch the culprit and I would appeal to Crosby residents to think back to where they were two weeks ago on Wednesday and if they were in this part of Coronation Road at that time and saw anything untoward, to contact us. Their information, however small, could be important in us catching this man."

The offender is described as a white man in his late teens or early twenties, with light-coloured hair and of thin build.

Anyone with information is asked to call Detective Constable Emma Forshaw at Copy Lane CID on:- 0151 777 3168.
You can also leave information anonymously via the charity Crimestoppers at:- 0800 555 111.
KNOCKING DOWN THE OLD PLEASURELAND ENTRANCE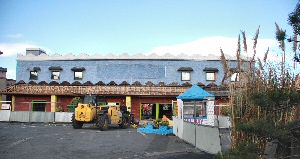 THE Haunted Inn, on Pleasureland, which was the last remaining ride of the old Pleasureland, was burnt down on the 30 January 2010. Over 8 February to 10 February 2010, the entrance way that was one of the last buildings to be built on the site was pulled down by the new tenants. New Pleasureland now has only a few remaining buildings, including the old Ricks Bar - Casablanca Restaurant and some offices, remaining. It is rumoured, but not yet confirmed, that the site is being cleared to make way for some very big rides and new attractions to be added for the 2010 season. We will keep our readers posted as soon as we get confirmation.

Email us your views to our news room via:- news24@southportreporter.com.
Cameron's Euro MPs vote against plans to tackle tax dodgers and target tax havens
IN a vote in the European Parliament, Wednesday, 10 February 2010, British Conservatives voted against proposals supporting the automatic exchange of information to crack down on those seeking to hide their money from the tax authorities. Vice Chair of the Economic Affairs Committee, Arlene McCarthy MEP, said:- "Tory Euro MPs' actions make a mockery of George Osborne's pledge at Tory Party Conference to target tax evasion and offshore tax havens. We should judge the Tory Party by their actions not by their words. Weakening proposals which seek to crack down on tax dodgers using tax havens shows they are not serious about tackling tax cheats. The Tories cannot be trusted on tax, time and again they protect and prioritise the wealthy and privileged minority over law abiding taxpayers. If we have learnt one lesson from the financial crisis, it is that reforms must be based on more transparency and increased access to information on all financial transactions. Labour Euro MPs support, alongside 25 out of 27 EU member states, the introduction of automatic data-sharing in the fight against tax evasion. With an estimated 18.5 Billion Pounds lost to the UK every year tax evasion robs our schools and hospitals of vital resources. The wider public can judge for themselves whether the motivation for weakening global and EU efforts against tax evasion and tax havens is linked to the fact that major Tory party donors themselves have non-transparent tax status."