Pick up or pay up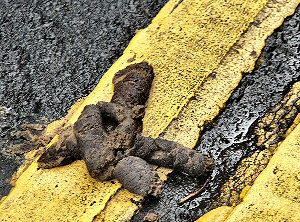 HUNDREDS of signs are being put up across the city, warning residents if you're caught not picking up after your dog, you could face a fine of up to £1,000. Liverpool's dog fouling hit squad is cracking down on owners who don't clean up after their pets, and they're targeting 'hot-spot' areas throughout the city.

Areas where dog fouling is an issue include streets in Anfield, Tuebrook, Old Swan, Kensington and Princes Park. And, not having any bags to scoop the poop can no longer be an excuse. The city's 11 One Stop Shops now stock bags, so residents can pop in and make sure they're never caught short.

Leader of Liverpool City Council, Councillor Warren Bradley, said:- "Dog dirt on our streets is unacceptable and we are clamping down on the minority of irresponsible owners who don't clean up after their pet. Not only does it make the city look dirty, but there are serious health risks associated with the mess and anyone caught not cleaning up will be given a fine. Picking up after your pet couldn't be easier and there is no excuse not to do it. It's all about respecting your community and your city – and the people who leave our streets in a mess need to clean up their act, or they'll have to pay for it."

The signs and bags in One Stop Shops are just the first stage of a campaign to tackle the messy issue. There are plans in place to work with schools in hot spot areas to help get the anti-fouling message across to the community.

On average more than 30 dog fouling Fixed Penalty Notices are issued every month. Every year, 4,000 staff hours are used cleaning up dog mess and approximately £140,000 is spent cleaning it up.

Enforcement officers can hand out on the spot fines of £50, and this can increase to a thousand pounds if the payment isn't made.
UNISON IN FAIR PAY VALENTINE'S PLEA TO LOCAL GOVERNMENT EMPLOYERS
UNISON, the UK's largest public sector trade union, today issued a Valentine's plea to the local government employers, calling on them to abandon their plans for a pay freeze – a real pay cut - for local council workers from April this year. The union placed the advert in regional newspapers across the country. UNISON Head of Local Government for UNISON said:- "The local government employers should have a heart this Valentine's day, and give their staff the gift of decent pay. A pay freeze this year means a real pay cut for workers, and another winter of struggling to make ends meet. Councils across the UK have billions stashed away in reserves, but many are choosing to cut pay, jobs and services. These cuts will hit communities hard, just as they need help to recover from the recession. A fair pay rise would keep money moving round local economies, with people spending in local shops and businesses." The advert reads:- "Love flies out the window, When bills come through the door, We need a fair pay offer, A freeze will leave us poor."
£530m RAIL INVESTMENT PROPOSED FOR NORTH ENGLAND CITIES
A £530m investment package to transform rail travel in the north of England through better stations and quicker, more frequent services was unveiled today by Network Rail, with direct benefits for Merseyside and Cheshire.

The "Northern Hub" study identifies what needs to be done to respond to the significant growth seen in the region and to help drive economic prosperity. The plans include:-
► A 40% increase in trains per day across the region – 700 extra services
► Capacity for a further 3.5m passengers per year
► Quicker, more frequent services for Newcastle, Liverpool, Manchester, Leeds and Sheffield
Iain Coucher, chief executive of Network Rail, said:- "Rail is already a massive success story in the north with many thousands of people travelling with us every day and more than 90% of services arriving on time. Through better connections, faster services and improved stations we want to trigger wider growth in the north which in turn will support local jobs and businesses. Our ambitious vision includes miles of track, new platforms and electrification to keep driving up passenger demand while keeping freight on the rails – and lorries off our already congested roads."

Neil Scales, chief executive of Merseytravel, said:- "We welcome the publication of the report into improving the rail network around Manchester and the opportunity to increase the number of express trains and the journey time between the two cities. Alongside the electrification of the main line via St Helens Junction, and the recent announcements on further electrification means that there is a real opportunity to make a step change in the rail network for the north of England. Merseytravel looks forward to working with the rail industry on making these plans a reality."

The Northern Hub proposes significant investment in rail over the next 10 years to build on work which is already underway. By removing historic bottlenecks – such as at Manchester - it would allow faster line speeds, reducing journey times. New track would give greater timetable flexibility - allowing fast trains to overtake and run at speed while still providing space on the network for vital local stopping services and freight.

Key benefits for passengers in Merseyside and Cheshire could include:-
► Trains every 15 minutes from Liverpool to Manchester and Yorkshire
► Faster journeys between Liverpool and Manchester (33 mins)
► More frequent services from Liverpool South Parkway, Widnes and Birchwood to Liverpool and Manchester
► Direct services from Chester to Manchester Airport
► A doubling of trains between Knutsford and Manchester and an extra service from Wilmslow to Manchester Airport
The Northern Hub study will be developed over the next 2 years. Members of the public can view the study and comment online.