Missing From Home - 13 Year Old - Joshua Skyes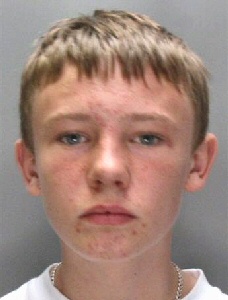 MERSEYSIDE Police are becoming increasingly concerned for the welfare of 13 year old Joshua Sykes, who has been missing from his home in Larkfield Lane, Southport since Friday, 12 February 2010.

Joshua was last seen at around 9.30pm, when he left a friend's address in Lytham Road, Southport. He has not been in contact since then.

Joshua is described as white, 5ft 4in tall and of slim build with short, straight, mousy coloured hair. He was last seen wearing a black hooded top, black tracksuit bottom and black Nike trainers. Joshua wears a blue stud in his left ear, has a blemished complexion and Yorkshire accent.

He is known to frequent the Southport area, especially the town centre, Talbot Street, Dobsworth Avenue and Lytham Road areas.

Merseyside Police would urge Joshua, anybody who knows of his whereabouts, or who may have seen him since Friday, 12 February to contact:- 0151 777 4100 or Missing People on:- 0500 700 700.
UNISON WARNING OVER OFSTED PRIVATISATION
UNISON, the UK's leading public sector trade union, has warned that privatising early years inspections in Ofsted could lead to a lower quality inspections service, which could see standards of care for babies and toddlers in nurseries fall.

Past experience shows that where private companies take over contracts, they make cuts to the service, including cutting jobs. The union is also concerned that private companies taking over the nursery inspections contracts could move to the school inspections model, using freelance inspectors. Together with job cuts, this would lead to a dramatic loss of vital expertise from front line staff.

Jon Richards, UNISON National Officer for Ofsted, said:- "Every parent worries about leaving their child in someone else's care. They need reassurance that their child is getting the best possible start in life. This means making sure nurseries are providing a high quality service, through regular, rigorous inspections. Many Ofsted early years inspectors have worked in childcare, meaning they are experts in assessing what makes a good standard of care for babies and toddlers. Switching to freelance inspectors, and making job cuts, means this vital experience will be lost from the front line. Ofsted is currently in the process of making 10% of its early years inspectors redundant. Any further job cuts will make workloads intolerable. Staff cannot do more work in less time. It will make it harder for them to inspect nurseries properly, which could see standards of care for vulnerable young children slip. The fear is that when a private company takes over, profit will become more important than rigorous inspections. UNISON is calling on Ofsted to put high quality inspections first, and re-think their privatisation plans."
Figures show we must continue to invest to help the unemployed
THE Government on 17 February 2010 has welcomed the fall in ILO unemployment and youth unemployment, but said the overall figures also showed continued support was needed to secure the recovery. Ministers warned that further rises in unemployment were expected before the summer, and announced more help to get people back to work.

New figures published by the ONS show the overall ILO measure of unemployment has fallen for the second consecutive month, however the number of people claiming Jobseeker's Allowance has increased.

The claimant count remains around 450,000 lower than expected last year and is at 5 per cent compared to 10 per cent in previous recessions. Around 70 per cent of claimants are still leaving Jobseeker's Allowance within six months.

The figures are broadly in line with the Treasury projection in the Pre Budget Report that unemployment would rise in the New Year before falling again in the second half of 2010. In previous downturns unemployment increased for over a year after the recession had finished, however the Government believes that increased investment and changes in the labour market will help bring unemployment down faster this time.

Ministers believe the claimant count figures highlight the importance of continuing to increase help for the unemployed even as the economy starts to recover, rather than cutting it back. £3bn extra in 2010/11 will be invested to help the unemployed get back to work, up from £2bn this year.

Yvette Cooper, Secretary of State for Work and Pensions, said:- "These figures show how important it is to keep increasing not cutting back on the help for people to get work. Unemployment is much lower than expected last year, reflecting the tough decisions families and businesses have taken to protect jobs, as well as the substantial extra investment in getting people back to work. But we know things are going to be tough for a while and we expect further increases in unemployment before the summer. That's why it's so important to increase help for people now, not cut it back."

New figures released today also show half a million unemployed people have got jobs through the Local Employment Partnerships (LEP) run by Jobcentre Plus, almost 200,000 of these since September 2009. The Government also announced a further 6,000 jobs under the Future Jobs Fund.

Minister for Employment and Welfare Reform Jim Knight said:- "It's good news that despite the worst recession since the 1930s we have helped half a million people back to work through Jobcentre Plus' flagship Local Employment Partnership scheme. We are also announcing the seventh round of winning Future Jobs Fund bidders which will create almost 6,000 more jobs for young people, bringing the total to almost 110,000."

LEPs bring together employers from both the public and private sector to match people with jobs that become available in the local economy. Funded through Jobcentre Plus, the scheme has benefited from the extra £5bn Government is investing in helping people find work since the start of the recession.

Other figures published show that around 14,000 people have benefited from the work focused training element of the new Six Month Offer, while the seventh round of winning Future Jobs Fund bidders will create almost 6,000 more jobs for young people. This brings the total number of successful bids to create jobs through the Fund so far to almost 110,000. Furthermore all young people out of work and claiming JSA for six months or more are now guaranteed a job, work focused training or work experience.

What are your views on this? Do you think these figures are wrong? Do you think things are getting better? Let us know by emailing us at:- news24@southportreporter.com.