Ladies Week at Eze Fitness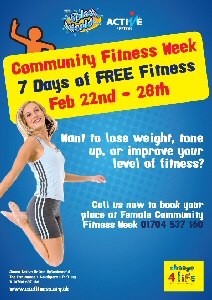 THIS February, Dunes Active Sefton at SplashWorld will be opening its doors to all women in the local community, giving them the chance to take part in the hugely successful Community Fitness Week programme. Beginning on the 22 February 2010 and finishing on the 28 February 2010, participants will be able to enjoy 7 days of free fitness and support and guidance from the expert members of Eze staff.

With New Year's Resolutions to get fitter and lose weight beginning to fade for many of us, Eze Fitness are offering the perfect boost with the opportunity to get the fitness bug back by taking part in 7 days of fitness completely free of charge. There's no catch, just an opportunity for women in our community to give the gym and our extensive list of exercise classes a try to get them back on the road to fitness.

According to government statistics, around one in three females are currently overweight and the Department of health predicts that if this trend continues 6 million women in the UK will be obese by the end of 2010.

A study by Cancer Research UK also showed that about 6000 middle aged or older women develop cancer each year because they are obese or overweight. The study, which looked at 45,000 cases of cancer in 1m women over seven years, says this is about 5% of such cases. It is published online by the British Medical Journal and blames excess fat for 50% of cases of womb cancer and a type of oesophageal cancer.

Sarah Dack McGuinness, Club Manager at Dunes Active Sefton commented:- "The statistics and research on this subject don't make for pleasant reading, but we believe we can help with that first daunting step towards a healthier more active lifestyle. This is the reason behind the week being female only, so that women can get the chance to meet others in a similar situation and can work together towards achieving their goals. Good health is not something which is achieved instantly but we will be there to help guide you through those small steps to make a big difference towards a healthier and more active you. And for those people who want to set a goal to help themselves get a little fitter, Eze Fitness will be entering a team to take part in Cancer Research UK's famous 'Race for Life'. As a company dedicated to improving community fitness we want to give something back by helping as many of our female members to take part in this national fitness and fundraising phenomenon. The company will also be making a donation to the charity. So, if you've always felt like you want to get a little fitter and don't where to start…. Simply join our week long programme and give us a try. There's no obligation so what have you got to lose?!"

If you're interested simply call the club on:- 01704 537140 or come and visit us and sign up with a member of the team.
NEXT OF KIN APPEAL - ELLIS LLOYD
THE Liverpool Coroner's Office are appealing for the next of kin of a man who died at the Royal Liverpool University Hospital NHS on Monday, 15 February 2010. Ellis Lloyd, was 64 years old and lived in Greenheys Lodge, Sefton Park. There are no suspicious circumstances surrounding Mr Lloyds death. The coroner's office is now trying to trace his next of kin. Any next of kin, or anyone who knows of his next of kin, is asked to contact Mr Howard-Murphy at Liverpool Coroners Office on:- 0151 233 4710.
FAIRTRADE FORTNIGHT IN SOUTHPORT
OVER the 22 February to 7 March 2010 a number of events are planned for Fairtrade Fortnight in the Southport area. The theme this year is 'The Big Swap'. Just ahead of the Fortnight, Churches Together Birkdale present a FAIRTRADE CAKE and COFFEE MORNING! at St John`s Church Hall, St John`s Rd, Birkdale. (It`s the road opposite the Tesco Express, Liverpool Rd. The Church is 100 yards up on right hand side) on Saturday, 20 February 2010 from 10.00am until noon Fairtrade refreshments available, music, raffle and stalls selling fab Fair Trade food, drink and gifts. These include Traidcraft, Palestinian goods and Birkdale-based at the Fair Trade Store, thefairtradestore.co.uk. Friendly atmosphere in a lovely church hall, come and learn more about Fairtrade and try a homebaked Fairtrade Cake. Everyone is welcome. Free onsite parking.
Red Light Stops Driving Agency Bosses
THE Directors of an HGV recruitment company have been banned from running an employment agency for up to ten years following action taken by the Employment Agency Standards inspectorate (EAS).

The hearing at Leeds Employment Tribunal follows an investigation by the EAS which is part of the Department for Business, Innovation and Skills.

The Tribunal heard how the businesses run by David Allon, Marc Hedley, Sian Pemberton and Angela Roberts breached the law by:-

► failing to keep records;

► withholding payment of wages to drivers;

► failing to issue terms of employment to drivers;

► failing to carry out checks on drivers, such as confirming their identity or that they held the correct driving licences;

► supplying drivers who did not hold the required licences.

The agencies supplied HGV drivers to hirers in Yorkshire and the North of England and traded under various trade names including 'Driverwise Recruitability', 'Driverwise Recruitment', 'Driverwise/Staffwise', Recruitability', 'Recruit' and 'Recruit Employment'. The companies are now dissolved and the businesses have ceased trading.

Both Allon and Hedley were Directors of Driverwise Limited whilst Allon was also a Director of Recruit Employment Limited. Pemberton was a Director of Recruitment Employment Limited and Roberts the Company Secretary.

The Tribunal banned David Allon from running or being concerned with the running of an employment agency or employment business for the maximum period of ten years. Sian Pemberton, Angela Roberts and Marc Hedley, were banned for five years.

Lord Young, the Minister responsible for employment relations, said:- "Rogues like these give the recruitment sector a bad name so I am delighted to see the Tribunal's decision putting the brakes on their unacceptable behaviour. The EAS will continue to take action against unscrupulous agencies to protect workers and hirers from illegal practices. This case sends out a clear message to the industry that we will act against those agencies who break the law."

EAS brought this case under the Employment Agencies Act 1973. The misconduct was brought to their attention by a total of 26 complainants, including drivers and hirers.

The Vehicle and Operator Services Agency (VOSA) Operations Director Alex Fiddes said:- "VOSA welcomes this firm action by EAS against irresponsible agencies. In closing them down they have removed a threat to road safety. An unqualified driver in a 44 tonne lorry is an accident waiting to happen."