LOCAL LAD 'CRAFTS' A NEW CAREER FUNDED BY BRITISH ARMY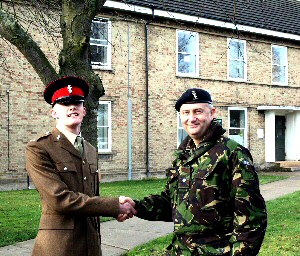 ARMY Craftsman Scott O'Neill has just completed his phase 1 training with the British Army, after being sponsored through the Army's Further Education Bursary Scheme at Southport College. The scheme funds students through college who are interested in pursuing an Army career after graduating from College.

Scott, aged 19, from Southport, who attended Stanley High School then went on to study at Southport College where he was accepted on the Further Education Bursary whilst studying Vehicle Maintenance, has now joined as a soldier with the Royal Electrical Mechanical Engineers (REME). This was marked by a passing out parade with 71 fellow soldiers at the Bassingbourn Barracks in Hertfordshire, where they completed their challenging 14 weeks of the Army's Phase one training to bring him and his fellow recruits up to the basic standard required to be a soldier.

Scott excelled during this training, awarded not only the Best Shot award for his troop but also the Soldier's Medal as well.

Major John Miller, an Army Careers Adviser, who coordinates the FE Bursary in Merseyside, said:- "It is a great opportunity for young people who want to eventually join the Army, to get support whilst continuing their studies at FE Colleges, where they can be awarded up to £5,000 for four years study".

Scott will now go on to his phase 2 training where he will be equipped with the technical knowledge and skills required to help maintain heavy vehicles as part of his role when he joins his regiment as a fully trained soldier.
The motorcycle enthusiast, who also intends to take his bike test before returning for his next phase of training, said:- "I'm making plans on how to use my £1,000 bonus for completing the FE Bursary – I now have two weeks leave and I'm going to put the money and time to good use!"

Visit:- armyjobs.mod.uk/northwest or visit your local Army Careers Information Office on James Street or call:- 0151 2361566, for more information and to find out further details of the FE Bursary Scheme.
WITNESS APPEAL - INJURY SHOOTING, DEYSBROOK LANE, WEST DERBY
MERSEYSIDE Police Detectives are appealing to the public for help after a man was shot outside a pub in Deysbrook Lane, West Derby, on 16 February 2010.

The 37 year old was outside the Deysbrook public house at, around 7.20pm on 16 February 2010, when he was approached by a lone gunman who shot him in the abdomen before leaving the scene on foot.

The victim, who had been attending a wake being held at the pub following the funeral of a friend earlier that day, remains in a critical condition in hospital having undergone surgery.

No-one else was injured during the incident and the offender, who left the scene in the direction of a nearby housing estate, is still being sought by the police.

Detective Chief Superintendent Tony Doherty, who is in charge of Merseyside Police's anti-gun and gang crime Matrix unit, is appealing for anyone who was either inside the pub at the time of the shooting, in the Deysbrook Lane area, or outside the nearby supermarket, and saw anything suspicious to come forward and help officers with their investigation.

He said:- "This is a very serious incident which we are treating as attempted murder and it is only thanks to the intervention of paramedics and other emergency services at the scene and the doctors at hospital that this man is still alive. He remains in a critical condition hospital and we are doing all we can to trace the offender but we need the public's help because at this stage we are not aware of why he has been targeted in this way. He is a family man who had attended a private funeral of a friend earlier that day, and had gone outside the pub where the wake was taking place when he was shot, possibly several times. We believe the offender left the scene in the direction of a nearby houses and I would appeal to anyone who was in Deysbrook Lane between 7.10pm and 7.30pm and saw something unusual or suspicious to contact us, anonymously if need be, and help us piece together what happened. The pub is close to a large supermarket and there will have been people doing their shopping there last night who may have seen or heard something that they think is trivial but could prove crucial to our investigation. The victim had been at the wake in the pub for most of the afternoon and there were lots of people inside it when he was shot outside so we would also like to hear from them."

Det Ch Supt Doherty added:- "Merseyside Police is determined to take guns out of the hands of criminals and put those who use them before the courts. I would like to reassure residents that the police will remain in the area in the coming days and weeks and any information people have will be taken seriously by officers and acted upon."

Call the Matrix team on:- 0151 777 5699 or leave information anonymously via Crimestoppers on:- 0800 555 111.