Killer crime continues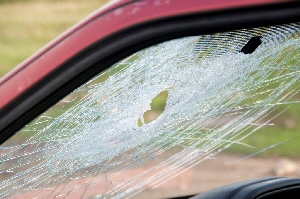 MOTORISTS are being urged to stop turning a blind eye to thugs hurling missiles at cars from bridges to prevent further victims being injured and vehicles damaged.

The latest incident happened on Friday, 5 February 2010, when a metal nut was fired at a man's car with a catapult on Worden Lane in Leyland, smashing his windscreen and hitting him in the face. Following this incident, police say the man was taken to hospital where he was treated for cuts to his face and a large lump to his jaw, they are asking anyone with information to contact the Leyland force.

Independent research carried out on behalf of Autoglass® revealed that a staggering 87% of people in the North West never report what they've seen, despite one in four motorists suffering from this potentially fatal craze.

The company has released shocking film footage of simulated tests at MIRA conducted by (formerly the Motor Industry Research Association) showing just how catastrophic the damage is when a brick collides with the windscreen of a typical family car, in the hope that it will encourage motorists to call the police.

Nigel Doggett, managing director of Autoglass®, said:- "We fix thousands of windscreens every day and so we see first-hand the consequences of the actions of these mindless yobs, which is why we commissioned the report to find out exactly how much of a problem this is. Images from the MIRA testing bring home, only too graphically, just how serious this potentially fatal vandalism can be when you're in a vehicle travelling at motorway speeds. Parents can also help reduce this risk by talking to their youngsters about these activities and making them aware of how serious the consequences can be. However, the main way to reduce and uncover these hidden crimes is for drivers to report all incidents to the police and for them to record these accurately and act on them – together this will save lives."

The research also revealed that 80% of motorists in the North West worry when driving under a bridge with people on it but drivers are very clear about what should be done to those found responsible for causing casualties in this way, with 73% saying the maximum penalty should be higher than the existing 7 years imprisonment and/or a fine, with 58% agreeing that imprisonment or detention is the only appropriate action if casualties are caused.

Adrian Walsh, director of Roadsafe, said:- "This eye opening report shows that much more needs to be done by parents and schools to educate youngsters. The Highways Agency already has a schools programme in place but ideally this should be extended. More needs to be done by local authorities and motorists should report incidents to the Police."

For more information and to watch the MIRA shock footage visit:- autoglassnews.co.uk.
Another first for Merseyrail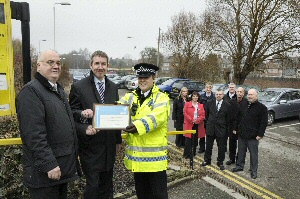 MERSEYRAIL has become the first fully secure rail network in the UK with all 66 stations and 36 car parks accredited. Bebington, on the Wirral Line, became the last remaining car park to gain the coveted status when a certificate confirming the final accreditation was handed over by Inspector Gary Jones of British Transport Police at a ceremony attended by representatives from Merseytravel, Merseyrail, British Transport Police and Carlisle Security.

Councillor Mark Dowd, Chair of Merseytravel, said:- "This is a tremendous achievement and goes to reinforce our commitment to providing one of the safest rail networks in the UK"

Councillor Chris Blakeley, Chair of Merseytravel's Rail Committee, added:- "This accreditation will be welcomed by the many thousands of passengers who use the network which is now the safest and the best in the country."

Stations and station car parks which have "secure" status are regularly re-assessed to ensure that high standards are maintained. Tough industry standards evaluate safety measures such as CCTV, design standards of buildings and facilities and the quality of customer services. The rigorous assessment is carried out by the British Transport Police on behalf of the Department for Transport in association with Crime Concern.

Bart Schmeink, Merseyrail's Managing Director said:- "When others in the rail industry told us that it was impossible to have all of our stations and car parks accredited as secure, we decided that we would prove them wrong. Just because others can't do it, doesn't mean that we at Merseyrail can't as we have proved in other areas such as our pioneering approach to anti-social behaviour on trains. Personal security whilst travelling by Merseyrail is a top priority for our passengers and for us and we will continue to work with our partners to make it as good as humanely possible. I thank our partners Merseytravel, British Transport Police and Carlisle Security for their contribution to this fantastic achievement."

Superintendent Pete Holden of British Transport Police said:- "This latest award is the culmination of excellent partnership work and is testament to the efforts made to create a rail environment that is as safe as possible. Liverpool-based officers, together with BTP's crime reduction advisors, have worked hand in hand with Merseyrail to take action against those who commit crime on the network and to reduce opportunities for those who would seek to carry out criminal behaviour. This partnership approach will continue to ensure Merseyside's railways remain as safe as possible."