SERIOUS ASSAULT CONCERT SQUARE
MERSEYSIDE Police Detectives are appealing for information following a serious assault in Concert Square in the early hours of Sunday, 21 February 2010.

Officers were called to Holy Joe's bar at around 3am, where it is though that a 27 year old man was assaulted by another man outside of the bar. The victim has been taken to hospital where he is thought to have suffered serious head injuries and his condition is described as critical.

The area has been sealed off for forensic examination, CCTV is being sought from the bar and surrounding area and officers continue to speak to witnesses.

Detectives are appealing for anyone in the bar who has not yet come forward or anyone who has any information about this incident to contact:- 0151 777 4064 or Crimestoppers anonymously on:- 0800 555 111.
TWO ARRESTED ON SUSPICION OF POSSESSION OF A FIREARM AND ASSAULT
MERSEYSIDE Police have executed a warrant at a house in Acre Green, Halewood, on Friday, 19 February 2010 and arrested two males, aged 15 and 16 years, on suspicion of possession of a firearm and assault.

The arrests were made following an incident in which it is believed a 19 year old male was chased by a group of youths in to Roseheath Drive, Halewood. The victim ran to a friend's house and was hit with what was believed to be a firearm.

The two youths have been taken to a police station on Merseyside where they will be questioned by detectives and a search of the property is being carried out.

Police are appealing to anyone who may have witnessed the incident to contact the Matrix team on:- 0151 777 5699, or Crimestoppers on:- 0800 555 111.
PUTTING THE BRAKES ON CYCLE THEFT IN LIVERPOOL
MERSEYSIDE Police within Liverpool are now continuing to tackle cycle theft by holding roadshows to fit ImmobiTags to pedal cycles. An ImmobiTag is a device that is inserted into a bike frame, which is registered to the owner and linked to the Immobilise database. Using a Radio Frequency Identification (RFID) scanner, the police can scan a bike to see if an ImmobiTag is fitted and if so, check the details of the owner via the National Mobile Property Register. This is a quick and simple way for officers on the street to find out if a bike is stolen. The immobitag also acts as a deterrent as a hard to remove sticker is put on the frame of the bike so people can see it is registered. ImmobiTags can be bought in shops for £13.99, however they will be available free of charge at the roadshows on Saturday, 27 February 2010, from 11am until 4pm at the Mobile Police Station on Church Street, Liverpool. The initiative has been funded by Citysafe, Liverpool's Crime and Disorder Reduction Partnership, and bike tags are available to any residents of Liverpool.
Letters to the Editor:- "Do you have pictures?"
"I am trying to find out if anyone would have a photograph or a drawing of my husbands grandmothers house which was 19 Marlborough Road, Southport or does anyone know where I could get one from, obviously they owned the property before it was turned into flats as it is at the present time and I would love to get one for him as we have been doing family research and it would be entered into a book for future generations." Susan Agmew - susanagmew@btinternet.com.
Final call for nest boxes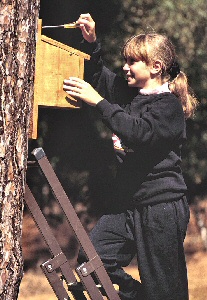 WANTED a one bedroom house, bit of a squash, slightly draftee and previous owners not a problem. Immediate occupancy essential.

The RSPB is making a final call for putting up nest boxes and urging anyone that hasn't done so yet to do it straight away.

The breeding season will soon get underway and whilst some birds may have already chosen their nest sites, a few species may still take up residence.

Richard James, RSPB Wildlife Adviser, says:- "If you still have nest boxes in your shed or garage, now is the time to get them up. Ideally nest boxes should go up in autumn for winter shelter followed by breeding but you may just be lucky if you don't delay. It may be chilly but make that your one outdoor job this weekend!"

Tits will not seriously investigate nesting sites until February or March and spotted flycatchers won't be arriving in the UK until April or May. Some birds have multiple broods and robins and wrens may use a nest box that has recently been put up for later broods.

Nest boxes are excellent substitutes for holes in old trees. Just like we put out supplementary food in gardens to help our birds, we can also create extra homes for them too.

Over 60 bird species are known to have used nest boxes. Regular residents include blue tits, nuthatches, house sparrows and starlings.

The species that use your nest box will depend on the type of box, where it is located and its surroundings.

Boxes for blue tits, sparrows or starlings should be fixed two to four metres up a tree or wall. Face the box between north and east away from strong sunlight and the wettest winds. These birds need clear flight paths without clutter in front of the entrance.

House sparrows and starling will readily use next boxes placed high under eaves and two or three can be spaced out on the same side of the house.

Robins and wrens need open fronted boxes placed low down, well hidden in vegetation.

Woodpecker boxes need to be three to five metres high on a tree trunk with a clear flight path and away from disturbance.

To find out more about gardening for wildlife visit:- rspb.org.uk/hfw. To order a variety of nest boxes visit:- rspb.org.uk/shop.