Thumbs up from Sefton schools for 'Your Choice' conference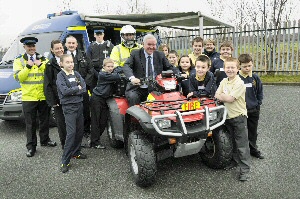 PUPILS from schools across South Sefton were joined by Councillor Mark Dowd, Chair of Merseytravel, for a 'Your Choice' conference held at Bosco City Learning Centre.

Lead by Merseytravel through its Corporate Partnership Team, the 'Your Choice' conference is a multi-agency event which engages with year six (10 to 11 year old) pupils to explore the consequences of anti-social behaviour, enabling them to better empathise with and understand the issues experienced by the emergency/public services. It also seeks to reduce incidents such as anti-social behaviour, bus & rail safety, fire safety, hoax calls, vandalism, graffiti, litter, dog fouling and internet safety, with considerable positive results.

Councillor Dowd said:- "We have been holding these events for over five years now and they really do seem to get the message across when it comes to warning about the dangers and importantly, the consequences, of such things as antisocial behaviour. By taking part in the various activities, the students can see for themselves the effects of anti social behaviour and making hoax calls for example, and realise the devastating impact that such behaviour could have on them or a member of their family I was impressed with the thought and appreciation within the workshop that the children portrayed, they were a credit to their schools"

Pupils from St Elizabeth's, The Grange, Netherton Moss and St Benedict's schools attended the event, which was funded by Sefton MBC, Environmental Protection Department, Community Engagement Team, who assisted in co-ordinating the day and had an input into the delivery of the workshops.

Director of Environmental Protection, Peter Moore said:- "We want the young people of Sefton to understand that litter, dog fouling, graffiti & fly tipping are all anti social & are not acceptable. We want them to take pride in their area. It is hoped that the conference will have a positive impact on the pupils regarding environmental issues and anti social behaviour."

The agencies involved are Merseytravel, Merseyrail, British Transport Police, Merseyside Police, Mersey Tunnels Police, Merseyside Fire & Rescue Service, North West Ambulance Service, Park Rangers, Stagecoach and Arriva.

The 'Your Choice' conference day is unique to Merseyside and is now receiving national awards and funding. The conference is devised in a way to accommodate a range of learning styles and follows the mind friendly learning cycle. The workshops activate learning and pupils are quickly engaged in the activities with the intention of making learning as unconscious as possible.
WITNESS APPEAL - ARMED ROBBERY, CHAPEL LANE, FORMBY
MERSEYSIDE Police Detectives are appealing for witnesses following an armed robbery at a travel agents in Formby on Friday, 19 February 2010. At around 5.45pm, officers were called to Thomson travel agents in Chapel Lane following reports that two men armed with knives had entered the store, demanded that staff open a safe in a back office, before stealing a large quantity of cash, travellers cheques and foreign currency and leaving the scene on foot. The three members of staff - two women in their late 30s and a man in his 20s - were not hurt during the incident but have been left extremely shaken by their ordeal. There were no customers in the shop at the time as the travel agents had been closing for the day. The two offenders are described as being white, between 5ft 8ins and 5ft 10ins in height, and were wearing dark-coloured jeans and tops, with hats and scarves covering their faces. At least one of them spoke with a Liverpudlian accent and both were carrying knives. Detectives are appealing for anyone who witnessed the robbery or saw anything suspicious in Formby Village in the minutes before it to come forward. Detective Sergeant Neil Blanchard of Copy Lane CID, said:- "This was a very upsetting incident for the three people who were working there on Friday and although thankfully unhurt, they are still shaken by what happened. The offenders went into the travel agents within seconds of the last customer leaving so we believe they were probably waiting nearby and therefore may have aroused someone's suspicions. Chapel Lane would have still been fairly busy at that time with people shutting up shop for the day or going for an early meal or drink so someone out there will have seen something odd or suspicious. I would urge them to cast their minds back to Friday and ask themselves if they saw anyone waiting close to Thomson travel agents, a car repeatedly driving past it at around closing time, or anyone running away from the Chapel Lane area. No matter how insignificant or trivial such information may seem, it could prove crucial to our investigation and I would urge them to come forward. These types of crime will not be tolerated by the police and were are determined to do all we can to catch those responsible." Call Copy Lane CID on:- 0151 777 3127 or Crimestoppers anonymously on:- 0800 555 111.
UK DRIVERS HAVE SOME FRONT ~ 1 IN 5 ADMIT TO FRAUD
NEW research from the Motor Insurers' Bureau (MIB) and Aviva reveals that 70% of UK drivers do not understand what it means to 'front' an insurance policy and of those that understand what fronting is, there are 20% who admit to misleading their insurer and committing this kind of motor insurance fraud.

Insurance 'Fronting' occurs when someone other than the main driver of a vehicle is incorrectly declared as the policy holder. An example of this would be a parent insuring a car and declaring themselves as the main driver in order to reduce the insurance premium, when in fact their son or daughter will be the main user of the vehicle. By doing this, motorists are committing fraud and under contract terms, could invalidate an insurance policy.

The research, which forms part of MIB's Stay Insured campaign and is aimed at drivers who may be vulnerable to driving without adequate insurance during the recession, also indicates that there is a disconnect between drivers' perceptions of fronting as a "white lie" versus the reality of it as a legal offence:-

► 35% of drivers justify 'fronting' as being a loophole in the law
► 10% believe that 'fronting' is a legitimate way of obtaining cheaper motor insurance
► And 30% of motorists were able to correctly define the term 'fronting'
* When presented with a definition of the term fronting 94% of those surveyed deem fronting an insurance policy to be socially unacceptable.

Ashton West, Chief Executive of MIB said:- "There is a significant degree of confusion amongst drivers about the importance of giving accurate information about the main driver to an insurer. There is a need to help drivers understand and appreciate the importance of being adequately insured."

The research also highlights confusion over responsibility for damages in the event of an accident. Under a valid insurance policy, the insurer will cover the policyholder's liability for injury and property damage for any other parties involved and if the cover is comprehensive, the damage to the policyholder's own vehicle. However, 31% of drivers wrongly assume that they will be covered if the policy is 'fronted'. In fact, where it is proven that a policy has been 'fronted', insurance companies can refuse to pay out damages to the "insured" vehicle and may look to recover 3rd party claim costs from the policyholder or driver.

West continues:- "Insurance is about peace of mind and knowing that the cost of your liability on the road is covered. In the event that the driver of a fronted policy is involved in an accident, both the policyholder and the driver could be open to additional costs, penalties, fines and - potentially – prosecution. It simply isn't worth the risk. There are a number of hints and advice about how to stay insured legitimately at:- askMID.com."

Nigel Bartram, motoring strategist at Aviva added:- "Young drivers remain the age group with the highest proportion of insurance claims, accidents and fatalities on our roads, and this fact is reflected in their motor insurance premiums. Well meaning parents may consider fronting an insurance policy to try and save money, but this is false economy as those that try to cheat the system by declaring false information will find that their insurance is invalid when they actually need to make a claim on their policy. When parents are fronting up a young driver's policy it means the young driver is not fully declared and will not be able to accrue any no claims bonus of their own. It is important that insurers are covering the appropriate risk with the correct premium; otherwise this premium will have to be borne by other, honest customers."
Aviva's top tips for reducing premiums:-
Choose wisely – a smaller engine vehicle without modifications means lower premiums

Think safety – parking in a garage at night and fitting alarms and immobilisers will help drive down costs

No claims quickies – some insurers offer rapid bonus schemes that let young drivers earn a full year's no claims bonus in as little as 6 months

Be online savvy – many insurers offer a discount if you buy directly with them online

Keep it brief – if you use the car infrequently, agreeing to a mileage limit can help keep premiums down

Pass Plus – Pass Plus passplus.org.uk is a training course for new drivers designed by the Driving Standards Agency in consultation with the industry. There's no final exam to pass but drivers could get up to 10% off their insurance if they take the course.