LIVERPOOL ONE WELCOMES 40 MILLIONTH VISITOR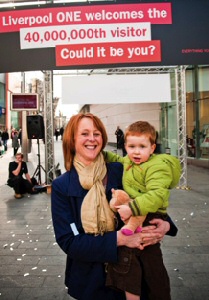 THE counters were out and confetti guns at the ready for the 40th million shopper to arrive at Liverpool ONE on Tuesday, 1 March 2010.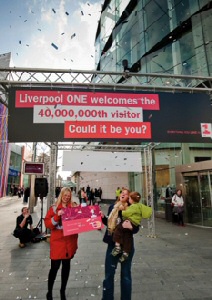 The lucky visitor was Rebecca Headland (aged 39) from Hale Village, Liverpool, who was out shopping with her Guildford-based parents, and two and half year old son Alex.

Rebecca was the 40th million person to arrive at Liverpool One since the 42 acre, open air retail and leisure development first opened to the public in May 2008, and was greeted with a bottle of champagne and a Liverpool ONE gift card worth £250.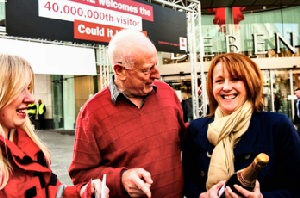 Said Rebecca:- "I'm delighted to be Liverpool ONE's 40 millionth customer, I can't believe it is me! This has really made our day, we are in the city to visit the shops and take a trip down the Mersey."

Added Interim Marketing Director, Lisa Tolley:- "We wanted to mark our 40 millionth customer and do something a little bit special. Rebecca seems delighted and I'm sure she will enjoy spending the £250 prize money."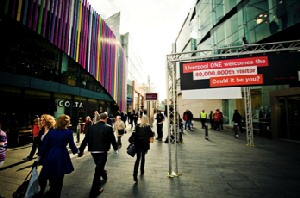 Since opening almost two years ago, Liverpool ONE now attracts around 2million visitors a month, is almost 97% let and has attracted over 60 new brands to the city. Liverpool now sits at number 5 in the UK's best shopping destinations, from 15th place and was named in the top 3 UK city breaks by readers of style bible Conde Nast Traveller Magazine.
NEXT OF KIN APPEAL - ROLAND PHILLIPS
LIVERPOOL Coroner's Office are appealing for the next of kin of a man from north Liverpool who died in hospital at the weekend to come forward.

Roland Phillips, aged 65, died at the Royal Liverpool University Hospital on Sunday after being admitted from Breckside Park Rest Home in West Derby.

There are no suspicious circumstances surrounding his death.

It is believed that Mr Phillips has an ex-wife, two daughter and a sister butt so far enquiries to trace them have been unsuccessful.

The coroner's office is appealing for Mr Phillips' next of kin, or anyone who knows where his next of kin are, to contact them on:- 0151 233 4706.
STEPS TO A SMALLER CARBON FOOTPRINT
WITH the introductory phase of the Carbon Reduction Commitment Energy Efficiency Scheme, due to begin in April 2010, large businesses with high CO2 emissions are already setting about reducing their carbon footprint. By becoming more energy efficient, they can reduce the amount of CO2 emission allowances they need to purchase and increase the likelihood that they will be repaid more than they pay out. Smaller businesses that will not be affected by the mandatory scheme can also reap rewards by going green.

Business Link Northwest offers free advice, guidance and information to help companies reduce their carbon footprint. In turn, businesses can make financial savings, look after the environment and enhance their green credentials, potentially opening up more public sector procurement opportunities.

A Business Link adviser will carry out an initial assessment by telephone to identify the areas of business that could benefit from some attention. The company will then be brokered on to the relevant organisation, which will offer more in-depth support that focuses specifically on the areas identified.

Improving your Resource Efficiency (IYRE), funded by the Northwest Regional Development Agency (NWDA), provides a range of support to help businesses reduce their environmental impact and can be accessed via Business Link Northwest.

IYRE imparts free, independent advice to help businesses reduce their use of raw materials, consumables, energy and water. It can also offer help with sourcing environmental products and services, identifying the right environmental technology, accessing grant funding, submitting planning applications and give advice to companies looking to make use of renewable energy sources.

Donna Edwards, operations director at Business Link Northwest said:- "The phrases 'carbon footprint' and 'energy efficiency' have crept into everyday vocabulary as people and businesses increasingly recognise the importance of looking after the environment, not to mention the financial savings that can be made as a result. Ultimately, we want to help as many businesses as possible to use their resources more efficiently, using less to make more and reducing their residual waste. We are also keen to raise awareness of eco-innovation, as plenty of business opportunities lie in the development of new products, processes and services that include low carbon technology and services, product design using recycled materials and low or zero waste products."

For more information, please visit:- businesslink.gov.uk, telephone:- 0845 00 66 888 or email.
A helping hand for teenage parents
TEENAGE parents will get arty, crafty and energetic at a special event aimed at opening up a world of opportunities for them.

Liverpool's Sure Start Children's Centres, the Integrated Play and Youth Service, Connexions and other partners are hosting the event at the Bluecoat on Thursday 4 March. It will to showcase the support services available to teenage parents and those expecting children, which are on offer as part of the Liverpool Teenage Pregnancy strategy.

It will bring young people together to share experiences, get involved in workshops and find out a range of information about health, education and training and how they can get support when they need it.

The event, which will be attended by the Lord Mayor of Liverpool, Councillor Mike Storey, will also encourage young people to visit their local Sure Start Children's Centre, to get access to tailor-made support.

Liverpool City Council's executive member for health, care and safeguarding, Councillor Ron Gould, said:- "Teenage parents face many unique challenges and it's vital we support them at every step of the way. There are many things the city council and its partners do to assist young parents, from helping them return to education or training, to giving them access to health services and providing on-going support in their day-to-day lives. This event will promote the many services on offer for young parents, as well as giving them the chance to meet new people and get involved in fun activities."

The event will feature a range of activities linked to Liverpool's Year of Health and Wellbeing, including jewellery-making, drumming, dance, therapy sessions and massage. National Museums Liverpool will exhibit artwork by teenage parents who attend Picton Children's Centre.

Liverpool Primary Care Trust and the city council will provide information on healthy eating and the effects of smoking and drugs. And Connexions will offer advice on education and training.

There will also be a crèche, giving young parents the chance to have a breather and get involved in the activities on offer.

Liverpool's 26 Sure Start Children's Centres offer a huge range of support to teenage parents, including childcare, drop-in groups and outreach support, which sees staff visiting young people in their homes. They can also help parents access benefits, accommodation and health services.

Amanda Stonehouse of Connexions, who is co-ordinating the event, said:- "This event aims to open up new opportunities for teenage parents, help them build friendships and show them that there's a great deal of support out there for them. It will also introduce guests to our Children's Centres, which are a really fantastic resource. We hope to dispel the myth that teenage parents who visit a Children's Centre will be judged or told what to do. All the work we aim to help and support young parents and increase their opportunities and choices."