WITNESS APPEAL - CONFRONTATIONAL BURGLARY, BROADGREEN
MERSEYSIDE Police Detectives are appealing for information about a confrontational burglary at a flat in Broadgreen earlier this month.

Officers were called to Broadgreen Court in Broadgreen Road on February 15 following reports that a 79 year old man had been confronted inside his flat by a masked burglar who assaulted the victim and stole cash and a set of keys from him.

The incident happened at around 6am last Monday morning and the victim, who is deaf, suffered injuries to his back, believed to have been caused by a punch, which required hospital treatment.

The offender is described as white, of a big or stocky build, and was wearing a mask or scarf to conceal his face.

At this stage it is unclear how the offender got inside the property, which is part of a block of residential flats for the elderly.

Due to the time of day that the burglary occurred, detectives are particularly keen to speak to anyone who was out in the area early that morning, such as people on their way to start an early shift at work, delivery drivers, dog-walkers and joggers, who may have seen someone acting suspiciously outside the flats.

Detector Inspector Neil Clark of St Anne Street CID, said:- "This was a despicable and callous attack on a vulnerable, elderly man in his own home. The offender has left this man with serious injuries to his back after launching a completely unnecessary and unprovoked assault on him, all for a small amount of money and a relatively worthless set of keys. We are absolutely determined to find this man so that he cannot commit further crimes but we need the public's help in piecing together what happened before and after he broke into the flat. There would not have been many people around at that time of the morning so anyone who was loitering in Broadgreen Road or running away from the flats may have attracted someone else's attention. I'd also like to reassure people that incidents like this are thankfully very rare and neighbourhood officers will be patrolling this area. I would appeal for people to cast their minds back to last Monday and if they were out and about at that time and think they saw anything that in hindsight seems suspicious, to contact us with that information. Information that seems trivial to them may turn out to be crucial for us in catching this man."

Anyone with information is asked to call St Anne Street CID on:- 0151 777 4808 or leave information anonymously at Crimestoppers on:- 0800 555 111.
PROCEEDS OF CRIME ACT FORCEWIDE OPERATION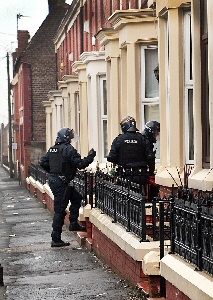 POLICE on Merseyside are calling on communities to report suspected criminals who flaunt their ill-gotten gains following a successful crackdown across Merseyside on Wednesday, 24 February 2010. The operation saw officers using the Proceeds of Crime Act to seize cash and recover assets from people benefitting from criminal activity.

During the operation 50 warrants were executed and 55 people were arrested for range of offences relating to drugs, money laundering and benefit fraud. Officers also seized £22,100 in cash and five cars.

Every opportunity is taken to strip a criminal of the proceeds of their crimes. The Force Crime Operations Unit of Merseyside Police has a team of specialist detectives and financial investigators dedicated to finding profit gained illegally and taking them out of the hands of criminals and damaging their ability to commit further crimes. The criminal enterprises team aim to dismantle organised crime groups, including those using seemingly legitimate businesses as a front for their criminality.

These continued efforts have been recognised with the Force winning a number of national awards over the last five years for successful prosecutions following complex investigations against key members of organised crime networks and for seizing the proceeds of their crimes, including cash, cars and houses.

Over the last three years we have seized £18 million worth of assets from criminals. These assets may be cash, jewellery or other high value goods. We have taken uninsured and unlicensed vehicles off the streets – these vehicles are often used for criminal activity, by taking them off the roads we are preventing further criminal activity.

Acting Superintendent Clive Howarth, said:- "Our ability to recover assets which have been obtained through crime is a vital tool which also has the potential to remove the incentive to commit crime in the first place. There is nothing that undermines public confidence more than seeing people visibly profiting from crime. By using the powers given to us by the Proceeds of Crime Act at every opportunity, we are ensuring those assets are taken away. As a result we are able to target negative role models in vulnerable communities and visibly deprive them of their criminal profits, reducing their power and status within the community. We hope our local communities benefit from knowing we are preventing criminals from enjoying their ill-gotten gains. We will continue to work with our partners to pursue the profits of crime in order to strip the criminals of their ill-gotten gains and show that while crime does not pay, the offenders will."