APPEAL - CONFRONTATIONAL BURGLARY, BROADGREEN
MERSEYSIDE Police are appealing for information about a confrontational burglary at a flat in Broadgreen earlier this month.

Officers were called to Broadgreen Court in Broadgreen Road on 15 February 2010, following reports that a 79 year old man had been confronted inside his flat by a masked burglar who assaulted the victim and stole cash and a set of keys from him.

The incident happened at around 6am last Monday morning and the victim, who is deaf, suffered injuries to his back, believed to have been caused by a punch, which required hospital treatment.

The offender is described as white, of a big or stocky build, and was wearing a mask or scarf to conceal his face.

At this stage it is unclear how the offender got inside the property, which is part of a block of residential flats for the elderly.

Due to the time of day that the burglary occurred, detectives are particularly keen to speak to anyone who was out in the area early that morning, such as people on their way to start an early shift at work, delivery drivers, dog-walkers and joggers, who may have seen someone acting suspiciously outside the flats.

Detector Inspector Neil Clark of St Anne Street CID, said:- "This was a despicable and callous attack on a vulnerable, elderly man in his own home. The offender has left this man with serious injuries to his back after launching a completely unnecessary and unprovoked assault on him, all for a small amount of money and a relatively worthless set of keys. We are absolutely determined to find this man so that he cannot commit further crimes but we need the public's help in piecing together what happened before and after he broke into the flat. There would not have been many people around at that time of the morning so anyone who was loitering in Broadgreen Road or running away from the flats may have attracted someone else's attention. I'd also like to reassure people that incidents like this are thankfully very rare and neighbourhood officers will be patrolling this area. I would appeal for people to cast their minds back to last Monday and if they were out and about at that time and think they saw anything that in hindsight seems suspicious, to contact us with that information. Information that seems trivial to them may turn out to be crucial for us in catching this man."

Anyone with information is asked to call St Anne Street CID on:- 0151 777 4808 or leave information anonymously via Crimestoppers on:- 0800 555 111.
ARRIVA INVESTS £1.9 MILLION IN SOUTHPORT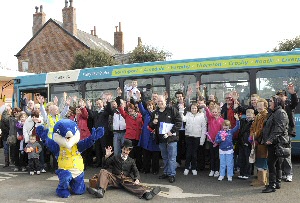 ARRIVA North West has invested £1.9 million in a fleet of brand new buses in the Southport area.

The bus company has introduced 14 single deck vehicles which are now running on the popular 47/48A route from Southport to Liverpool.

The Springtime investment buses run every 15 minutes during the day, from Riverside Caravan Park, Crossens, Southport, Woodvale, Formby, Crosby, and Bootle through to Liverpool. The buses are all low floor, providing easy access for wheelchairs and prams as the platform is level with raised curbs.

Debra Mercer, marketing and communications manager for Arriva North West, said:- "Arriva North West's massive investment means it's now even more convenient for residents and visitors in the Southport area to get out and about. Whether you're travelling to work, going shopping or off to the cinema, you can get on board our frequent services to avoid the stress of driving, as well as costly parking fees."

Arriva North West's multi-journey saver tickets offer unlimited travel and great savings, making it easier and cheaper to travel in and around Southport.
Day saver tickets are just £4, Weekly Savers are £15 and 4 Weekly tickets are £57.

For timetables and more information about Arriva North West, please visit:- arrivabus.co.uk.
Stations benefit from cash boost bonanza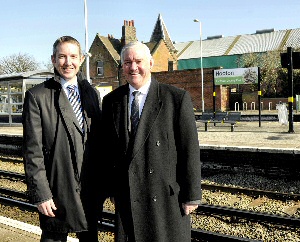 THE opening of a new MtoGo retail outlet and ticket unit at Hooton station heralds an investment of almost half a million pounds in three Wirral stations this month.

Improvements at Hooton also include a fully accessible toilet, along with a new waiting shelter on the Liverpool bound platform, due for completion within weeks.

Rock Ferry and Meols stations are also to benefit from the improvement scheme which has been jointly funded by Merseytravel and the National Stations Improvement Programme (NSIP).

At Rock Ferry the project will bring back into use a building located on the island platform, with the installation of a fully accessible toilet and waiting room, plus the booking hall and entrance will benefit from improved security and lighting.

At Meols station improvement work involves new glazing to the footbridge windows and staircase, redevelopment of existing buildings to provide enclosed passenger waiting shelters, a new passenger toilet and automatic entrance doors to the booking hall.

Councillor Mark Dowd, Chair of Merseytravel said:- "The investment in these stations is long overdue and we are pleased to finally be able to provide updated services for our passengers. This scheme is another example of how partnership working can reap huge benefits for our customers."

Councillor Chris Blakeley, Chair of Merseytravel's Rail Committee added:- "For many Wirral residents the trains offer a lifeline, be it for commuting to work, shopping or just getting out and about, so these improvements will be very welcome"

Peter Morton, Merseyrail's Finance and Commercial Director said:- "I want our stations to be as good as they can be and I am delighted that together with Merseytravel we have been able to secure the necessary funding to benefit our passengers on the Wirral. Ideally, I want all stations to be of similar high standards with decent facilities for our passengers. This investment means that we are plugging the gaps right across the network to make this into a reality"

Hooton and Rock Ferry stations will also benefit from the provision of secure cycle parking later this year, funded from a successful £1 million joint bid by Merseytravel and Merseyrail to become a National Cycling Demonstration Train Operator.

The money was awarded by Cycling England, an organisation supported and funded by the Department for Transport and will benefit nine stations on the Wirral line and 18 stations on the Merseyrail network overall.

In all, seven stations on the Merseyrail Network have received funding through the NSIP, other stations benefitting are Hall Road, Huyton, Liverpool Central and Waterloo.

The National Stations Improvement Programme is a joint industry initiative funded primarily by the Department for Transport. It was introduced in 2007 as part of the Rail White Paper.

Earlier this year, Ormskirk station was the first station in the country to benefit from NSIP with an investment of £500,000, plus £200,000 from Merseytravel, as part of an overall £1.6m refurbishment programme.
NEXT OF KIN APPEAL - DAVID CASEY
SEFTON Coroners Office are appealing for the next of kin of a man who died on Monday, 1 March 2010, in Southport. David Casey, 69, died at his home on Lytham Road, Southport. There are no suspicious circumstances surrounding his death. The Coroner's Office has been unable to trace Mr Casey's next of kin and is appealing for any relatives to come forward. Any next of kin, or anyone who has information about Mr Casey's next of kin, is asked to contact the office of H M Coroner on:- 0151 934 2746 or the Coroner's Officers at Southport police station on:- 0151 777 3480.