Inspector 'Poo-seau' investigates!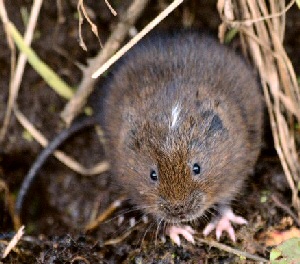 The water vole image was taken by Andy Bate near Marshside
VOLUNTEERS at RSPB Marshside nature reserve, on the shores of the Ribble estuary near Southport, are investigating what you might think of as the most unsavoury of clues as they search for evidence of an elusive creature - the water vole. Just by looking at water vole poo, deposited on three special man-made rafts at the nature reserve, they are building up a clearer picture of the creature's activities on the site. From the patterns of the poo, they can work out the size of the creature's territory and discover how many there might be. RSPB volunteer, Janet Cooper (aka Inspector Poo-seau!) has been leading on surveying water voles at Marshside for the past year. She says:- "It's important for us to get an idea of how many water voles there might be here, so that we can manage the habitat for them correctly. They're shy and you're more likely to hear a 'plop' or see a pile of poo. Seeing them is quite difficult – but it's a real bonus if you catch even a fleeting glimpse. Why not come down to try and spot one for yourself? If you do see one please let us know!"

Water voles are legally protected in Britain and recent evidence shows that they have suffered a long-term decline in numbers, with disappearance from 94% of their former sites. Predation by the introduced American Mink has had a severe impact on water vole populations as well as habitat degradation and pollution.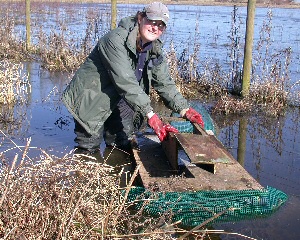 Janet Cooper, volunteer, checking the water vole raft
at Marshside taken by Graham Clarkson.
Janet is also studying part-time at Myerscough College for a foundation degree in Ecology and Conservation Habitat Management. She says:- "I love Marshside! It's such a special place full of rare wildlife and it's great to get the opportunity to come along and help make a difference to this wonderful nature reserve."

Saving threatened species like the water vole is a key part of the RSPB's Letter to the Future campaign, which is a direct call to politicians to do more to protect our wildlife, countryside and the environment. You can sign the letter at your nearest RSPB reserve, where you'll be adding your name to hundreds of thousands of others determined to ensure future generations inherit a world worth living in, or sign online.
MFH - DEAN HODGSON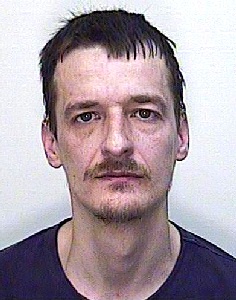 MERSEYSIDE Police are getting increasingly concerned about the safety of Dean Hodgson who has been missing from his home in Old Swan since Monday, 22 February 2010.

Mr Hodgson, 35, from Lister Drive has not been in touch with friends or family since 22 February 2010.

He is described as white, 5ft 6 ins tall, of slim build with short brown hair and is usually unshaved. He was last seen wearing a grey and white fleece and black tracksuit bottoms.

Mr Hodgson requires medication for a medical condition and his condition may deteriorate if he does not take his medication. This may make him vulnerable.

He is known to frequent the Old Swan, Whiston and Huyton areas.

If members of the public recognise Dean they should not approach him directly, but should make contact with police on the numbers given below immediately.

Anyone who has seen Mr Hodgson, or knows of his whereabouts, is asked to contact Merseyside Police on:- 0151 777 4351 or Missing People on:- 0500 700 700.n
HEALTH WORKERS TO BENEFIT FROM SAFER NEEDLES RULES
UNISON, the UK's largest health union, has welcomed a new EU Directive to help protect nurses, midwives and health care assistants from the agony of needle stick injuries and infections.

The Directive* backs up a framework agreement set out in June last year, which included guidance for training, support and prevention of needlestick injuries. It will make the use of safe needles routine across the EU, which will help stop injuries from used and dirty needles . Up to 100,000 UK health workers are injured in this way every year, and it is estimated 1million injuries occur Europe wide.

Karen Jennings Head of Health for UNISON who led the EU negotiations on behalf of EPSU said:- "This directive is a breakthrough for health workers, who live in fear of infection and injury from dirty needles. Safer needles cost little more than their dangerous alternatives, and backed up with training, support and prevention, this guidance will make a real difference to the safety of health workers and patients. UNISON has fought long and hard to bring in safer needles and we will be continue working with hospitals and managers, to make this Directive part of day-to-day life for health workers."

* The new Directive implements in law a framework agreement on prevention from sharps injuries in the hospital and healthcare sector. The agreement was signed in July 2009 by the European Public Services Union (EPSU) and the European Hospital and Healthcare Employers' Association (HOSPEEM) - European Social partner organisations.