Schools with a 'growing' interest in the environment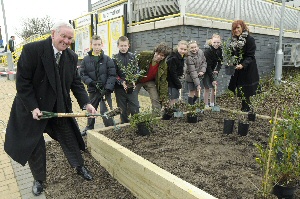 MERSEYTRAVEL is recruiting "railway children" to brighten up our stations – and increase their awareness of the environment. The youngsters are being encouraged to grow trees and shrubs from seed, and then plant them in and around the stations to provide an attractive area for local people using the rail network.

Bootle councillor Mark Dowd, Chair of Merseytravel said;- "The idea behind the project is to get the children involved in their surroundings; by growing trees and shrubs and then planting them out, we hope to generate an awareness of the importance of caring for the environment and give them a sense of pride in their bus and rail station facilities."

In a pilot scheme 30 children from Christchurch School, Bootle were provided with Saveaway tickets to travel to the National Wildflower Centre where they had an educational session with Richard Scott from Landlife about seeds, trees and shrubs before collecting and planting various seeds. Some of the seeds are now big enough to plant out at Bootle Oriel Station, with the remainder due to be planted in April and May.

Chris Murphy, from Merseytravel's Corporate Partnership Team said:- "Christchurch are the first school to become involved in the project, we hope that it is a success and that we can roll the project out across Knowsley, St Helens, Liverpool and Wirral."
MISSING FROM HOME - PATRICIA BLACKMORE
MERSEYSIDE Police are becoming increasingly concerned for the safety of a 47 year old woman who is in need of medication. Patricia Blackmore was last seen at Fazakerley Hospital at 11.30am on Wednesday, 10 March 2010.

She is described as white, approximately 5ft 3in tall, of slight build with red hair that is greying and cut into a bob. She walks with a stoop and when last seen she was wearing jeans and a long purple cardigan.

Anyone with any information of Ms Blackmore's whereabouts is asked to call Merseyside Police on:- 0151 709 6010 or Crimestoppers, anonymously, on:- 0800 555 111.
CONSULTATION ON FUTURE OF LOCAL TRANSPORT LAUNCHES
PEOPLE are being invited to share their views on the future of transport in Merseyside. As part of preparations for the next Local Transport Plan (LTP3), the Merseyside Transport Partnership (MTP) wants to hear opinions of people from all sectors of the community.

The six-week public consultation, which runs until 12 April 2010, will help shape the future of local transport planning in Merseyside. The consultation was officially launched to stakeholders this week at the Hilton in Liverpool and members of the public are now being encouraged to get involved.

The results of the consultation, as well as extensive research, will be used to gain an insight into the region's transport needs over the next two decades. Once the views of stakeholders and the people of Merseyside have been gathered, MTP will look in detail at how elements of the plan can be put into practice over a shorter timeframe. LTP3 is due to start in April 2011.

At this stage, people are being given the opportunity to comment on four key themes – the work that MTP is already doing to provide a safe and efficient transport system; goals for the future; the concept of creating a new 'mobility culture'; and the challenges and opportunities that transport in Merseyside faces in coming years.

Neil Scales, Chair of MTP, launched the consultation at today's Breakfast Briefing event. He said:- "Over the past ten years we have made great steps towards providing a modern and extensive transport network for Merseyside. It is now time to build on these successes and prepare for the future. The world will change a great deal in the next two decades and we must adapt to make the most of the opportunities that will be available to us. Transport has an important role to play in the region's future in supporting the growth of the economy, helping tackle climate and encouraging people to lead healthier lifestyles. Our new Local Transport Plan will also play a key role in helping Merseyside achieve its vision of becoming a thriving international city region by 2030. Transport affects us all and it is absolutely crucial that as many people as possible are involved in the process of planning for the region's changing transport needs. Over the coming weeks, we will be gathering opinions from a cross section of the community and I would urge everyone to make sure they have their say."

To have your say, visit:- transportmerseyside.org.
NEXT OF KIN APPEAL - NEIL BURTON
THE Liverpool Coroner's office are appealing for the next of kin of a man who died in Everton to come forward. Neil Burton, aged 47, was found at his home in Rydal Street, Everton on Friday, 26 February 2010. The Coroners Officers are appealing for anyone who may be related to Mr Burton, or who may know of his relatives to contact Liverpool Coroner's Office on:- 0151 233 4703.