CURTAIL CRAZY DRIVING AT NORTH WEST LEVEL CROSSINGS OR RISK MORE LIVES, SAYS RAIL CHIEF
NETWORK Rail chief executive Iain Coucher has called on the government to do more to curb unsafe driving by motorists at level crossings, which puts thousands of lives at risk every year.

Network Rail wants the driving theory test to include compulsory questions on level crossings to enforce learner drivers' understanding of the Highway Code and stamp out crazy driving behaviour such as dodging around barriers and running red lights as trains approach. Around 95% of incidents at level crossings are down to motorist or pedestrian misuse or error.

The drive for change comes as published figures reveal that 140 motorists – almost three a week – continued to dice with death, as they narrowly avoid a potentially fatal collision with a train after breaking the law at level crossings.

In total, there were over 3,200 incidents of misuse at level crossings last year, 64 of them at crossings in the North West.

Network Rail chief executive Iain Coucher said:- "Motorists are too often playing Russian roulette with a 200 tonne train – and tragically some lose their lives gambling at level crossings by running red lights or dodging around barriers. I'm confident that lives will be saved if motorists learn how to safely use level crossings from the day they pass their test. Our campaign is raising awareness of the very real dangers of running the risk but we think more can be done to change motorists' behaviour."

Level crossing incidents 2009

* 3,242 recorded incidents of misuse or error (2008 = 3479)

* 14 collisions between vehicles and trains (2008 = 20)

* 13 deaths (2008 = 15)

* 140 near misses between motor vehicles and trains = nearly 3 a week

Andrew Howard, AA Head of Road Safety, said:- "Level crossings are one of the few places where one motorist's irresponsibility can affect the safety of many, many people. Motorists must be aware of the rules, which are simple, logical and well signed. The risk in trying to save two minutes jumping a level crossing just isn't worth it."

Whilst a collision between a train and a motor vehicle on a level crossing is the single biggest risk of a catastrophic incident on the railway, Network Rail is also urging pedestrians to obey signs and lights at crossings. Mr Coucher added:- "Thousands of pedestrians also use level crossings every day, and we know that many misuse them, putting themselves at risk. I would urge everyone to observe the warning signs and lights and use crossings safely and correctly."
DID YOU KNOW?
The current driving theory test comprises 50 randomly selected multiple choice questions.

What Network Rail is doing to reduce risk and raise awareness at level crossings

Network Rail has a public safety awareness campaign on level crossings - "Don't Run the Risk". The campaign has been running since 2006 and includes hard hitting TV and radio advertising that illustrates in graphic detail the tragic consequences of misusing level crossings by both motorists and pedestrians.

The campaign runs in parallel with other Network Rail and industry initiatives to minimise the safety risk at level crossings. These include:-

► Network Rail's dedicated community safety team which aims to reduce railway crime and provide young people with positive activities to fill their time

► Development of solutions which could lead to the replacement of some crossings

► Development of obstacle detection systems

► Developing better and cost-effective ways of detecting and recording level crossings misuse

► Working with the Police and Crown Prosecution Service to improve the prosecution of offenders
The Highway Code - Level crossings
291A level crossing is where a road crosses a railway or tramway line. Approach and cross it with care. Never drive onto a crossing until the road is clear on the other side and do not get too close to the car in front. Never stop or park on, or near, a crossing.

292Overhead electric lines. It is dangerous to touch overhead electric lines. You MUST obey the safe height warning road signs and you should not continue forward onto the railway if your vehicle touches any height barrier or bells. The clearance available is usually 5 metres (16 feet 6 inches) but may be lower.
[Laws RTA 1988 sect 36, TSRGD 2002 reg 17(5)]

293 Controlled crossings. Most crossings have traffic light signals with a steady amber light, twin flashing red stop lights and an audible alarm for pedestrians.

They may have full, half or no barriers.

► you MUST always obey the flashing red stop lights

► you MUST stop behind the white line across the road

► keep going if you have already crossed the white line when the amber light comes on

► do not reverse onto or over a controlled crossing

► you MUST wait if a train goes by and the red lights continue to flash. This means another train will be passing soon

► only cross when the lights go off and barriers open

► never zig-zag around half-barriers, they lower automatically because a train is approaching

► at crossings where there are no barriers, a train is approaching when the lights show
[Laws RTA 1988 sect 36 & TSRGD regs 10 & 40]

294Railway telephones. If you are driving a large or slow-moving vehicle, a long, low vehicle with a risk of grounding, or herding animals, a train could arrive before you are clear of the crossing. You MUST obey any sign instructing you to use the railway telephone to obtain permission to cross. You MUST also telephone when clear of the crossing if requested to do so.
[Laws RTA 1988 sect 36 & TSRGD regs 10 & 16(1)]

295 Crossings without traffic lights. Vehicles should stop and wait at the barrier or gate when it begins to close and not cross until the barrier or gate opens.

296 User-operated gates or barriers. Some crossings have 'Stop' signs and small red and green lights. You MUST NOT cross when the red light is showing, only cross if the green light is on. If crossing with a vehicle, you should:-

► open the gates or barriers on both sides of the crossing

► check that the green light is still on and cross quickly

► close the gates or barriers when you are clear of the crossing
[Laws RTA 1988 sect 36 & TSRGD regs 10 & 52(2)]

297 If there are no lights, follow the procedure in Rule 295. Stop, look both ways and listen before you cross. If there is a railway telephone, always use it to contact the signal operator to make sure it is safe to cross. Inform the signal operator again when you are clear of the crossing.

298 Open crossings. These have no gates, barriers, attendant or traffic lights but will have a 'Give Way' sign. You should look both ways, listen and make sure there is no train coming before you cross.

299 Incidents and breakdowns. If your vehicle breaks down, or if you have an incident on a crossing you should

► get everyone out of the vehicle and clear of the crossing immediately

► use a railway telephone if available to tell the signal operator. Follow the instructions you are given

move the vehicle clear of the crossing if there is time before a train arrives. If the alarm sounds, or the amber light comes on, leave the vehicle and get clear of the crossing immediately.
Readers Photographs:- "Car on fire sea front Southport"

DAVID Stanley from Wigan was with family parked on one of Southport's sea front car parks when he spotted a car on fire. Thank you Dave for sending them to us. Fantastic shots!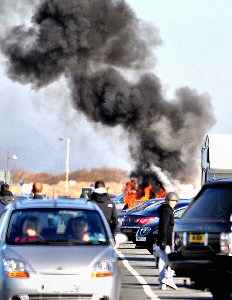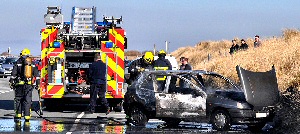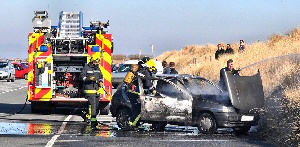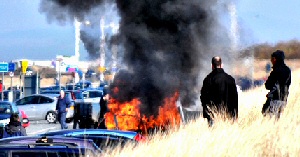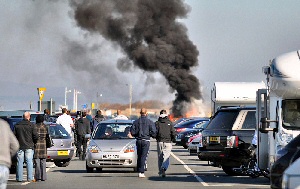 First Legal Support growing fast
SOUTHPORT based accident investigation specialist First Legal Support continues to grow quickly and has expanded into extra office space this month.

Wholly owned by Southport based Claims Management Company Plantec Holdings, First Legal Support was established in 2001 and has made its name as a reputable and trusted independent Accident Investigation Agency. It has highly trained and experienced teams both in the field and at its Southport office. First Legal Support liaises closely with clients to offer flexible, innovative solutions to their investigative needs and requirements.

The company prides itself on the production of bespoke detailed reports that allow for issues in dispute to be addressed at the earliest opportunity.

First Legal Support moved to its own premises in Southport last March and has now acquired a further two offices to meet demand in workload and staffing levels which has increased from 18 to 25 members.

First Legal Support Director Andrew Drewary said:- "The last 12 months have been very rewarding for every member of the team who have all taken on extra responsibilities since moving into our own offices. Our growth has been brought on by the team's commitment showing they are the market leader which has enabled us to strengthen our already fantastic relationships with our customers. The new office space will allow us the room to expand and re-allocate space for a couple of new sections which will be responsible for new initiatives. We will also have the benefit of additional rest areas as well as meeting and training facilities."

With Plantec Holdings winning praise for its ethical approach to accident claims management, it is attracting new business and growing in tandem with First Legal Support with more than 140 employees, making it one of the largest employers in Southport.

"Southport is an ideal base for Plantec Holdings & First Legal Supports operations with the workforce boasting excellent skill sets and willingness to develop and advance themselves. There will be more expansion for the business at both its Southport premises and at its Birmingham repair centre over the coming months." said the firm.

First Legal Support provides a nationwide professional and dedicated service in claims validation as well as identifying indemnity and liability issues in RTAs, public liability, employer liability, motor theft and personal injury cases.

Plantec Holdings offers a complete claims management service to insurance brokers and road traffic accident victims and operates one of the largest fleets of motorcycle hire bikes in the country with more than 600 machines.

Plantec Holdings is growing fast and there are ongoing opportunities to join the team at its Bispham Road head quarters and its First Legal Support office in Southport for more information visit website and click on careers.
WITNESS APPEAL - ATTEMPTED ROBBERY, EDGE LANE, LIVERPOOL
MERSEYSIDE Police Detectives are appealing for information from motorists who were travelling along Edge Lane Drive in Liverpool last night following an attempted armed robbery at a petrol station.

They believe passing drivers may have witnessed the incident at the Save Stanley Service Station, on the M62-bound carriageway of Edge Lane, which happened shortly after 7.10pm on Tuesday, 23 February 2010.

One man wearing dark clothing with his face covered approached the service window and produced what has been described as a small pistol, and demanded that staff hand over cash from the till. The other offender remained on the service station forecourt.

Before a member of staff could hand over the money, a customer pulled up at the service station in their car and both offenders fled on foot in the direction of Church Road in Old Swan. No-one was hurt during the incident.

Detectives are appealing for anyone who was in the area at the time of the attempted robbery to call St Anne Street CID on:- 0151 777 4808 or leave information anonymously via Crimestoppers on:- 0800 555 111.