JOHN'S BACK IN THE DRIVING SEAT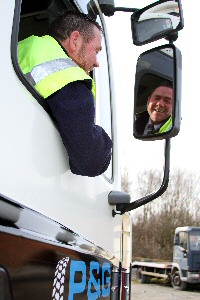 A unique partnership funded by Wirral Borough Council, which aims to support out of work people across the Wirral area by improving their employment prospects, has just paid dividends for former HGV driver John Davies.

54 year old John from Birkenhead was successful in his application for a grant from 'Linking Wirral People into Employment'. The initiative is being delivered by Remploy, The Social Partnership and Voluntary and Community Action Wirral. John is aiming to become a Class 1 HGV instructor and, with 16 years' HGV driving experience and more than a million miles under his belt, he's now relishing this new opportunity!

John, who has a lower back injury, approached many organisations with the hope of securing enough cash to retrain. However, it was only when he visited Remploy's specialist recruitment branch on Hamilton Street in Birkenhead, which supports people who experience complex barriers to employment, that his dreams were realised. He is now training with P&G LGV Driver Training in Flintshire, North Wales and he's made such a positive impression that his instructor, who also owns the business, is aiming to employ John when he qualifies.

"My disability meant I had to resign from my previous driving job. It became increasingly clear I would not be able to take to the road again as a full time driver, but I still wanted to be part of the industry I know and love. Training others to drive to professional standards would seem to be the ideal solution! Remploy worked hard for me. I would like to repay their faith by succeeding in my training and, hopefully, getting a job as an instructor. If that happens, there will be nobody happier than me!" said John Davies.

Support provided by Remploy to develop jobseekers' employability skills includes confidence building, CV writing, searching and applying for jobs, interview techniques and access to fully-funded courses, leading to qualifications including NVQs.
EU to help small firms beat recession with £1,000 cut in red tape
THE European Parliament voted on Wednesday, 10 March 2010, by an overwhelming margin to exempt very small firms, known as micro-entities, from EU law on accounting standards, reducing the burden of red tape and helping them beat the recession.

Vice President of the Economic and Monetary Affairs Committee and small business champion Arlene McCarthy MEP said:- "as our small firms struggle to overcome the crisis we are determined to help them by cutting red tape. It is vitally important that EU law does not over-burden very small businesses. This exemption means that very small firms will save around £1,000 in accountancy and audit fees."

Arlene added:- "We have made a commitment in the EU to reduce burdens on business by 25% by 2012, and this law is an important step towards meeting that goal. Micro-entities are often the first step on the ladder to successful employers of the future, we need to nurture and support these businesses, not place extra burdens on them."
JLA breaks into the UK Top 10
IN a recent survey published by web based aviation intelligence specialist anna.aero (Airline Network News & Analysis) looking at passenger throughput across UK airports, Liverpool John Lennon Airport (JLA) has become one of the top 10 busiest airports in the UK for the first time in its history, having once again moved up the league table of airport passenger throughput - a far cry from its position of 20th in 1995 and 14th just 10 years ago in 2000.

The specialist website also revealed that JLA was only one of two airports to experience growth in January 2010 with an 8% year on year increase, with some 35 other airports across the UK all experiencing a decline in passenger numbers. This is the third consecutive month that Liverpool has seen year on year monthly passenger growth, with 8% and 7% increases in November and December respectively, having experienced an 18 month decline in passenger throughput prior to this, due to the effects of the economic downturn.

2009 saw the addition of two new airlines operating from JLA, following the launch of KLM's Amsterdam service with onward connections to 650 destinations across the world last March and Eastern Airways' domestic services to Aberdeen and Southampton in the Summer. In total some 16 new routes commenced from carriers including easyjet, Ryanair, and Wizz Air, taking this Winter's programme of flights above last Winter's and accounting for the recent growth in business.

A number of new services have already been announced for 2010 by easyjet and Ryanair, including Rhodes, Bodrum, Malta, Isle of Man, Fuerteventura, Rimini, Trapani and Lodz. Two weeks ago, Ryanair announced that Szczecin in Poland will also be added this year and just last week KLM announced the addition of a fourth departure to Amsterdam bringing even more onward worldwide long haul connections. These further developments give a clear sign of airline confidence at Liverpool, despite the continued difficulties experienced across the aviation industry in the current economic climate.

With passenger numbers set to continue to grow in 2010, the Airport recently embarked on a £12m development program including the expansion of its departure lounge, bringing a number of new and exciting retail developments and high street names to the Airport for the first time. To be completed by Autumn 2010, the first phase of this development will also see the opening of a new passenger security screening area in June, some three times the size of the existing facility with additional and latest generation security equipment.

Mark Whitworth, Peel Airports Group CEO commented:- "To see the Airport start to grow its business once again at a time when many others across the UK are still experiencing a decline in business, is a reflection of the confidence we and our airline customers have in making Liverpool one of the country's top airports. When Peel first invested in the Airport in 1997, we were the UK's 18th largest airport and to now break into the top 10 for the first time is a tremendous achievement for all involved at the Airport. Back then just 3 scheduled destinations featured on the Airport map. Today an amazing 75 destinations are linked directly by air from here. We won't be resting on our laurels though and will continue to strive for a higher position in the months ahead as we look to grow the business further and give the region's travellers an even greater choice of services."