A Chance to see the stars of tomorrow to day!

Photographs by Patrick Trollope and

article by Anne Dalton. Page 1 of 3.

Winners of heat 3 above.
This competition is the longest running professionally organized contest in the entertainment profession in the UK now in it's 27th year. The contest will consist of 5 heats taking place on Thursdays 1st, 8th, 15th and 22nd August, 12th September and the Regional Final on Thursday 19th September. All will take place at the Southport Arts Centre starting at 7.30pm. tickets for the heats are £5 each. The winner will go forward to represent Southport at the national Grand Final on Saturday 23rd November at the Pavilion theatre, Bournemouth.
The North West area competition has been organized by Sefton Council's tourism division, in conjunction with Scarisbrick-based entertainment agency, ABD Productions, and is being sponsored by Champion Newspapers.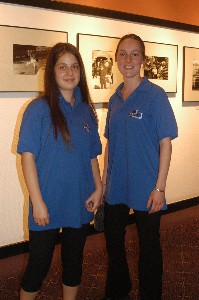 Tension is mounting as the third of the five heats takes place this week in the Cambridge theatre at the Arts Centre on Lord Street this Thursday, 15th August. The contestants are from as far field as Nottingham as ell as the North west area and the evening promises to be as exciting as the previous two heats.
This week's contest will be compared by Simon Smithies. The judges are Michel Hovden of Champion Newspapers, Charlotte Maher of Dune FM, Rob Davies of Tom Webb Promotions and Paul Bateman or Europa Productions.
The evening's programmed will be introduced, as usual, by a guest "Rising Star", a youngster who is ineligible for the competition at the moment but who is destined for great things. Greg Fossard will appear as Heat Three's rising star. Greg played the juvenile lead in "Her Benny" at the Liverpool empire after appearing as "Gavroche" in "Les Miserables". He is currently performing in Blackpool at the Central Pier in "Copycat Kids" which is on CITV. He has made other frequent television appearances including "My Lovely Son" with Julie Walters.
Heat 3's surprise guest artist, who will entertain the audience during the judging process, will be Julie Davitt. Julie is fresh from her lead starring role as "Sally Wagg" in the sell-out musical "Her Benny". A seasoned performer in numerous musicals throughout the North West, Julie is at home in light opera and musicals alike. She has been a guest singer with the Royal Philharmonic and has made many radio broadcasts as a solo artist and as part of the duo "A Touch Of Class" with Andy Thwaite.
The Contestants
were....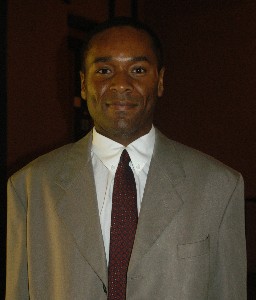 Freddie Mensah is a singer/songwriter, from Manchester, who has just completed his debut album. He has won numerous talent shows and was a national finalist for "Search For A Star" last year. He performed on the Mel B show "this Is My Moment" and will be appearing on Micheal Barrymore's "My Kind Of Music" later in 2002. he is a favorite club act throughout the country.
Tony Lorrence has been singing for 20 years. He is a favorite act throughout the North west. His act includes Tom Jones, Elvis and many more.
Nina Fossard was a North West finalist in "Search For A Star" last year as part of a duo. She has entered as a solo act this year following her success as a member of the cast of the sell-out musical "Her Benny" at the Liverpool Empire.
Rachael Marie, from Widnes, is a member of the promotions team for Wire FM and has appeared as a guest artist at the Halton Show and the Auto Ques Stadium. A firm favorite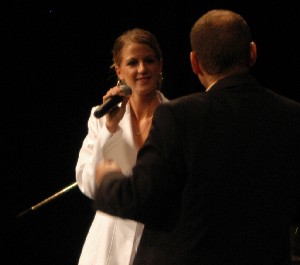 with local clubs, Racheal Marie enjoys singing all kinds of pop music.
Sam Hopper has been singing since he was four. He is a member of SONG and has been in several musicals. Sam has made several Showcase appearances and competed regularly in talent competitions. He enjoys a wide variety of music.
Rebecca Jennings, from Burscough, recently won the West Lancs Live Competition and the Newburgh Talent Show. She enjoys a wide variety of music and has been studying singing with john Clarke. Her latest appearance was the Dune FM Woodvale Show.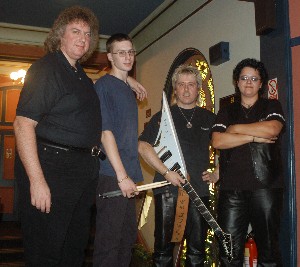 F.L.A.M.E. or Freedom Love and Mother Earth is a live performing band who writes all their own material. Their musical style is in the 70s-80s, classic rock vein with a 21st century feel and ranges from haunting melodies to hard rock. A Nottinghamshire based band with a female lead vocalist, they perform all over the UK but mainly London, Southeast and the Midlands. The band was nominated in 1999 for the M.E.L. Awards and is currently working on a new CD.
Elaine Stewart, from Litherland, is the only female comedienne in the competition. She writes her own material and is a graduate from Hope University in Drama and Theatre Studies. Elaine has appeared on stage at the Neptune Theatre and the Liverpool hope Theatre as well as being currently on the North West Comedy circuit.
Rachel Brown, from Birkdale, is a singer/songwriter who composes her own gospel folk songs. She is also an instrumental writer and an accomplished pianist. Rachel studied at the Colchester School of Music and has been singing and acting from an early age.
Kieran, from Scarisbrick, has been singing seriously now for the past four years having discovered that he had a voice in a talent competition at High School. He was a finalist in the Ellesmere Port Talent Competition and won the St Helens "Stars In Your Eyes". Since then he has performed at the St Helens Show and numerous charity events.
Mandy Nicholson has gained varied experience, over the last 20 years, within the entertainment business. An ex-student of the Independent Music School, gaining many awards for singing, Mandy also studied ballet and modern dance for 9 years achieving professional qualifications. She is an advanced aerobics, body conditioning and body physique teacher and an ex-lead singer in a local band. Mandy has been a solo vocalist for the last year, re-establishing herself by entering many competitions around the North West.