Rubber company's bumper boost
LEY Rubber Ltd is the latest recipient of the Northwest Regional Development Agency's (NWDA) Grant for Business Investment (GBI), with £100,000 awarded to the Liverpool business.

Established in 1956, Ley Rubber is a manufacturer and importer of rubber products, hoses and corks for automotive, pharmaceutical and industrial sectors.

The company has identified significant deficiencies in the factory environment, recognising the need to relocate to a more modern premise, invest in key manufacturing equipment and develop the skills base of staff.

With increased investment and the purchase of modern equipment, Ley Rubber will be able to compete against cheaper imported products and increase turnover by a third over a three year period.

With 32 employees, the GBI assistance will enable Ley Rubber to create 7 new full time roles and safeguard a further 7 jobs over a 12 month period.

GBI is part of 'Solutions for Business', the Government's package of publicly funded business support designed to help companies start and grow.

Steven Broomhead, Chief Executive, NWDA said:- "The NWDA Grant for Business Investment will secure the long term future of Ley Rubber and enable this Merseyside company to compete alongside European competitors. Without NWDA intervention, the company would continue to operate in a less efficient manner and look at making cost savings elsewhere, such as consolidating the workforce. Not only will the project create new jobs, it will also safeguard several positions, create apprenticeship roles and strengthen the regional supply chain."

Mark Wealleans, Director, Ley Rubber said:- "After fifty four years of successful manufacturing from the dockside warehouse, it was clear that we had taken the current site as far as we could. Looking forward we were concerned that in fact we would now start to see a slow decline in the company after years of growth, as new customers were proving hard to impress and new technologies impossible to accommodate. All of us at Ley Rubber are very excited about our imminent move and the additional equipment, colleagues and training that will go with it. It is a pivotal moment in the company's long history that quite simply would not have been possible without the NWDA's assistance. We are grateful to all at the NWDA for their support and are determined to reward their faith with continued success during these difficult times."

The NWDA is playing a crucial role in response to the current economic downturn, with a number of actions being taken to meet the needs of businesses during these challenging times.

To keep updated on the range of support being offered by the NWDA visit:- nwda.co.uk/supportingbusiness.

For further information on business support in England's Northwest go to:- businesslink.gov.uk/northwest.
Match Report - Knowsley v Lonestar
Report with thanks to Dave Mercer
THE football match took place at the very sunny McMaster Field, Georgetown, USA giving Knowsley a fantastic start to their US tour, as they take part in the 2010 Dallas Cup.

Team Lonestar found themselves up against the real Knowsley squad who were a vast improvement on their last performance in New York and a well marshalled defence saw the Lonestar attacks dealt with in a strong and confident manner.

Knowsley started well and for the first 15 minutes kept possession and passed the ball well without any problems from the Lonestar team; using the wide pitch to their advantage and with good wing play from Carl Peers and Anthony Dunleavy, Knowsley created many chances and came close several times but could not gain an advantage. Just before the break in the 37th minute, fine play from Anthony Dunleavy saw him weave past the defenders into the box and pass the ball to an un-marked Anthony Carr who fired the ball into the net to give Knowsley the lead which they kept to half time break.

The second half carried on the same way with Knowsley again passing the ball around neatly, coming close to scoring on a couple of occasions and producing a good save from the Lonestar keeper. Knowsley's coach decided to make changes in the 67th minute as the players tired in the 75 degree heat and this gave Knowsley new life and it was in the 73rd minute that Knowsley scored a deserved 2nd goal through Gary Williams' headed goal. Knowsley were now in control, playing some excellent football and, in the 78th minute, Michael Massey showed a moment of brilliance on the edge of the box and using superb technique stroked the ball passed the keeper and into the top corner of the goal to secure a much better performance. Another win has brought the lads closer together now which is good preparation for the match against another Lonestar Soccer Team on Thursday, 23 March 2010.

Final score = Knowsley 3 - 0 Lonestar
Ebonix Nights at Drakes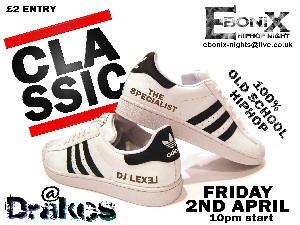 EASTER will be mad at Drakes Bar in Southport.... The venue will be holding some very odd events, so keep an eye out! One fantastic event will be on 2 April, 2010. Event organiser, Matt told us:- "After the success of Ebonix Nights at Drakes we are having a classic night. The night will have DJs Fair Warning (The Specialist & DJ Lexel) plus a guest DJ. They will be playing Old School Hiphop beats from artists such as Run DMC, Tribe Called Quest, Slick Rick, Grandmaster Flash and more." To go to this event and get yourself warmed up for events like the Southport Weekender go to Drakes Bar from 10pm on 2 April, 2010. A door charge, on the night, is being taken of only £2! So head on down and let your feet have some fun!!!