Air pollution warning system launched
A Pioneering alert system to warn people with serious respiratory problems when there is the likelihood of significant air pollution is being launched in Liverpool.

The city council has worked with Liverpool Primary Care Trust (PCT), Cambridge Environmental Research Consultants (CERC) and Breathe Easy Liverpool on the 'LiveAir Text' scheme.

From April, for an initial six month period, a selected group of people with severe breathing conditions such as chronic bronchitis, emphysema and asthma will be contacted when moderate, high or very high levels of air pollution are predicted.

Users have been put forward by Breathe Easy Liverpool, which is part of the British Lung Foundation and works to help people with breathing related diseases, and Ellergreen Medical centre.

And two schools – Barlows Primary in Fazakerley and St Christopher's in Speke – are working with the parents of pupils with asthma so that they too will get the alerts and know when to take their inhalers out with them.

On Friday, 26 March 2010, pupils taking part in the scheme at Barlows Primary will be out on the playground with their inhalers celebrating its launch.

The remainder of the city's 180 schools will be informed through the city council's "Ednet" information system.

The system will use email, text message or voice mails to remind users of the system to take their medication with them if they go outdoors on that particular day, or in some circumstances consider staying indoors.

Liverpool is one of the first places in the country to use the system – only London and Wakefield operate a similar scheme.

Councillor Berni Turner, executive member for the environment, said:- "Air quality in Liverpool is far better than it used to but there are still occasions when there is more pollution than there should be in the air. We are working hard to improve it further by getting people out of their cars and on to public transport, but it is a gradual process that will take several years. What we can do right now is make sure we let the people who are most at risk know when the air quality will be poor so they can prepare for it and make informed choices such as deciding to take an inhaler or other medication out with them or spend less time outdoors."

Assistant executive member, Councillor Phil Moffatt, added:- "This is just one of a number of measures contained within our latest Air Quality Action Plan to reduce pollution and it is fitting that we are launching it in our Year of Health and Wellbeing."

The information will also be placed on the Live Air pages of the city council's website at:- liverpool.gov.uk.

The system will send alerts when hot weather conditions combined with traffic levels produce high levels of pollution by identifying when it is likely that levels will be severe enough to affect people with respiratory conditions.

It is envisaged that one potential benefit to the PCT will be a reduction in the number of people with respiratory issues being admitted to hospital during an air pollution event.

Dr Paula Grey, Director of Public Health for Liverpool said:- "Although the levels of air pollution are much lower now than they were in the 1950's when smog was a major problem, they can still have effects on health. For most people, pollution levels in the UK are unlikely to cause any serious health effect, but some people with heart and lung disease, including asthma and bronchitis are more sensitive to air pollution and may feel their condition worsens when pollution levels are increased. Road traffic is a major cause of outdoor air pollution and everyone's exposure would be reduced if we use our cars less and use public transport and cycle or walk when we can."

Stan Cox from Breathe Easy Liverpool said:- "We have got many of our members already signed up to this scheme as it means they will be able to prepare in advance and prevent any respiratory difficulties."
We've Made Liverpool Tours Personal!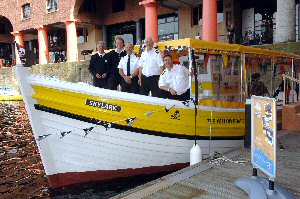 LIVERPOOL'S Yellow Boat Cruise crewmembers are so dedicated to their jobs and proud of the city's 300-year-old dock history, that they have devised an all-new Heritage Tour to share their passion with their passengers.

Captain Dennis Titherington and Captain Colin Edwards have a wealth of nautical experience and an extraordinary knowledge of Liverpool's South Docks history. Together with Crewman Paul Furlong, they have worked hard to deliver a diverse and unique tour that people will find entertaining and informative. The tour takes passengers on a personal and intriguing voyage around Liverpool's impressive South Docks.

Captain Dennis Titherington said:- "I was in the merchant navy for 40 years and have captained many vessels including the Royal Iris and the Daffodil ferries on the Mersey, but this is the first time I've had the opportunity to speak to my passengers and hopefully share my passion for the city. Liverpool's port legacy is fascinating and I really believe that people will find our tour interesting and above all entertaining."

To celebrate the launch of the new Heritage Tour, Yellow Boat Cruise has teamed up with a popular wine specialist and a fine dining restaurant at the Albert Dock, to create a new experience for visitors wanting to encounter Liverpool by water.

Yellow Boat Cruise, Vinea and Gusto have designed a range of packages to suit couples and groups who want to enjoy the Yellow Boat crew's unique tour of Liverpool's South Docks. To complement the 40-minute Heritage Tour passengers can choose their own treat, including a two-course meal or a wine tasting session to complete the experience.

Steeped in history, Liverpool's South Docks offer an intriguing insight into the workings of a major port city as well as a stunning vista incorporating the key aspects of the World Heritage Site along with the Liverpool Marina. The new Yellow Boat Heritage Cruise, which departs from the Albert Dock, will provide up to thirty-eight passengers with a relaxing and informative voyage through the water, celebrating the city's Dock based legacy and its transformation into a popular visitor destination.

Before guests climb aboard the Yellow Boat Cruise, or after if they prefer, they can indulge in either a delicious 1-course lunch or 2-course dinner at Gusto. Exuding Italian charm, Gusto is perfectly adapted to cater for large parties, seating up to 40 people on one table!

Yellow Boat Cruise passengers can also choose to relax and indulge in the art of wine tasting at the Albert Dock's wine specialist Vinea. Guests can enjoy a number of fruity whites or opulent reds, which have been carefully selected from the world's finest Vineyards. Both venues are perfect for couples and groups, with elegant surroundings and top class service. The packages, which are flexible and start from just £10.00, are specifically created to give people a quality value for money experience, a great idea for any occasion or celebration.

For times, prices and to book your cruise, call The Yellow Boat Cruise Office on:- 0151 708 7799.