Timpson in Merseyside help raise £2million for ChildLine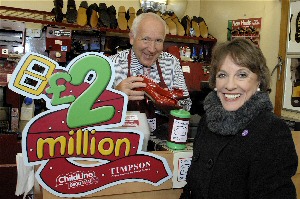 HIGH street shoe repairer & key cutter Timpson, is celebrating raising £2million for ChildLine thanks to their staff and customers in Merseyside who have helped to fundraise over the past decade.

The Timpson's 'small job – big difference' initiative launched in 2000 and has seen staff across 650 shops nationwide carrying out small jobs, such as gluing a sole or punching a belt hole, in exchange for a £1 donation to ChildLine. The small jobs only take a minute to carry out and have seen Timpson's staff punch 1 million holes and use 5 tonnes of glue to reach the £2million milestone and help ChildLine be there for children in Merseyside and across the UK.

To mark the milestone Timpson, special charity week of ChildLine fundraising running over 15 March to 28 March 2010 and is aimed to encourage more customers in Merseyside to make a donation in exchange for Timpson undertaking small jobs. In addition Timpson will donate £1 to ChildLine for every £10 a customer spends during the week.

John Timpson Chairman of Timpson's Ltd, had a moment of inspiration after attending a dinner held by ChildLine in 2000. He said:- "I feel very proud that a simple 'eureka' moment in the middle of the night ten years ago has resulted in such a fantastic amount of money for ChildLine. At first I wondered whether customers would resent being asked to donate a pound for jobs that we used to offer for free. However, I need not have worried; most customers were happy to make a donation. I am delighted at the success of the scheme and to be supporting ChildLine. They provide a vital service for children who sometimes have no where else to turn. I really think the Timpson initiative goes to show how small jobs can accumulate to make a big difference for charity."

Esther Rantzen said:- "Timpson's £2million achievement is quite amazing. It's positive proof of the dedication of their staff and the generosity of their customers. On behalf of the thousands of children who have used the ChildLine service I'd like to say a huge thank you. I hope the public will support Timpson's charity week and continue to donate through the small jobs – big difference initiative all year round. Timpson has shown just how a small gesture can help to provide a vital lifeline for abused, frightened children who have nowhere else to turn for help, and I hope any other businesses out there who feel inspired by this simple idea can also do something to help children in distress or danger."

Supporting ChildLine at Timpson can make a real difference to the lives of vulnerable children, including those in Merseyside. Throughout the 08/09 period, the generous support of the public has allowed us to develop and expand our ChildLine service and counsel over one million calls from children. That's the equivalent of over 11 capacity crowds at Wembley stadium, or 33,000 classrooms full of children!
For more information about supporting ChildLine please contact the North West appeals team on:- 0161 628 1209 or via email.
Bogus Microsoft Software Maintenance Department Caller
A member of Sefton Home Watch was reported to have recently received a phone call from a man who purported to be from the Microsoft Software Maintenance Department.
The lady who received the call was immediately suspicious according to Sefton Home Watch, due to 'a delay with music before a male caller came on line'. He is reported to have stated that her Microsoft computer software had a security fault which needed an urgent updated. He then asked the member to go online and that he would tell her what to do. When challenged, the male caller is said to have become aggressive and wanted to know why she would not want to have her software corrected. She told him that she suspected he was not genuine and he immediately rang off.
Sefton Home Watch said:- "Once again may we remind you to be wary of giving any personal details over the phone or in this case about your computer. It could be someone trying to obtain details from your address book or other personal information."
MERSEYSIDE TRANSPORT PARTNERSHIP REACHES OUT TO WIDER COMMUNITY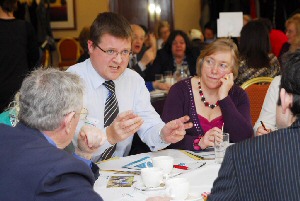 AS part of the planning process for the future of local transport, the Merseyside Transport Partnership (MTP) held a special event at the Marriott in Liverpool this week. The event, designed to gather views from all sectors of the community, was attended by more than 100 people and included presentations from transport experts, workshops, interactive voting on the challenges and opportunities relating to local transport, and a questions and answers session.

As well as members of the travelling public, representatives from organisations including Liverpool Hope University, the Primary Care Trust (PCT), Stagecoach, Arriva, Merseyside Police, Wirral Deaf Society and Age Concern attended the consultation event.

"The session forms an important element of the six-week public consultation, launched by the Merseyside Transport Partnership earlier this month and will help to shape the future of local transport planning in Merseyside. It was great to see so many members of the community being given the opportunity to discuss the challenges facing the Merseyside Transport Partnership in planning for the region's future needs. The interactive voting session was particularly popular and it was good to see such a lively questions and answers session afterwards, transport is clearly an issue which brings out strong views in many people. The views captured during this session will be evaluated and used, in conjunction with further research, to develop the next Local Transport Plan, which will start in 2011." expressed Jacquie McKelvie, Chairman of the Women's Forum, who chaired the event.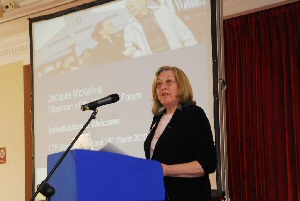 Josie Bennett was representing Knowsley Older People's Voice at the event. She said:- "There are huge changes taking place at the moment with new housing being planned, particularly in my local area, Knowsley. I'm pleased to be taking part in this event, as I have quite strong views on how transport needs to be considered as part of the planning process of new developments. Schools, jobs and services all need to be easily accessible, without a car, from these new housing developments. I hope this will be taken into consideration as part of this planning for the future."

Brian Finnigan attended the event on behalf of St Helens Advisory Panel and Billinge Parish Council. He said:- "Events like these are important as it allows the Merseyside Transport Partnership to keep in touch with the needs of real people and local communities. I am here to share the views of myself and others in from Billinge Parish Council as to what improvements can be made to the current transport facilities in our area, particularly when it comes to bus and train travel."

Knowsley Councillor Ken McGlashan, Chair of Merseytravel Corporate Development and Audit Committee and Environment Committee, said:- "These consultations are vital in helping us shape the future transport policy of the region. It is heartening that so many people want to take part and make known their views."

Members of the public from all corners of the community across Merseyside are being urged to get involved and have their say before the consultation closes on 12 April 2010. To have your:- say, visit:- transportmerseyside.org.