FOOD FOR THOUGHT - 'PHOTOGRAPHING CHILDREN'
PROBLEMS with photographing children date back to the tabloid inspired hysteria over paedophiles in the late 1990's and early part of this millennium. Sadly, it is still going on today. I have to say that I have found myself strenuously avoiding taking any photos where there is any child in sight…. I know I said that this would be a funny look at the week, but I thought it was important to write about it; so sorry, no jokes this week. To me, it looks as if the UK has got itself into a complete muddle. Legitimate concerns, which rightly engage our attention, have escalated until fears have overruled commonsense. And, as is usual in the UK, when things get so out of hand it may take years to fix the mess. Luckily, some educational groups are adopting a more enlightened approach, but we have such a long way to go. Fears about the internet and digital photography have only added to the issue. The truth is, many of the so called laws and rules which are being bandied about, are figments of the imagination, made up by a few people who consider that they may need a protective umbrella because they are worried that, at some point, someone might sue. Sadly, these odd ideas which have broken loose are, to my mind, more dangerous than the issues they purport to address. So my challenge to our readers is to let me know what they think they know about photographing children. Don't worry, we will not reveal your names etc. Also, let us know your views as well. We will, in a few weeks, bring you the answers, and let you know the true UK rules and let you know how many got it correct! email us at:- news24@southportreporter.com.
WWF's Earth Hour set to break all records
ON Saturday, 28 March 2010, Liverpool will join other hundreds of other towns, cities, businesses and schools across the UK and switch off their lights between 8.30 and 9.30 to support WWF's Earth Hour and show they care about climate change.

The Cunard Building, The Echo Wheel of Liverpool, the Port of Liverpool Building and Liverpool Cathedral have all signed up to switch off their lights for an hour.

A record breaking 118 countries and territories are taking part this year in what is anticipated to be the greatest climate change event on earth.

In the UK more than 60,000 people, 86 local authorities, and over 1500 schools and 160 MPs have already signed up. It's not too late to get involved and WWF are calling on all local communities to sign up and switch for Earth Hour on:- wwf.org.uk/earthhour. Counties can monitor their progress on our sign-up challenge map. You can find out where your county ranks and how many more sign-ups are needed for it to move up a space.

Intense lobbying by MPs has resulted in Big Ben and the Houses of Parliament adding their names to an impressive list of London landmarks switching off their lights for an hour this Saturday. Others going dark in the capital include St Paul's Cathedral, Royal Albert Hall, Piccadilly Circus, BT Tower, Natural History Museum, and the London Eye, who will be dimming their lights for the hour.

Edinburgh Castle, Stormont, Wales Millennium Stadium, Belfast City Hall and Big Wheel, Old Trafford, Merseyside Maritime Museum, Durham Cathedral, and HMS Victory are also switching off the lights.

Colin Butfield, Head of Campaigns at WWF-UK says:- "Across the UK communities are continuing to sign up to Earth Hour and get involved by holding candlelit quizzes and torchlit processions. 1500 schools have signed up to switch off - already 100 more than last year sending out a message to our county's leaders to take immediate action against climate change. The phenomenal level of support for Earth Hour this year is a clear demonstration that individuals, businesses, and organisations are standing up and demanding action on climate change. The simple action of switching off the lights for an hour is uniting people across all seven continents and will send out a message that world leaders cannot fail to ignore."

Climate change is one of the most serious threats facing people and nature, and demands urgent global action. Last year, world leaders missed a key opportunity to agree a global climate deal in Copenhagen, but with each year of delay, the impacts on people and wildlife become more severe and the window of opportunity gets smaller. Earth Hour will show world leaders they need to finish the job.
JLA to host world's first ever airport 'webinar'
LIVERPOOL John Lennon Airport (JLA) is to pilot what it believes is the world's first airport 'webinar' next Tuesday, 30 March 2010 with the Airport discussing its latest development plans and talking to KLM senior management about their Liverpool operation, live to viewers across the world, via an internet broadcast. Viewers will be able to participate through an email questions and answers session. Due to commence at 3:00pm, Neil Pakey, Deputy CEO of the Peel Airports Group will be hosting the one hour session, talking first to the Group's Director of Facilities, Steve Gill who will be presenting the first public showing of an animation 'fly through' of the improved retail project, along with a new and improved security project, which at over 3 times its present size, is again designed to improve the customer experience. At 3:30pm, Neil will be joined by Henri Hourcade, KLM's General Manager UK and Ireland who will be discussing the airline's first year of operations from Liverpool, and why KLM are now introducing a fourth daily flight which will open up even more worldwide connections via their Amsterdam Schiphol hub. Neil Pakey commented:- "The Airport sees this new medium as an important way to both communicate the latest airport developments to an interested audience, but also to give the public the chance to pose questions to senior personnel at the airport and within the aviation industry. Businesses, airlines, passengers, students and others with an interest in the airport are invited to register in advance and participate in the broadcast"
To register for the broadcast, readers / viewers will need to go online to:- liverpoolairport.com/webinar.
Bionic Ear Show hears the Merseybeat in Liverpool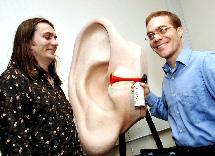 THE 'World's Largest Ear' drums in the message in hearing loss in Merseyside! Liverpool will be the next port of call for the innovative 2010 Bionic Ear Roadshow, from national charity Deafness Research UK. The show will be visiting several schools in the city throughout April. Sponsored by BUPA, the show aims to use an hour's performance featuring the world's largest ear, to teach pupils about how important and delicate their hearing is and to remind them of the risks they face to their hearing from loud music, among other important educational messages about hearing.

The Bionic Ear Show has been designed to raise awareness of the dangers that many of us are unwittingly exposing our hearing to, and for young people in particular about limiting exposure to loud music by turning down the volume on MP3 players. Our hearing is as precious as our sight - a fact that people only tend to recognise when they are faced with losing it. There will be demonstrations of what it sounds like to have high frequency hearing loss, plus "Guess that tune" - thus allowing the students to appreciate how easy or hard it is for people with cochlear implants (so-called "bionic ears") to recognise everyday music.

As well as the serious underlying message about hearing loss, the show is great fun and features among other things "the world's largest ear!" During the show, the presenter constructs a model to highlight the different parts of the ear, which is over 22ft long and 116 times the size of a normal human ear! Through this interactive and entertaining demonstration, pupils will learn how the ear works, what can go wrong and what can be done to put things right.

Taking the roadshow into schools in Liverpool is an opportunity to engage the pupils in the issues through interactive activities and in a city considered by many as the birthplace of popular music, schools in Liverpool are the ideal audience for the Bionic Ear Show. Developed to be interactive, the message of the show is easy to understand and no specialist scientific knowledge is required to enjoy the spectacle. The show will be taking its message and its giant ear to several other schools throughout the UK as the year progresses.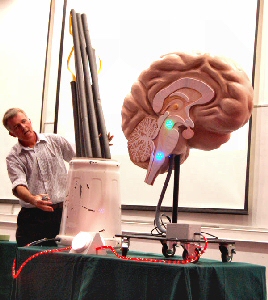 The show will make its first appearance at New Park Primary on the 27 April 2010, between 1.30pm and 3.20pm, followed by Gwladys Street Community Primary on the 28 April between 9.00am and 10.45am. The Beacon Church of England Primary willalso see a performance on the 28 April 2010 between 2.00pm and 3.00pm. The 29 April will see the show arrive at Phoenix Primary for a 9.30am to 10.30am slot, followed in the afternoon between 1.30pm and 3.00pm by a performance at St Cleopas Church of England Primary. The final shows in Liverpool will take place on the 30 April: in the morning at St Vincent de Paul Catholic Primary, between 9.15am and 11.00am and finishing at Windsor Community Primary School between 2.00pm and 3.00pm.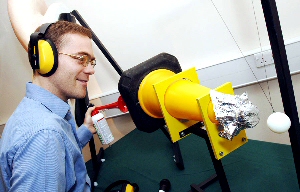 "While the revolution in MP3 and phone technology has given us all the benefit of music on the move, an unwelcome side effect is we are pumping up the volume into our ears and at a far earlier age than ever before. The fear is that many of us are playing music at such high volume that we risk permanent deafness and tinnitus far earlier than would be expected simply as a result of old age. One of the key messages the Bionic Ear Show is taking to schools is not to stop children using MP3 players, but to listen to their favourite sounds safely, Turning the volume down slightly is such a simple thing to do and will enable today's generation to continue to enjoy their music for years to come." said Vivienne Michael, Chief Executive of Deafness Research UK.

The Bionic Ear Show appeals to all ages and also includes free hearing tests along with other interesting and informative demonstrations about how the ear works, and how to protect your hearing. With the support of BUPA, the 2010 Bionic Ear Show will be coming to a town, city or school near you, so please contact Deafness Research UK if you would like the Show to come to your school, community group or event for free. The schedule is subject to change, but an up to date version and further information can be found on the website. Bookings can be made by calling Laura Ganpot on:- 020 7679 8951 or email Laura.