NEW SEASON FOR SOUTHPORT'S MODEL RAILWAY VILLAGE
THIS quality attraction will open its doors for a new season on Monday, 29 March 2010 and was originally opened in 1996, making this the venue's fourteenth season.

Excellently located on the Lower Promenade in King's Gardens, the Model Railway Village offers visitors a stimulating and visual experience in a peaceful atmosphere. There is a wonderful collection of well-crafted models within a beautiful secluded space.

The most notable feature, however, is the extensive garden railway network which attracts enthusiasts from around the world – it is one of the largest outdoor railway layouts in the UK.

The Model Railway Village is open from 10am to 5pm daily throughout the summer season. Entry charges are excellent value at £3.50 (adult) £3.00 (child, pensioner or student) £12 (family ticket).

For further details visit:- southportmodelrailwayvillage.co.uk.
Old Formby Slide Show, 25 May, 2010
THIS might be the very last Old Formby Slide Show to be presented by Joan Rimmer who is a well known historian. She has published several local books including 'The Village That Was Formby'. The event will be in aid of Queenscourt Hospice and tickets will cost £5. Joan Rimmer told us that:- "This will, more than likely, be the very last time I do this. I take huge amounts of time to do the background research for these talks, and I want to do something different now. I like to check all the facts and gather as much information as I can about the images I use. Formby is a very unusual place, with so many hidden stories. Formby, considering its size, has had a very important part to play in lots of things worldwide and I hope some of these pictures show just how influential Formby has been on a world scale, considering its small population. This will be an eye opening night for all ages and, I hope, it should bring out more historical material to light as well as giving you a better understanding of our village." The night will start at 7:30pm, on 25 May 2010, at the Gild Hall, Church Road, Formby. Call:- 01704 875 765 for more information and to book your ticket to what will be a very informative night. 'The Village That Was Formby' by Joan A. Rimmer can be ordered via Prichard's' Books, Brows Lane, Formby. The paperback, published in 2007 costs £18.99. ISBN 13: 9780954942779 | ISBN 10: 0954942779
The Riverside Steam & Vintage Vehicle Rally 2010 Is On It's Way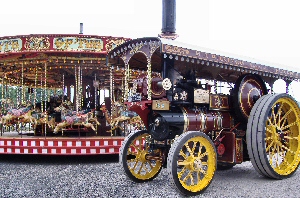 THE second Riverside Steam & Vintage Vehicle Rally will play host to the centenary celebrations of 'Prospector', a Foden Showman's Engine built in Cheshire in 1910 and the last surviving engine of its type in the world. The engine is now based
in Lancashire and is owned by Mike Wilkinson of Hambleton near Blackpool. Organisers of the event are praying for the same good weather that blessed the rally last year. They are also hoping to top the figure of £30,000 that was raised for local
charities in 2009.

The Rally will take place at the Riverside Holiday Complex at Banks Nr Southport on the 17 April and 18 April 2010. Gates will be open from 10.00am each day and with over 500 steam and vintage vehicle exhibits, fairground rides, craft stalls & food outlets there is something for all the family. Admission is £6 for adults and £3 for children, under 11s are free. A new feature for this year will be a cookery demonstration in the craft tent by celebrity Michelin starred Chef Nigel Haworth
from Northcote Manor.

Rotary International are part of the organising team and two local Rotary Clubs, Preston South and Kirham & Rural Fylde have joined forces in order to raise funds for local charities.
400 years of Prescot Parish Church To Be Celebrated
ON Friday, 26 March 2010, from 7.30pm at the Prescot Parish Church an Organ Recital will be held to celebrate 400 years of Prescot Parish Church. The night will have four centuries of music played by guest Peter Kwater (Organist & Music Director of St Bartholomew's Church, Rainhill, & Director of St Helens Choral Society). Admission to this event is FREE! A retiring collection will be taken and refreshments will be provided. For more information please visit:- artsinprescot.org.uk.