Oscar and Bafta winning costumes at Creative Stitches & Hobbycrafts!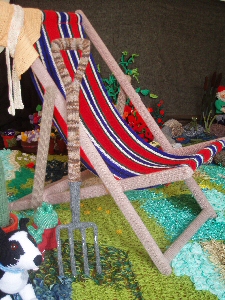 THE creative craft industry continues to thrive as more and more people turn towards 'handmade and personalised' and enjoy making and mending, being artistic and imaginative – at the same time saving money!

Popularity in hobby crafts such as card making, jewellery making and knitting remains high, with the likes of Ben Fogle learning to knit and recent research from American Express revealing 17% of British adults have, or are planning to, take up a new hobby!

Join the nation to find a new pastime or develop your crafty skills and visit Creative Stitches & Hobbycrafts, at Aintree Pavillion, Liverpool from 23 April to 25 April 2010. Here you will find inspirational costume and quilting displays, expert advice, interactive knitting and sewing projects, FREE workshops, talks and demonstrations, PLUS all the very latest supplies from over 120 craft exhibitors. Pick up everything you need for papercraft, needlecraft, scrapbooking and more.

Take part in FREE demonstrations, talks and mini-workshops every day to learn directly from the experts and leave with the knowledge and confidence you need to enjoy your craft. Discover the secrets of card-making and be inspired by glitter, fabric, stickers and more in the Papercraft demonstrations, while learning how to use cutters and score boards. Add some sparkle to your wardrobe in the jewellery making workshop.

Enjoy exciting new features at Creative Stitches & Hobbycrafts this year and get up close to the OSCAR and BAFTA winning 18th century-style costumes, originally worn by Keira Knightley and Ralph Fiennes from the British hit film 'The Duchess'.

Have a chance to revisit the world's first-ever life-sized Knitted Garden, where you can see everything that you love in a British garden, from a fish pond with frogs to a picnic laid out on a rug! The garden is a riot of colour with handworked flowering blooms, bumble bees buzzing around a hive, spider in its web and ladybird scuttling over a plant pot!

Visit the Learn to Knit stand and take part in the brand new nautical knitting project 'Above and Below the Waves' in aid of the RNLI's Train One - Save Many Campaign and designed by Alison Murray. There will be lots of experts on hand to offer advice, ideas and patterns! When complete the display will incorporate a walk through tunnel representing life under and above the sea and will feature exclusively at ICHF shows in autumn 2010 and spring 2011.

Stitching techniques are unique to each person and the In Celebration of Stitch exhibition brings together an incredible variety of pieces, celebrating expressions of individualism. Artists have pushed the boundaries of stitch in the technique, colour and style to create a truly beautiful range of needlework.

Be inspired by the 'Pearls of Wisdom' collection in celebration of the Quilters Guild 30th Anniversary. Each region selected a representative quilt as part of the Guild's 'In the Spotlight' Exhibition, giving everyone a chance to celebrate their skills!

An exciting new joint venture between the UK Hand Knitting Association (UKHKA) and the National Federation of Women's Institutes (NFWI) will culminate in a Stylish Stitches display this year. The two organisations arranged a competition, challenging members to knit an original home or fashion accessory using unusual materials, fibres and textures. The fabulous winners and star entries will be on display at all shows.

Nearly 60 years ago Constance Howard, students from Goldsmiths College and members of the WI, created 'The Country Wife' Textile Mural for the Festival of Britain in 1951. The enormous piece of textile art measures 4.5m by 5m and is currently in the hands of the National Needlework Archive at the start of a restoration project - visit their stand to find out how you could help keep the Country Wife Mural alive.

Whether young or old, male or female, and if shopping or creating for any celebration, occasion or season, visit Creative Stitches and Hobbycrafts for every supply and new idea on the market!

Creative Stitches & Hobbycrafts – Aintree Racecourse, Liverpool
23 April to 25 April 2010
Open from 09.30 to 17.00 and 17:30 on Saturday.
Tickets:-
Adults £6.50 on door (£4.00 advanced price)
Seniors £5.50 at door (£4.00 advanced price)

All shows - Children under 16 free if accompanied by an adult (otherwise £3). You can buy tickets online via:- ichf.co.uk or call the Ticket Hotline on:- 01425 277988.
Crooked carrots saved by MEP's
NORTH West Euro-MPs Chris Davies has played a key role in ensuring that crooked carrots and curvy cucumbers can be sold in shops. They have voted down a bid by Spanish MEPs to restore old EU rules that restricted the sale of imperfect-looking fruit and vegetables. The controversial proposal to reinstate the 'community marketing rules' gained the support of the European Parliament's agriculture committee last month, but it was heavily defeated by a vote of all MEPs in Brussels on Thursday, 25 March 2010. The Liberal Democrat Chris Davies welcomed the rejection of a scheme which he said had in the past led to perfectly healthy fruit and veg being thrown away. He told us that:- "I want EU rules to ensure that food on sale is safe to eat, but shoppers can make up their own minds about whether to buy bendy bananas or crooked carrots." But the MEP admitted that supermarkets often responded to consumer demand by telling farmers only to supply them with good looking products. Davies later commented:- "People say they want choice, but the majority of shoppers avoid buying fruit and veg that they think looks strange."
Major Transport Investment Announcement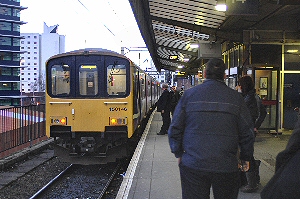 THE Northwest Regional Development Agency (NWDA) has welcomed an announcement, on 26 March 2010, that the Department for Transport is to invest £75 million to boost key transport links in the Northwest. A vital £20.4m scheme to help regenerate Liverpool by improving the main transport link to the city centre from Greater Manchester and the M62 was given the go-ahead alongside an £18.6m project to help secure the future of the Silver Jubilee Bridge at Runcorn. Crewe is also a step closer to benefiting from a £36m link road to cut congestion and boost the regeneration of the town. Steven Broomhead, NWDA Chief Executive, said:- "This announcement demonstrates a strong commitment by Government to prioritise these vital transport programmes. It's clear that economic growth relies upon having the right transport infrastructure in place. Without major prioritisation, the outlook can only be for growing congestion on the region's road networks. This announcement is not only a major step forward in helping to tackle this issue, but will also go a long way in unlocking the potential of key development sites in these areas. The Agency will now continue to work closely with Government to ensure these schemes are progressed."
Ben-my-Chree - incident in Heysham
DURING embarkation for the 2:15pm Heysham to Douglas sailing on 26 March 2010, the foot passenger gangway at Heysham Terminal sustained damage. The Isle of Man Steam Packet Company said that:- "As a result, eight passengers have had to be removed from the middle section of the gangway by the Fire Service. No passengers have been injured. The ship was then assessed for damage and the cause of the incident is now investigated. An urgent internal investigation is underway and the relevant regulatory authorities have been notified." The incident did not affect Liverpool Sailings, but did affect some Heysham sailings.
Nine out of ten small firms unhappy over Budget 2010
MORE than nine out of ten smaller businesses were left disappointed by the Budget, a snap poll has revealed. In a survey of its members, the Forum of Private Business found that just 5% believe Alistair Darling's proposals will create an environment for their businesses to develop. Similarly, 87% said the Chancellor's measures will not increase business and consumer confidence. More than two thirds (70%) of respondents said they expect a more realistic budget to be delivered after the general election. And when asked how they rated the budget overall, only 10% of Forum members described it as 'good' or 'very good', with 52% branding it 'average' and 38% describing it as 'poor' or 'very poor'. Reflecting widespread anger at the planned hike in National Insurance rates, the Forum's survey also found that a third (45%) of respondents believed the Budget had a negative impact on employment. However, some aspects of Mr Darling's announcement did prove popular. Just under 9% of those surveyed said they believed the Budget was designed to encourage short-term recovery. And around 19% said the Chancellor's measures would have a positive impact on both cashflow support and business investment. Meanwhile, a similar amount (18%) said the Budget would have a positive effect on business growth support and 14% thought it would improve access to finance. Commenting on the findings, FPB chief executive Phil Orford said:- "This research appears to support our initial assessment of the Budget – overall, it fell far short of what we were hoping for and there was a sense that it was very much a budget for the election. Judging from the feedback our members have given us, smaller firms don't feel that the Chancellor laid the foundations for a better environment in which to do business. At the same time, they're not taking the Budget too seriously because of the imminent election. However, there were some specific measures included in the Budget which should help some SMEs – things like the creation of a credit adjudicator for small firms, the extension to HMRC's Time to Pay scheme and new targets aimed at helping small businesses get more public sector contracts. As long as they are administered properly, these schemes should provide tangible, on-the-ground support to smaller firms and the Forum's members appear to appreciate that."