CCTV APPEAL - ASSAULT, LIVERPOOL CITY CENTRE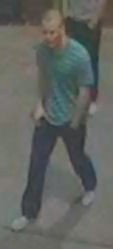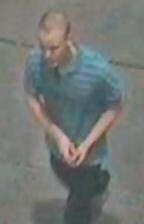 MERSEYSIDE Police Detectives have released new CCTV pictures of three men they want to speak to in connection with a serious, unprovoked assault in Liverpool city centre which left a man with a fractured skull.

The incident happened outside the Lloyds TSB bank in Church Street, Liverpool, at 2:25am, and involved the 45 year old victim being punched once in the head, causing him to fall to the ground.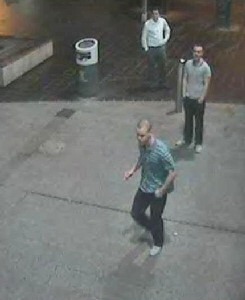 The victim suffered a fractured skull and bleeding to the brain and has only recently been well enough to leave hospital and continue his recovery at home in the London Rod area following the January 28 attack.

Detective Constable Andy Ince from Liverpool North CID, said:- "This was a completely unprovoked attack late at night in the city centre which left a man with very serious head injuries and in hospital for a considerable amount of time. Thankfully he is recovering well at home now but the offender has yet to be traced and brought to justice. From studying CCTV from the area, we believe these three men were in the area at the time of the assault and we would very much like to speak to them in connection with it. I would appeal for the men pictured, or anyone who recognises them, to come forward so we can progress this investigation further."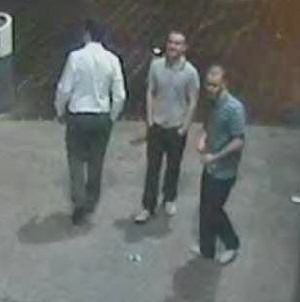 Anyone with information is asked to call Merseyside Police on:- 0151 777 6010 or Crimestoppers anonymously on:- 0800 555 111.
Hospital says 'Thank you' for donations of Easter eggs for children
SHIRLEY Coward, Matron for Paediatrics and Neonatal Services at Southport & Ormskirk Hospital NHS Trust expressed her thanks to two organisations who have generously donated Easter eggs to the children's and neonatal wards. "I want to thank everyone for their generosity towards the two units at Ormskirk. It's difficult for both the children and their families when someone is in hospital at such a family time and these little extras can help to make it a little easier."

One of the organisations is the Shared Services Unit of Barclaycard in Kirby who have donated around 80 eggs and a number of Easter hats and stickers to the children's ward.

The second organisation is St Helen's based Central Fitness who are hosting a charity 'eggtravaganza' throughout April to raise money for the Ormskirk Neonatal Unit. From April 1st until the 30th the company will be allowing members to bring a friend to the Central Fitness gym for free if they donate an Easter egg to a collection which will be presented to the parents and siblings of babies in the neonatal unit.
BOGUS CHARITY COLLECTIONS
RESIDENTS in and around Hightown have reported a number of bogus charity collection leaflets dropping through letterboxes.

The leaflets ask for donations of clothing, sheets, handbags, shoes, toiletries, mobile phones and claim the items will be sent to Third World countries and reused.

Sefton Council Trading Standards have been contacted about the leaflets and discovered the company number on leaflet shows it has been dissolved for some time.

The traders were seen in a white van and have been operating in the Hightown area for the past couple of weeks.

Sefton Council Trading Standards manager, Andrew Naisbitt, said:- "Sadly some door to door collections are not made by genuine registered charities, but by businesses who simply sell the goods for profit. If consumers realise this, they may prefer to pass the goods directly to a local registered charity shop. There are many reputable charities that collect clothes and directly benefit good causes but it is always a good idea to check the credentials of the collectors before donating. If possible, try and make a note of the description of the bogus collectors and the registration plate and make and model of any of their vehicles to pass on."

To check the existence of a charity call The Charity Commission on:- 0845 300 0218 or visit:- charity-commision.gov.uk. To check the existence and status of a Limited Company/Company Registration contact Companies House on:- 0303 1234 500 or via:- companieshouse.gov.uk.

To report incidents of bogus charities call Consumer Direct on:- 08454 040506

Home Watch realises these incidents took place in Hightown, but a general alert for Sefton has been given out, because what has happened in Hightown could happen in your area.
NEW SCIN AT LIVERPOOL ONE
SCIN, the boutique beauty salon, has opened a new concession in Liverpool ONE's Keys Court, part of the 42-acre retail and leisure district in the heart of the city centre. Founded by sisters, Anna and Nicky Noble, Scin prides itself on creating a friendly, welcoming atmosphere for all their clients; pop in for anything from eyebrow threading, curly blows, or to get your make-up done before a big night out! Scin offers a comfortable, modern environment that allows customers to escape from the hustle and bustle of the city. Scin's Liverpool ONE store plays a complementary role to the Keys Court offering, which is also home to Topshop and L' Occitane. Commenting on the news, Chris Bliss, Liverpool ONE Estate Director, said:- "The Liverpool ONE offering continues to go from strength to strength as we work with some of the biggest names in retail. Scin Beauty Salon is a fantastic addition to Liverpool ONE and Keys Court." Scin offers a range of treatments including manicures and pedicures, gels, acrylics, eyelash extensions, semi permanent lashes, strip lash application, facial threading and facial waxing. Founder of Scin, Nicky Noble adds:- "We are delighted to have our new Scin Beauty Salon within Liverpool ONE, we feel we have something uniquely different to offer the customers too." For more information visit:- liverpool-one.com.