Celebs sign up to Pedal it Pink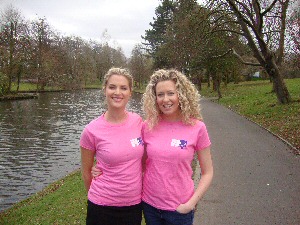 THE former Hollyoaks stars Sarah Jayne Dunn (Mandy Richardson) and Helen Noble (Abby Davies) have signed up to take part in Breast Cancer Campaign's Pedal it Pink event on 18 April 2010. The girls will be pedalling round Sefton Park with hundreds of other women to help put the brakes on breast cancer.

Liverpool resident, Sarah Jayne Dunn, who is currently on tour with the West End hit, When Harry Met Sally, said:- "I'm thrilled to be taking part in Pedal it Pink with my best friend Helen Noble in our hometown of Liverpool. The first event in April 2009 attracted over 750 women and raised a staggering £60,000 for vital breast cancer research. We want to see as many women as possible out there cycling with us this year and turn the park completely pink!"

Pedal it Pink, sponsored by Santander, has a variety of cycle routes to choose from so there is something to suit all abilities. Beginners can opt for the family 5K lap (which is also open to the men and children in your life) and those wishing to push themselves that little bit further can select either a half (13.1miles) or full (26.2miles) marathon distance. All routes are completely enclosed in the park, so it's safe, traffic-free and suitable for all existing and aspiring cyclists.

If you would like to join Sarah and Helen at Pedal it Pink and help put the brakes on breast cancer, please visit:- breastcancercampaign.org, by email or by calling:- 020 7749 3700 to sign up. It costs £15 for the marathon, £10 for the half marathon and £5 for the family 5k lap. Online entries will be accepted until Sunday, 11 April 2010. If you miss this date, but still want to take part you can register on the day in the park – please come ready to cycle.

Cycling is a great form of cardiovascular exercise, which helps to burn fat and if done regularly contributes to a healthy lifestyle. Cycling is also great for toning leg muscles and can burn up to 500 calories an hour.
Easter Bunny At Alder Hay Children's Hospital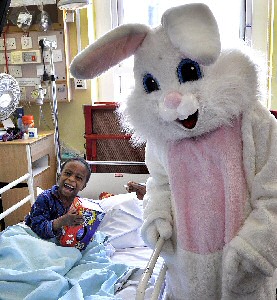 MERSEYSIDE Police Officers from West Derby, Yew Tree and Knotty Ash Neighbourhood have given patients at Alder Hey Children's Hospital an Easter surprise when they accompanied the Easter Bunny on a visit to the hospital on Thursday, 1 April 2010.

The Eater Bunny delivered Easter eggs to some of the hospitalised children, who can't spend Easter at home where they would usually celebrate with their families.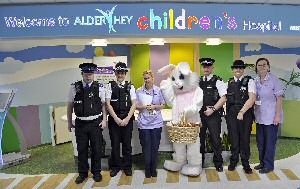 Officers toured six wards with the Easter Bunny giving out cuddly toys to the youngsters.

Neighbourhood Constable Carl Winrow said:- "We are really delighted that through the generosity of The Easter Bunny Foundation, members of the public and officers at Eaton Road Police Station, we have been able to treat the children on the wards. We are always keen to give something back to the local community and giving an Easter present to children who are in hospital is a nice way of saying thank you. It's great to see the smiles on the children's faces when we make our visit."