Physical Fest 2010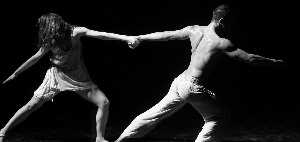 LIVERPOOL based Tmesis Theatre return in June with their sixth annual festival of physical workshops and performances, 'Physical Fest', the only festival of its kind in Europe.

Physical Fest brings the world's best local, national and international movement and physical theatre artists to Liverpool in an exciting 8 day programme of events, workshops, taster classes and performances. It aims to bring new movement techniques to the city and hosts northwest premiers. The festival is fast becoming one of the international key events in Liverpool's cultural programme with participants flocking from the national and international community.

The festival has previously enjoyed great success, having hosted workshops from some of the world's pioneers in movement and physical theatre such as; Yoshi Oida (Peter Brook) and Tanya Khabarova (Derevo), Jean - Laurent Sasporters (Pina Bausch Tanztheater), Gennadi Bogdanov (Biomechanics), Ira Seidenstein (Cirque De Soleil), Jorge Lopes Ramos (Zecora Ura), Marie-Gabrielle Rotie (Butoh UK) and many more.

This year's exciting line up runs from the 5 June 2010 to 12 June 2010 and is made up of a whole host of stimulating workshops and performances. Tmesis Theatre are to host a three day workshop with writer Chris Fittock, looking at the techniques they used to create their current touring success; The Dreadful Hours. The festival will also see master of the ridiculous; Javier Marzan of acclaimed comic company, Peepolykus, hold a workshop on improvisation and spontaneity in theatre. We hope you won't be 'black & blue' as the renowned circus group hold a beginners Ariel workshop at the city's Contemporary Urban Centre. Participants can also spend two days with Al Seed doing 'Creaturing', a unique technique of non- human movement, and after popular demand Airborne Entertainment are back with their fantastic one day workshop in Free Running!

If that wasn't enough, this year's Physical Fest will allow you to get in touch with your inner self with outdoor morning Tai-Chi classes at St Luke's, Bombed Out Church, Gardens in addition to evening classes in Angola Capoeira, local instructor Alicia Smith with Pilates and a workshop from the fantastic Taciturn Dance.

The pinnacle of this year's festival is the first ever 'Fest Live' at the Black-E, to be held on Saturday, 12 June 2010 from 7pm. Fest Live is an exciting open platform performance night, giving the opportunity for new and established artists to try out ideas as well as hosting extracts of professional work. Fest Live includes extracts and performances from; Airborne Entertainment, Mary Pearson, XY,Just Add Water, Taciturn and Pei Tong. Fest Live will also have the annual, FEST JAM. A 30 minute non-stop live improvisation from the practitioners and participants of the festival, sure to be a, not to be missed, energetic theatrical experience.

Workshop Prices:- 1 day £40, 2 days £75, 3 days £115. All 8 days of classes & workshops £300.

Tickets for evening classes:- £5 / £3.50 concessions.

To book your place now, call:- 0781 330 1517 or via emailing:- physicalfest@tmesistheatre.com.

For more info. go to:- tmesistheatre.com.
Merseyside Daredevils needed to fund life-saving heart Equipment
THE British Heart Foundation (BHF) is calling on daredevils in Merseyside to scale the height of the police headquarters to raise funds for life-saving equipment.

The 27 metre abseil takes place on Sunday, 18 April 2010, at the Merseyside Police Headquarters, in Canning Place, Liverpool.

All money raised will go towards funding 20 defibrillators, which will be placed in police stations, custody suites and some of the armed response vehicles used by the Merseyside Police.

A defibrillator is a portable machine that can restart a heart by giving an electric shock in some cases of cardiac arrest. Having access to a defibrillator in the vital minutes before the arrival of an ambulance can increase a patient's chance of survival by more than a third.

Ken Fretwell, Fundraising Volunteer Manager for the BHF in Merseyside, said:- "I really hope people will join us in this fun challenge and help us to raise vital funds for this much needed equipment. Someone dies from a heart attack every six minutes so having these defibrillators in place is essential to saving lives."

Entry is open to anyone over 16 years old and everyone taking part is asked to raise a minimum of £100 in sponsorship, which includes the administration cost of £25.

Times for the abseil run from 9am until 3pm. Closing date for entries is Monday, 12 April 2010. For more information, contact Ken Fretwell on:- 0151 678 2646 or via:- 07714 254503. You can also email:- fretwellk@bhf.org.uk.
WITNESS APPEAL - STABBING, LIVERPOOL CITY CENTRE
MERSEYSIDE Police are appealing for witnesses following an incident in Liverpool City Centre in the early hours of Friday, 2 April 2010.

Officers were called to the scene in Fleet Street at 4.30am this morning following reports that a man had been stabbed in the street following an altercation inside a bar.

The victim, a 30 year old man from London, was taken to hospital where he is in a serious condition, suffering from injuries that are not thought to be life-threatening.

The scene was sealed for forensic examination and officers are currently tracing those people who may have witnessed the incident.

The offender is described as being of mixed race, between 18 and 21 years old with a slim build and short, cropped black hair. He was between 5ft 8in and 6ft tall, had a local accent and was clean shaven. He was wearing white trainers, dark jeans and a light T-Shirt.

Anyone with information is asked to contact officers on:- 0151 777 4067 or call Crimestoppers on:- 0800 555 111.